The National Rifle Association wants you to "like" them again, and has re-posted its Facebook page, which it took down after the shootings at Sandy Hook Elementary School in Connecticut.
The page reappeared Tuesday, with a message from gun lobby, which has been noticeably silent since the shootings. The NRA also posted a similar statement on its Twitter page, which had been inactive since before the shootings Friday.
The group said on its Facebook page that "out of respect for the families, and as a matter of common decency, we have given time for mourning, prayer and a full investigation of the facts before commenting."
The NRA is made up of four million moms and dads, sons and daughters — and we were shocked, saddened and heartbroken by the news of the horrific and senseless murders in Newtown. ... The NRA is prepared to offer meaningful contributions to help make sure this never happens again.
A press conference is planned for Friday, the NRA also announced Tuesday.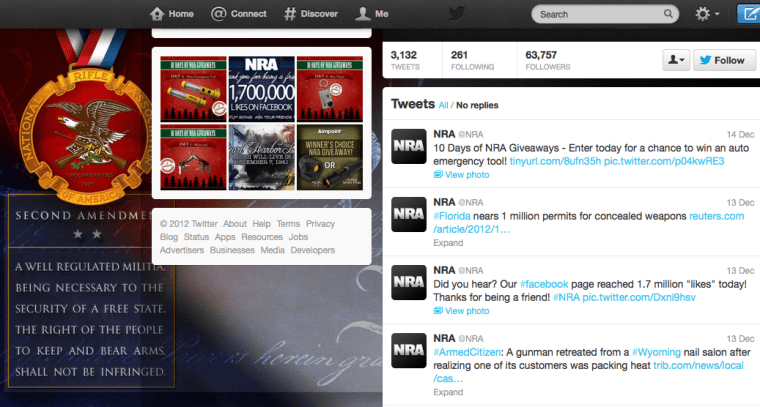 In recent days, only a Facebook page for the NRA blog remained posted. The last item shared at 6:30 a.m. Friday (before the school shootings) was about the "Friends of NRA" TV show that will start a third season soon.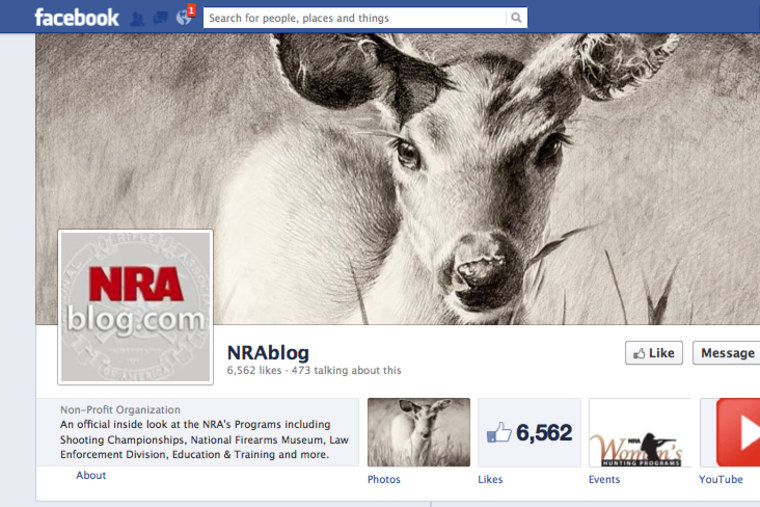 The blog is described as being an "official inside look at the NRA's Programs including Shooting Championships, National Firearms Museum, Law Enforcement Division, Education & Training and more." (The NRA's Web blog is here.)
On Twitter, Friday had been the last day the NRA tweeted, at 6:36 a.m.: "10 Days of NRA Giveaways — Enter today for a chance to win an auto emergency tool!"
The day before, Dec. 13, on Twitter, the NRA said: "Did you hear? Our #facebook page reached 1.7 million 'likes' today! Thanks for being a friend!" and this photo was posted by the organization: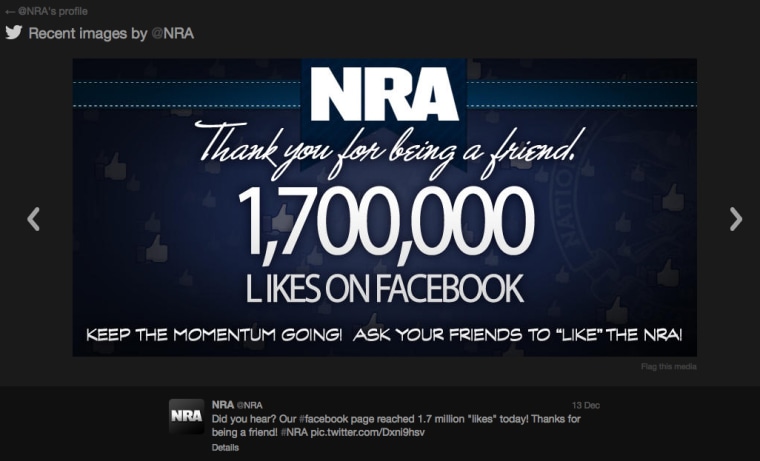 But those 1.7 million likes, tied to the NRA's main Facebook page, could not be seen as of Monday.
NBC News contacted the NRA for comment about its Facebook page removal, and will update this post if we hear back.
It it does not appear that Facebook itself took any action, one way or another, regarding the NRA page. When asked, a Facebook spokesperson told NBC News the social network had no comment. 
NBC News' Josh Belzman also contributed to this report, which was updated at 5:30 p.m. ET Tuesday.

Check out Technology, GadgetBox, Digital Life and InGame on Facebook, and on Twitter, follow Suzanne Choney.