Here's a new air travel perk you probably never thought would happen: Laptops for everyone!
After an indefinite ban on electronics was placed on nine airlines — involving 50 direct daily flights to the United States from Muslim-majority countries — carriers are now getting creative to help please customers.
Qatar Airways, one of the affected airlines, just announced that it will loan laptops to business class customers on impacted flights. Travelers will be able to download their work to a USB, stick it in the free laptop, and continue their work uninterrupted while they fly.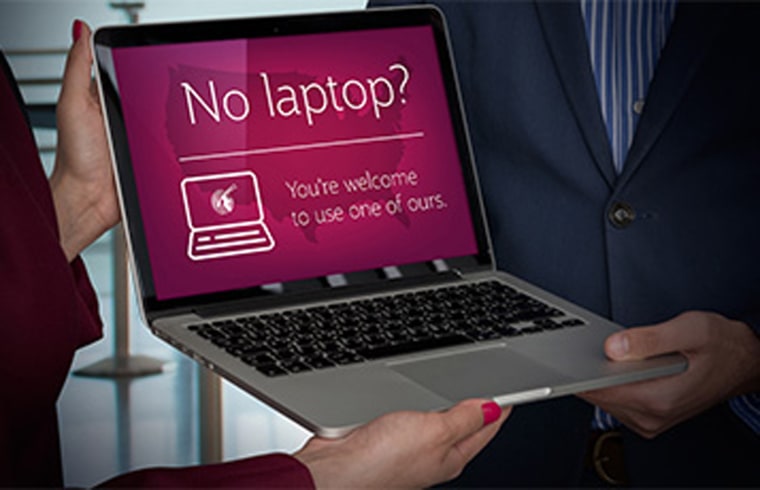 Of course, when they'll reach their destination, they'll have to return the computers.
The carrier is also giving customers one free hour of Wi-Fi or a $5 package to cover their entire flight. However, since anything larger than a smartphone is banned, they'll have to spend the duration surfing the web on a five or six inch screen.
Etihad Airways announced last week it will offer free Wi-Fi and iPads to customers in first and business class.
And since many of us have separation anxiety from our beloved electronics, Emirates is offering a free service that enables customers to hand in their electronics at the last possible moment before they board. Customers will then be offered free Wi-Fi to use on their smartphones.
Related: Electronics Travel Ban Irks Families, Enrages Business Travelers
"That is not to say that other passengers are not using their devices offline, but perhaps the silver lining to this is that they can now justifiably give themselves a break from their devices, enjoy our onboard service and catch up on the latest movies, music, and TV box sets that we have on offer," said Sir Tim Clark, president of Emirates, in a statement.
In the United States, the ban covers nine airlines (Royal Jordanian, EgyptAir, Turkish Airlines, Saudi Arabia Airlines, Kuwait Airways, Royal Air Maroc, Qatar Airways, Emirates, and Etihad Airways) and direct flights to the U.S. from certain airports.