Amazon's real-world bookstore seems like a strange idea at first. Why should an online retailer busy itself with the risks and complications of a brick-and-mortar store — especially when that retailer is credited with nearly singlehandedly bringing down bookstores to begin with?
But the modestly-sized shop does equal duty as community bookstore, product showcase and evangelism platform for everything from Prime to GoodReads. It also puts Amazon within walking distance of rival Microsoft and Apple stores.
The bookstore, which opened Tuesday, is located in the busy University Village outdoor mall in Seattle. It's laid out densely, with books, magazines and comics lining the walls and shelves along the perimeter. At the center is checkout, and a space packed with the latest Kindles, Fire tablets and other Amazon-branded tech for shoppers to play with. Employees inquire gently about Prime membership, or provide help choosing a Kindle model.
Read More: Amazon Opens Old-School, Physical Bookstore in Seattle
"It's a little weird, actually," said one shopper. "It's kind of freaky being 'in' Amazon. But it's nice!"
The prices, the store reminds you every 10 feet or so, are the same as on Amazon.com. And there's no need to worry about shipping, of course.
"It's nice to have everything facing out," said a woman browsing in science fiction, commenting on the choice to show the covers of books rather than their spines — cutting down on the number that can fit on a shelf. "It's definitely a smaller selection, but it's a good selection."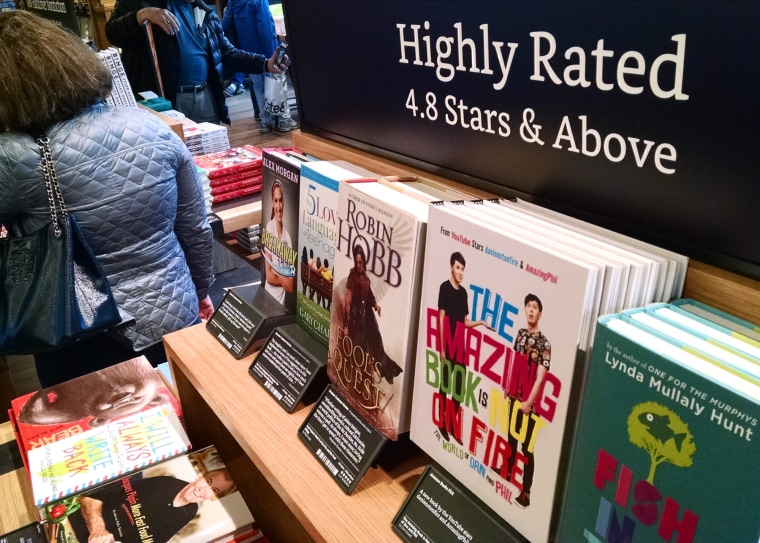 To that end, while there are the usual categories packed with the most popular titles from Amazon's warehouses — mystery, new releases, cookbooks — there are also a few you might not be familiar with.
Read More: Amazon Now Offers 20 Weeks of Paid Maternity Leave
Amazon's immense catalog of reviews and other data has allowed them to create highly specific shelves: the best-rated Young Adult fiction of 2014 as voted by GoodReads, for instance, or 4.8-star-and-up books from the last few months. And under nearly every title, a review left by a real live person on Amazon.com.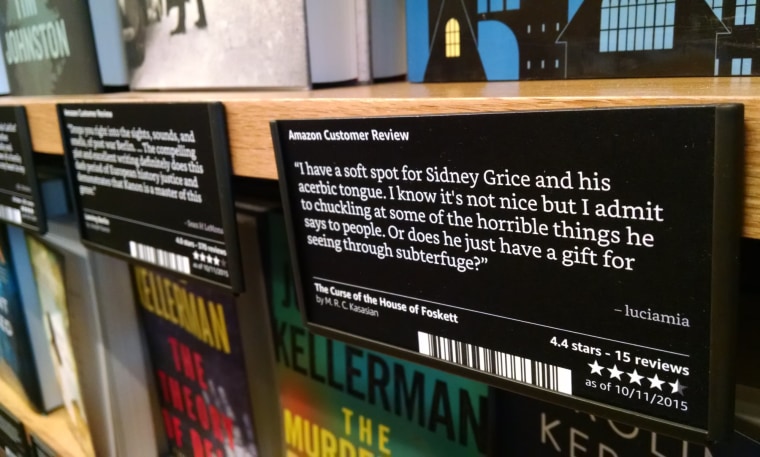 "Reviews like that are one of the reasons I buy off Amazon. I'm glad they have them here, it's a good idea," a book buyer said.
University Village was once home to an enormous Barnes & Noble, with a much greater selection — not to mention music, movies, and a full cafe — but it shut down several years ago and University Village has been relatively book-less until Amazon moved in.
"I needed to buy a few books and thought, why not get them here, in a real store?" said the review-reliant shopper. "No one does that any more!"
Wondering if one of these stores might be making its way to a shopping center near you? Don't hold your breath — an Amazon representative declined to speculate on whether more physical stores were forthcoming.