When Amazon put out the call for a new headquarters, Virginia Tech promised to build a $1 billion, 1 million-square-foot technology-focused "Innovation Campus" if the company came to town.
George Mason University, meanwhile, said it would open a new School of Computing and an institute focused on digital innovation, which would double its undergraduate population and increase the number of students enrolled in its Master's-level computing programs from around 1,100 to 5,000 over the next five years.
Now, with Amazon planning to invest about $2.5 billion in a new headquarters in a Northern Virginia neighborhood just south of Washington, D.C., educational institutions in the area are preparing to make good on their promises — moves they say will help address an ongoing shortage of computer science professionals.
"It is an immense gap that has got to be filled with some urgency," Tim Sands, president of Virginia Tech, said.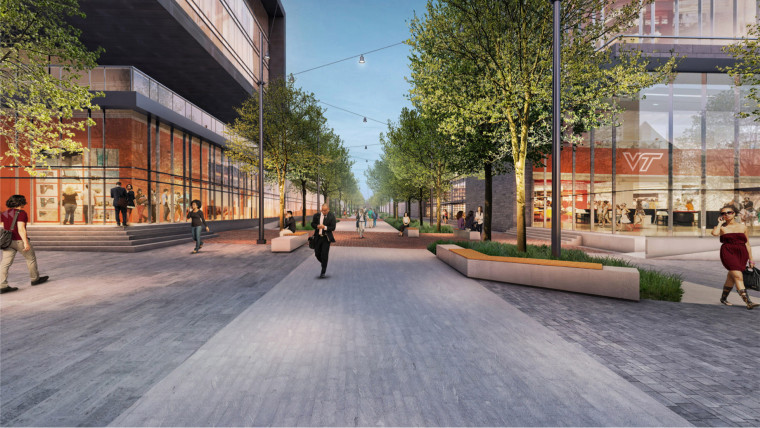 Sands noted that the Northern Virginia region has 33,000 jobs in cybersecurity that remain unfilled, meaning the education investments that Amazon has spurred will go beyond the ecommerce company's new offices.
"The campus and the higher education package is not designed just to serve Amazon," Sands said. "It's really about the bigger ecosystem, not only the one that's there now, where there's an incredible call for tech talent, but also the one that Amazon will bring with it."
Virginia's schools have introduced a variety of STEM initiatives over the last five years. and the state is positioning itself to provide a strong tech workforce in the next decade. Last year, Virginia became the first state to adopt mandatory computer science standards for all students, laying out computer literacy, educational technology, digital citizenship and information technology as four fundamentals to be taught across all grade levels.
Following the HQ2 announcement, Gov. Ralph Northam said the majority of the state's proposal "includes investments to double Virginia's tech talent pipeline."
He said as part of the project, the state will invest an additional $25 million to provide ongoing professional development to teachers, develop new curriculum and resources, support summer and after-school programming, and implement work-based learning opportunities for students.
Amazon will expand STEM and computer science programs for local K-12 schools in Virginia as it continues to grow its footprint in classrooms across all grade levels in America. Last year, the company committed $50 million to boost computer science education. In collaboration with Edhesive, a company that provides a computer science curriculum to schools, Amazon also sponsors high school course offerings in computer science, and this year it launched the Amazon Future Engineer Pathway, a comprehensive program that promotes computer science opportunities from "kindergarten to career."
Northam is scheduled to meet this week with Amazon representatives, local educators, and technology professionals on an Amazon-backed tour spotlighting schools, research and industry sites across Virginia. CodeVA, a Richmond-based non-profit that trains educators and promotes computer science, is planning the tour, which will include stops that highlight computer science in rural and urban schools.
Virginia also included a comprehensive higher education package in its HQ2 proposal, as it became clear that a strong education pipeline would be an important consideration.
A collection of the state's universities were involved in the development process as early as two weeks after Amazon announced its intentions. Deborah Crawford, George Mason University's vice president for research, said the Virginia Economic Development Partnership brought many university officials together by conference call to discuss the plans for submission.
"He described development of a Virginia strategy that might include a significant higher education initiative focused on increasing the production of graduates from computing programs across Virginia institutions with support provided by the state," Crawford said.
Crawford said the higher education expansion proposed to attract the Amazon HQ to Northern Virginia involved multiple Virginia universities, including the University of Virginia, Old Dominion University and the College of William & Mary.
Barbara Boyan, dean of Virginia Commonwealth University's college of engineering, said she and her colleagues are also delving into new educational initiatives that will meet the change in workforce needs. VCU currently has approximately 1,900 undergraduate students enrolled in computer science and engineering and about 300 graduate students, but Boyan said the goal is to have 3,000 undergraduate students and 750 graduate students enrolled by 2025.
"VCU College of Engineering already has a growing relationship with Amazon in Seattle," Boyan said. "I anticipate our collaboration to continue to grow."
Many of the universities were working to develop and expand their technological degree programs ahead of Amazon's call for proposals, but the new HQ poses a serendipitous opportunity that incorporates greater funding and resources. The schools are actively working on timelines now.
Nathan West, a senior studying software engineering at Virginia Commonwealth University who also works with CodeVA, said the Amazon announcement had generated excitement among his peers.
"There's definitely a lot of buzz around the announcement," West said. "All of my computer science colleagues are very excited because this is such a huge opportunity for us and for all of Virginia."
West added that younger students stand to benefit the most as universities and local schools continue to invest.
"I am really excited to see what Virginia will be like in the next few years, especially after these shifts in both education and our job market," West said. "I'm definitely jealous of the younger generation."