WASHINGTON — The changes Amazon will bring to the suburbs of Washington go beyond jobs and new buildings. It turns out that even the name of the neighborhood where it plans to build its new headquarters will be different.
In its announcement of one of its two new headquarters Tuesday, Amazon said it would build in "National Landing," which it said was an area in Arlington, Virginia, just south of Washington. The name came as a surprise to residents who had never heard it before and noted that their neighborhood already had a name: Crystal City.
"I'm going to have to get used to that name — National Landing," tweeted Eun Yang, a morning news anchor for NBC's local TV station in Washington.
"Is National Landing a real thing or did Amazon just create Bezosville," Jason Del Rey, a reporter for tech news website Recode, tweeted.
National Landing was not an invention of Amazon CEO Jeff Bezos, but was instead dreamed up by local economic development officials, who created it as part of their attempt to lure the e-commerce giant.
The new term was part of the area's proposal to Amazon, according to Kelly Rindfusz, communications director for Arlington Economic Development. A new website set up to promote the new area — NationalLanding.com — by JBG Smith, a real estate company that will be Amazon's partner in building out the new headquarters, called the area a "newly defined interconnected and walkable neighborhood that encompasses Crystal City, the eastern portion of Pentagon City and the northern portion of Potomac Yard."
The new name caused some confusion among residents.
"I have lived in this neighborhood for 12 years and never heard of National Landing," Jennifer Haberkorn, a congressional reporter for The Los Angeles Times, tweeted.
"I guess if you are creating 25,000 new jobs, you can rename the neighborhood!" Karen Travers, Washington correspondent for ABC News, tweeted.
Amazon's Alexa, however, appeared to have been briefed on the new name.
Tracy Gabriel, president of the Crystal City business improvement district, said the new name was not proposed by Amazon and that the introduction of National Landing helped accomplish a "longstanding goal" of unifying the three areas. Gabriel noted that the existing names — Crystal City, Pentagon City and Potomac Yard — will not necessarily disappear.
On the National Landing website, JBG Smith included a map highlighting the area that will encompass the new development.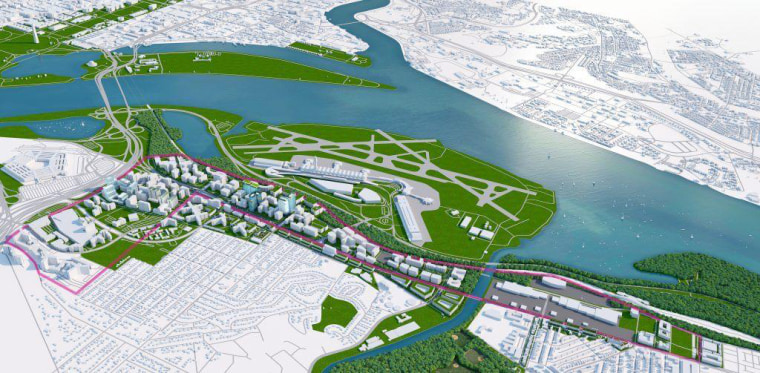 Part of the confusion appeared to come from the lack of communication from Amazon and city officials about the new name, which appeared with little context.
"National Landing is an urban community in Northern Virginia located less than 3 miles from downtown Washington, D.C.," Amazon wrote in its announcement.
The new name drew plenty of criticism but did have some supporters, who felt it was an upgrade on Crystal City.
"I offer no jokes, but do put me down strongly in favor of 'National Landing,'" Brendan Buck, counselor to House Speaker Paul Ryan, tweeted. "Crystal City was a terrible name. RIP."
JBG Smith also made a video featuring a virtual tour of what the area could look like, complete with what appeared to be an Amazon drone at 1:24 swooping in to pick up a package off the roof of a building.