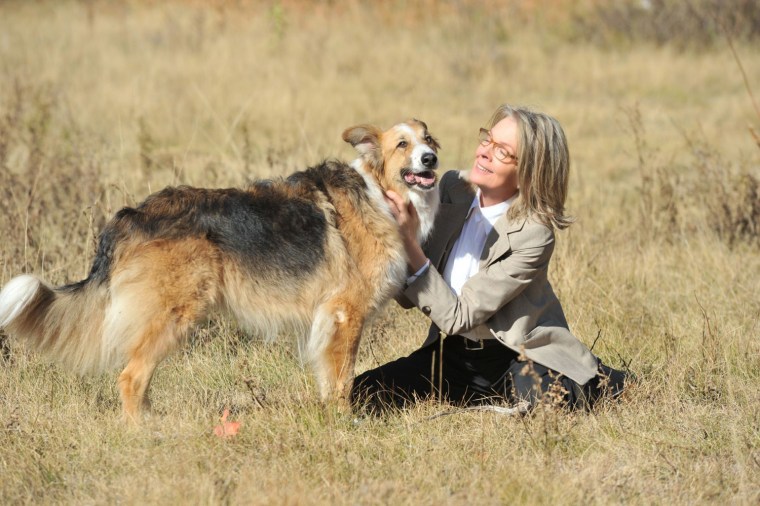 A new report analyzing app usage purports to show that, in just three months, Amazon's Kindle Fire has dethroned the Samsung Galaxy Tab as the top Android tablet — at least when it comes to people actually spending time on their devices.
Flurry Analytics compared application sessions among all Android tablets before and after the holiday season and found "that strong adoption of Kindle Fire, combined with significant downloads driven from the Amazon App Store, resulted in a massive surge in session usage that just edges out the Galaxy Tab. Unrounded, Kindle Fire represents 35.7 percent of sessions and Galaxy Tab represents 35.6 percent."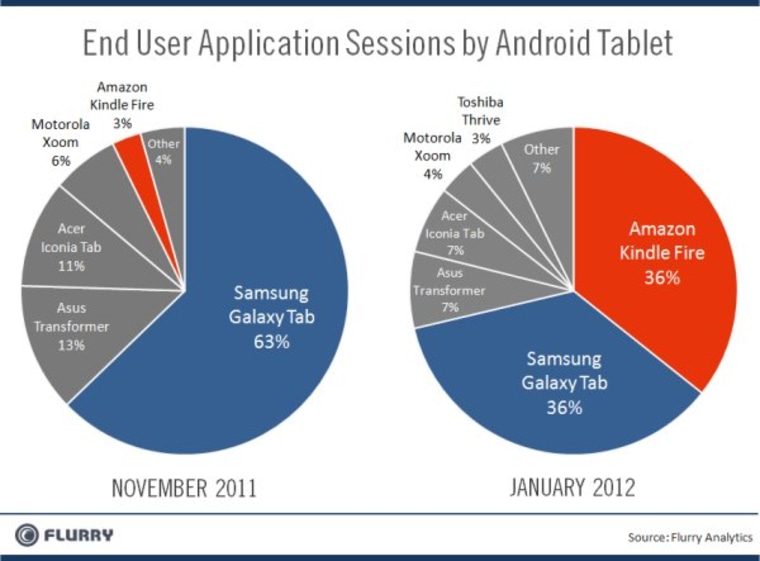 The company estimates it tracks over 20 percent of all consumer sessions on more than 90 percent of all Android devices each day. That doesn't mean people are spending an exhaustive amount of time on apps, as "a session is defined as the launch and subsequent exit (or pause for more than 10 seconds) of an app." That could be one round of Angry Birds, for instance.  
In terms of devices in users' hands, Flurry estimates "the active number of Galaxy Tabs in the market is at least twice that of the Kindle Fire," which would make sense since the former has been around in one version or another since November 2010. But the record-breaking outflow of 4 million Kindles in December had something to do, no doubt, with the introduction of the Amazon tablet, though the company did not break out the models when it released those numbers. 
Practically ever since the Kindle Fire came out in November, research firms have been quick to predict its escalation in the non-iPad landscape, with one even going so far as to say it would be No. 2 after the iPad. Looks like those predictions are coming to pass. 
That has a lot to do, Flurry said, with Amazon's approach to the Kindle Fire, which isn't a straight-up Android tablet. Its apps come through the Amazon Appstore, it has its own browser (Silk) and it has a different configuration than other Android tablets (though users have decidedly different reactions to the home carousel, the tablet's home page format).
Amazon's go-to-market strategy for the Kindle Fire is ground breaking among the Android guard. With its offering, Amazon takes the focus away from the device and operating system, emphasizing content, a differentiated consumer experience and commerce. 
Flurry's analysis also revealed this: "the Kindle Fire drove over 2.5 times more paid downloads to consumers than the Samsung Galaxy Tab.  This shows that for tablets, the Amazon Appstore can already deliver more direct revenue to developers than the Android Market."
While the iPad is the undisputed tablet leader at 58 percent of the market share for the 27 million tablets shipped in 2011's fourth quarter, Android tabs made big gains to capture 39 percent, according to Strategy Analytics. In that report, tablets have made clear in-roads among the public, more than doubling from 10.7 million shipments by the end of 2010 to 26.8 million by the end of 2011.
Its research showed "global tablet shipments hit 66.9 million units in full-year 2011, surging 260 percent from 18.6 million in full-year 2010. Consumers are increasingly buying tablets in preference to netbooks and even entry-level notebooks or desktops."
More stories:
On Twitter, follow Athima Chansanchai, who is also trying to keep her head above water in the Google+ stream.