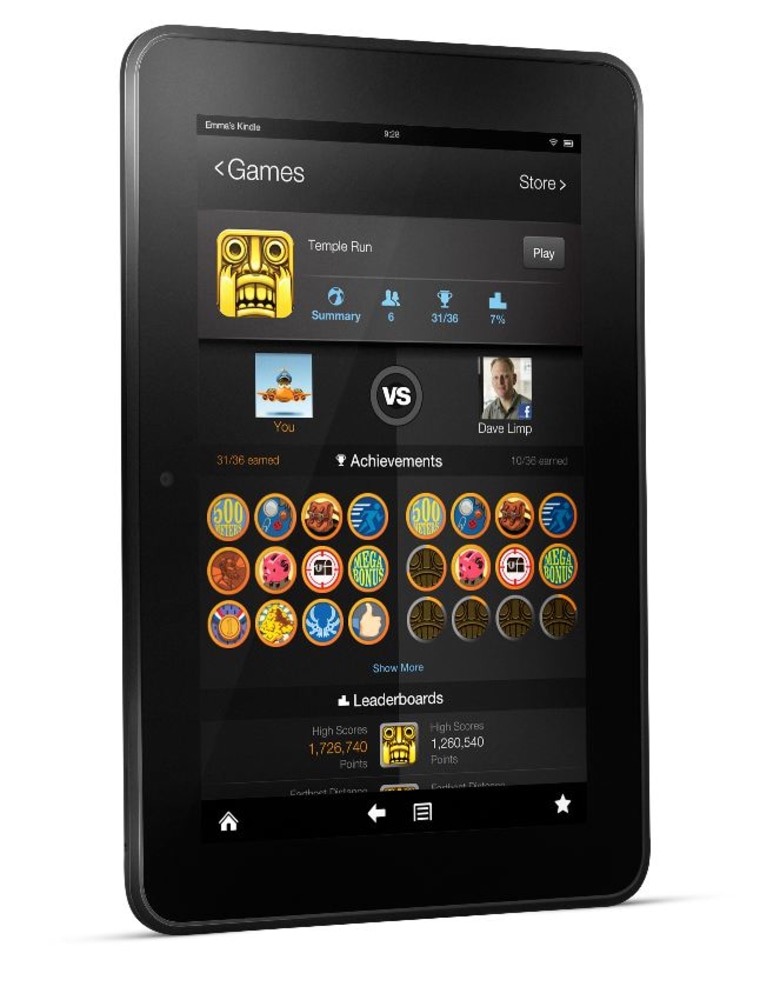 Amazon unveiled two new Kindle Fire HD tablets on Thursday and in doing so gave game enthusiasts some new options and features to enhance their playing experiences.
At the event in Santa Monica, California, Amazon CEO Jeff Bezos unveiled the 7-inch Kindle Fire HD (which launches Sept. 14) as well as an 8.9-inch Kindle Fire HD (available Nov. 20). And with tablets proving to be a very popular gaming destination, Amazon showed off new features such as Whispersync for Games, a new gaming leaderboard, as well as the new FreeTime mode.
If you've ever spent your time unlocking lots of levels on a favorite game app only to then buy a new device and have to start that game over from scratch, then you'll appreciate Whispersync for Games.
Whispersync stores all the levels you've unlocked in the Amazon cloud so that you don't lose them when and if you have to re-install a game, or if you want to move your game to a new device. Yep, your can take the levels you've earned with you across devices. And for the record, we here at InGame give that feature a big thumbs up.
Meanwhile, Amazon on Thursday announced that it has been working with developers to offer new Android games exclusively on Kindle Fire HD — among them Activision's "Skylanders Cloud Patrol" and Crytek's "Fibble."
In "Skylanders Cloud Patrol" gamers will now have the ability to purchase the physical toys that go with the game directly from within the game itself. One click and Amazon.com will deliver it to your doorstep. (Which may ... or may not ... be good news for those who've caught this game's highly addictive collectibles fever.)

Amazon also showed off the Kindle Fire leaderboard system (reminiscent of Apple's Game Center for iOS devices) which lets players compare their scores and achievements against those of their friends.
Of course, as everyone knows, tablets are especially popular with the youngest gamers. And Amazon is giving parents a new tool to help them control the content their kids can see on the device as well as set limits on the amount of time children spend doing different activities on the Fire.
Bezos introduced the Kindle FreeTime mode, which lets parents set the amount of time the device can be used specifically for playing games, as well as for things like watching videos and reading books. You can also create multiple profiles, which means you can adjust those limits based on each child who uses the device. 
And for the record, this InGame parent gives that feature a big thumbs up.
Winda Benedetti writes about video games for NBC News. You can follow her tweets about games and other things on Twitter here @WindaBenedetti, and you can follow her on Google+. Meanwhile, be sure to check out the IN-GAME FACEBOOK PAGE to discuss the day's gaming news and reviews.