By msnbc.com staff and news services
Hacking group Anonymous said Thursday it knocked out the websites of the FBI, U.S. Department of Justice, and several entertainment industry sites as retribution for anti-piracy efforts by both the government and the entertainment industry. The group said it was "the largest attack ever," with 5,635 participants involved in bringing down the sites.
In addition to the FBI and DOJ, the Recording Industry of America, Motion Picture Association of America, Universal Music and BMI.com websites were also attacked. Said the DOJ in a statement: "The Department of Justice web server hosting justice.gov is currently experiencing a significant increase in activity, resulting in a degradation in service. The department is working to ensure the website is available while we investigate the origins of this activity, which is being treated as a malicious act until we can fully identify the root cause of the disruption."
An MPAA spokesman said, in an emailed statement to the AP, that despite the attack, the site was working by Thursday evening. "The motion picture and television industry has always been a strong supporter of free speech," the spokesman said. "We strongly condemn any attempts to silence any groups or individuals."
The RIAA confirmed its site had been attacked, but said it was operating normally by evening.
The FBI's site, as of 9 p.m. ET Thursday, was back up. About 45 minutes earlier, however, it could not be accessed and resulted in an error message: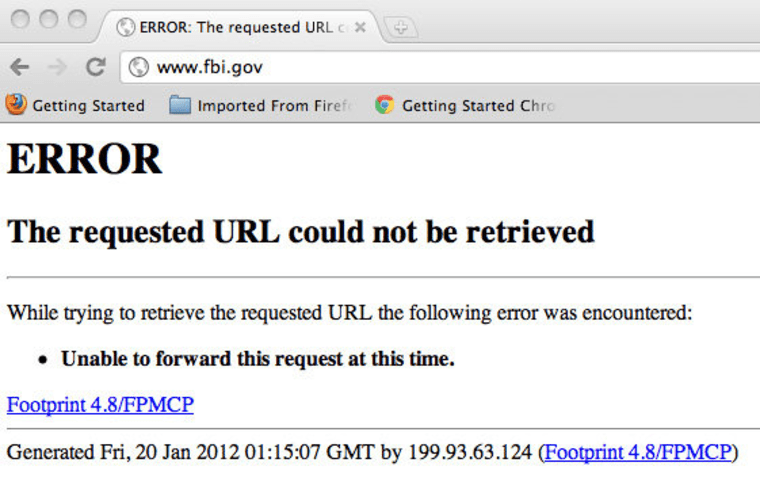 "Get some popcorn," Anonymous said on Twitter. "It's going to be a long lulzy night," indicating more was to come. "Lulz" is Internet slang for "laughs," and the hacking group LulzSec, or Lulz Security, is allied with Anonymous.
Anonymous' actions, its biggest in a single swoop, comes a day after an Internet protest against two proposed anti-piracy bills, the Stop Online Piracy Act, and the Protect IP Act, before Congress, and on the same day as a federal indictment of employees of a major Internet content-hosting site, Megaupload.com.

Megaupload employees are accused of taking $500 million from copyright holders and generating $175 million in criminal proceeds via illegal downloads of films, music and other content, according to the indictment. Although the website is based in Hong Kong, some of the alleged pirated content was hosted on leased servers in Ashburn, Va., which gave federal authorities jurisdiction, the indictment said.
The Justice Department said in a statement said that Kim Dotcom, 37, and three other employees were arrested Thursday in New Zealand at the request of U.S. officials. Three other defendants are at large.
Before the site was taken down, it posted a statement saying allegations that it facilitated massive breaches of copyright laws were "grotesquely overblown."
"The fact is that the vast majority of Mega's Internet traffic is legitimate, and we are here to stay," the statement said. "If the content industry would like to take advantage of our popularity, we are happy to enter into a dialogue. We have some good ideas. Please get in touch."
Anonymous and LulzSec have taken down several private industry and government websites in the past year, largely through distributed denial-of-service attacks like the ones launched Thursday.
Members of Anonymous may have been particularly angered by the government action against Mega sites "which were massively popular among Anonymous' young, copyright-flouting contingent of the Web," notes Andy Greenberg of Forbes.
Said Anonymous on Twitter: "Censors & copyright terrorists beware!"
Megaupload is considered a "cyberlocker," in which users can upload and transfer files that are too large to send by email. Such sites can have perfectly legitimate uses. But the MPAA, which has campaigned for a crackdown on piracy, estimated that the vast majority of content being shared on Megaupload was in violation of copyright laws.
According to the federal indictment, Megaupload was estimated at one point to be the 13th most frequently visited website on the Internet. Current estimates by companies that monitor Web traffic place it in the top 100. The site has 150 million registered users. Megaupload allowed users to download films, TV shows, games, music and other content for free, but made money by charging subscriptions to people who wanted access to faster download speeds or extra content. The website also sold advertising.
Megaupload was unique not only because of its massive size and the volume of downloaded content, but also because it had high-profile support from celebrities, musicians and other content producers who are most often the victims of copyright infringement and piracy. Before the website was taken down, it contained endorsements from Kim Kardashian, Alicia Keys and Kanye West, among others.
The Justice Department said it was illegal for anyone to download pirated content, but that its investigation is focused on the leaders of the company, not users who may have downloaded a few movies for personal viewing.

Congress is weighing anti-piracy legislation largely backed by the entertainment industry and opposed by the tech world for the way it would alter the Internet and companies' roles in policing it. Wikipedia led the way Wednesday with an Internet blackout, while other websites, including Google, provided links to online petitions against the bills. Some senators and members of Congress did pull their support because of the protest. Both bills are due to be considered in the next several weeks.
On Thursday, Mitch McConnell, Republican leader in the Senate, asked the Senate majority to reconsider the Protect IP Act bill before moving ahead with it because of the "serious issues" with the legislation.
(Msnbc.com is a joint venture of Microsoft and Comcast/NBC Universal. Comcast/NBC Universal is listed as a supporter of the Stop Online Piracy Act on the House Judiciary Committee website. Microsoft itself said it opposes SOPA as it is "currently drafted.")
Related stories: