There's a new club, and it has only one member: Apple.
The tech giant on Thursday became the first public U.S. company to reach a valuation of $1 trillion.
Amazon had been close behind Apple in the race to the one trillion mark, surpassing $900 billion market value in July, but a strong earnings report on Tuesday pushed Apple over the mark.
Apple reached the milestone early in the day's trading, but dipped back below the mark for a while. Apple shares closed the day up 2.9 percent, giving Apple a market value of just more than $1 trillion — also making it the first company to close a day's trading at that level.
Other large companies are close to Apple's valuation, but none have hit $1 trillion. Google is currently worth around $852 billion and Facebook about $508 billion. Other well-known companies are smaller, such as Coca-Cola at $198 billion and Ford at $39 billion.
Apple was founded in the garage of Steve Jobs in 1976 when personal computers were in their infancy. Along with the other co-founder, Steve Wozniak, Jobs began steering the industry toward devices that would appeal to consumers, culminating in the introduction of the iPhone in 2007.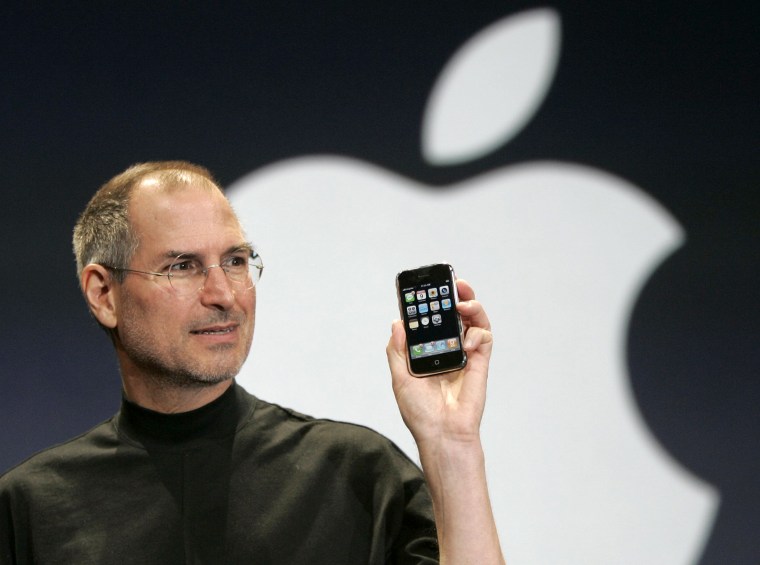 Along the way, Apple has launched a series of products that changed the way people use technology. It popularized the computer mouse and the graphical user interface, which is now ubiquitous, and it altered music-listening habits with its iPod and accompanying digital music store, iTunes.
The company almost went bankrupt in the late 1990s. It had failed to continue making popular products after Jobs left the company in 1985 amid a dispute with the company's then-CEO. Jobs returned in 1997 and accepted a $150 million investment from rival Microsoft.
Jobs was featured on the cover of Time magazine, where he thanked Microsoft CEO Bill Gates and said "the world's a better place" after the investment.
The bulk of Apple's revenue comes from selling hardware, particularly iPhones. As growth in smartphones sales has begun to slow and some consumers have turned to cheaper devices from other manufacturers, analysts had begun to question whether Apple would be able to hit $1 trillion mark.
But recent strength from one of Apple's smaller services business, which includes the App Store, helped convince investors to push the company's stock higher, said Daniel Ives, head of technology research at GBH Insights, a market research firm.
"This is a historic milestone not just for Apple but the overall tech sector as Cook & Co. hit the elusive trillion dollar market cap club," Ives said, referring to Apple CEO Tim Cook. "The services business has been the high octane fuel in Apple's engine and got the company to this trillion dollar valuation quicker than many had thought with a major iPhone product cycle on the horizon."
Patrick Moorhead, principal analyst at Moor Insights & Strategy, a technology advisory firm, said he was not surprised to see Apple hit the trillion mark, but noted that it has some challenges ahead.
"Apple's biggest challenge going forward is to maintain its lead," Moorhead said. "The smartphone market is in decline, and Apple will need to win big in brand-new markets.