Apple dramatically boosted the number of women and underrepresented minorities it hired in the past year, but the company is still mostly made up of white and Asian men.
Apple released an updated diversity report on Thursday that showed it is 69 percent male and 72 percent white and Asian as of June 27, not too different from a year earlier, when both of those numbers were at 70 percent.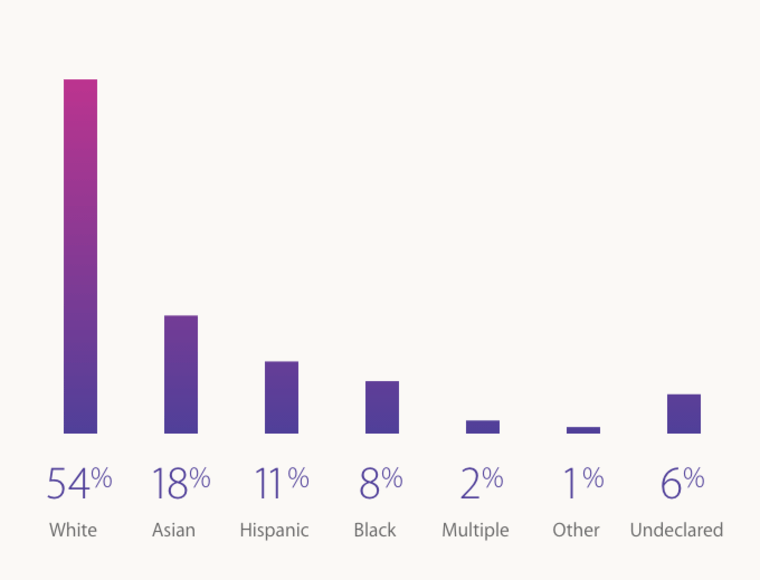 But Apple touted the fact that it hired 11,000 women in the past year, which is 65 percent more than in the previous 12 months. It also hired 2,200 black employees and 2,700 Hispanic employees, increases of 50 percent and 66 percent, respectively.
On top of that, Apple said that nearly 50 percent of its new hires in the first half of 2015 were women, black, Hispanic or Native American.
"We are proud of the progress we've made, and our commitment to diversity is unwavering," Tim Cook wrote in an introduction to the report. "But we know there is a lot more work to be done."
Related: How to Solve Tech's Diversity Problem? Start With Schools
When broken down by tech positions — like engineers and programmers — the divide is starker, with 79 percent of those positions held by men and 78 percent by white and Asian employees. Leadership positions were similarly skewed, with 72 percent of them filled by men and 63 percent of them by white employees.
Apple announced in March that it was donating over $50 million to efforts to get more women and minorities working in the tech industry.