Apple launched three new iPhones at a wider range of prices Wednesday as part of an overhauled product line that also includes an FDA-approved watch capable of monitoring a person's heartbeat.
The latest versions of the company's signature smartphone include the iPhone Xr, which at $749 is priced lower than the company's recent iPhone versions.
The company will also sell an iPhone Xs, an update of its top tier phone from last year, for $999 and an iPhone Xs Max, which with a 6.5-inch display and $1,099 price will be the largest and most expensive Apple phone to date. The iPhone Xs Max upgraded from 64 gigabytes of memory to 512 gigabytes of memory is priced at $1,449.
Apple CEO Tim Cook said during the company's annual September event at its headquarters in Cupertino, California, that the products showed how the company is "making technology more personal" by improving the ways people take photos and monitor their health.
The phones are expected to begin shipping this month, the company said.
The varying sizes and prices showed how Apple is trying to appeal to different audiences and changing tastes. The iPhone Xs Max will be half an inch larger than the existing iPhone X Plus, and it will be just 1.4 inches smaller than Apple's iPad mini.
The iPhone Xs will have a 5.8-inch display, the same as the current iPhone X, while the iPhone Xr will have a 6.1-inch display but still be smaller overall than the existing iPhone 8 Plus because its display will go to the phone's edges, the company said.
Apple, which battles rivals such as Samsung and Google in the smartphone market, also touted improvements to its phones' cameras and gaming capabilities as it tried to generate excitement.
The iPhone Xs and iPhone Xs Max will both have a camera feature that will allow people to change the depth of field in a picture after it has been taken, the company said.
They will also be capable of holding two SIM cards, a feature that's growing in popularity among competing phones for users who want two phone lines for travel or for work.
The overhauled Apple Watch, called the Series 4, also features a bigger screen — 30 percent larger than the previous version, Chief Operating Officer Jeff Williams said on stage. The new watch costs $399 or $499 with cellular service capability.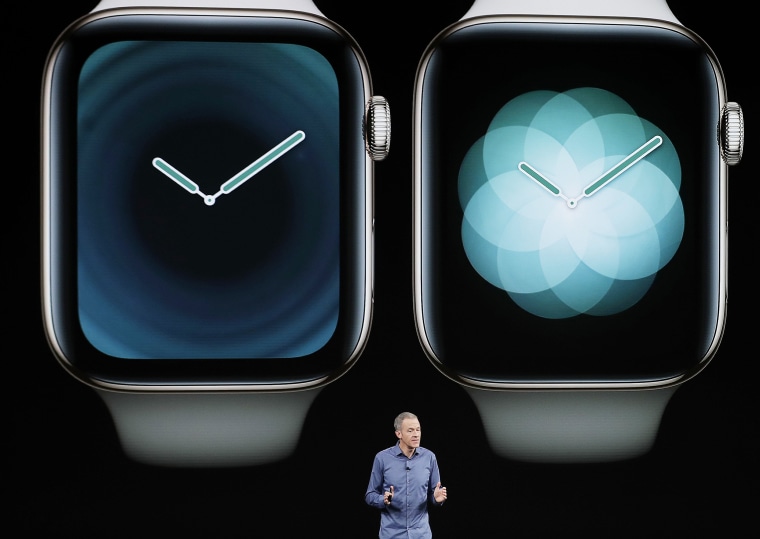 The watch is the tip of the spear for Apple's push into helping consumers with their health, and Williams said there were three new health-related features.
The watch, he said, will allow users to take an electrocardiogram, measuring heart rhythms, as well as detect certain kinds of heart rhythm irregularities and determine when a user has fallen or slipped and then automatically call emergency services if the user has then been immobile for one minute.
Apple brought out Ivor Benjamin, president of the American Heart Association, to tout the new features.
"Capturing meaningful data about a person's heart in real time is changing the way we practice medicine," Benjamin said on stage.
The features will be available to U.S. customers this year, and the electrocardiogram feature has a first-of-its-kind approval from the U.S. Food and Drug Administration, which regulates medical devices, Williams said.
Shares in rival wearables-maker Fitbit fell after Apple's announcement and were down 6.7 percent on Wednesday. Shares in Apple were down 1.4 percent.
The iPhone X, which was launched a year ago and has sold for $999, became the company's best seller in its most recent financial quarter, reassuring Wall Street investors that some consumers are willing to pay for pricier devices.
Apple has enjoyed a strong 2018 despite questions about the company's potential to keep growing its already sizable revenue. In early August, it became the first public U.S. company to reach a market valuation of $1 trillion.
The company has a history of staging product launches for maximum suspense and drama, summoning Apple fans and the media to auditoriums around Silicon Valley with little hint of what was to be announced.
The late CEO Steve Jobs unveiled the first iPhone at such an event in 2007, surprising consumers with the keyboard-less device.