On Monday, Apple kicked off its annual Worldwide Developers Conference (WWDC) with a keynote event and plenty of product announcements — which included iOS 7. This new version of Apple's popular mobile operating system has a totally redesigned look and hundreds of new features, making your ol' iPhone, iPad and iPod Touch feel brand-spanking new.
"iOS 7 is the biggest change to iOS since the introduction of the iPhone," Apple CEO Tim Cook declared before letting a demo speak for the new software. Apple is finally addressing many of the little and big things we've complained about for years ... and it's doing it in style.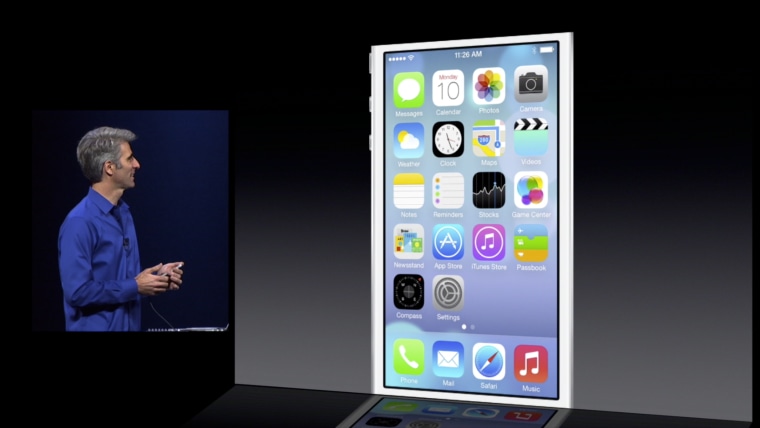 Given that senior vice president of industrial design Jony Ive — the force behind Apple's clean, minimalist hardware designs — is now overseeing the company's human interface division, we're not exactly shocked to see that iOS 7 brought a dramatically different design. Gone is the lacquered look. Gone is the skeuomorphism — all that fake leather, wood grain and yellow notebook paper found in iOS 6. Gone is the shading and the pop of icons. Things are now flat. Simple. Classy.
"We wanted to take an experience that people know very well and add to it," Ive explains in a video shown during the keynote event. "We see iOS 7 as defining an important new direction ... and in many ways, a beginning."
As soon as you grab an iPhone running iOS 7, things will feel different. Tilt the gadget and there's a parallax effect. Stop, you don't need to search through settings to adjust things to your liking — just swipe up from the bottom of the screen and a new Control Center will bring up all the important stuff, toggles, and switches you need.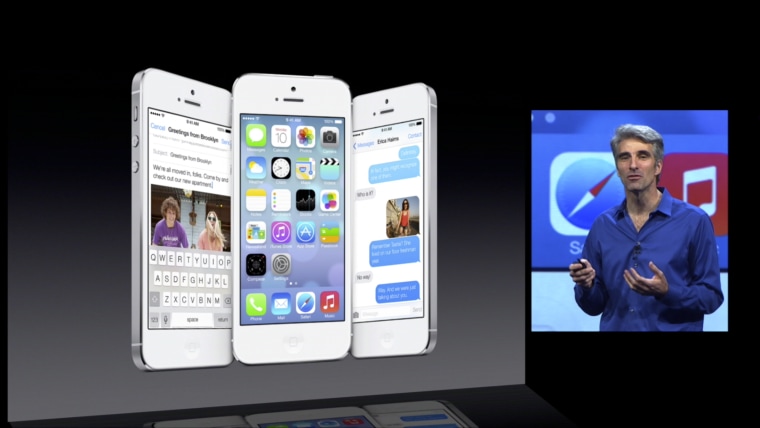 iOS 7 will make note of your app usage habits. If it realizes that you tend to use an app — Facebook for iOS, for example — a lot throughout the day, it'll make sure to give it the background power it needs to keep things up-to-date. Multitasking looks better in general, too. Instead of the ol' app drawer, switching between apps happens in the middle of the screen, with large previews of the open apps.
"True simplicity is derived from so much more than just the absence of clutter and ornamentation — it's about bringing order to complexity," Ive is quoted as saying in a press release. And the words ring particularly true at the first sight of the new multitasking, folder, and notifications structure. Finally, the messy home screens can by kissed goodbye. Finally, there's a way to view the Notifications Center on the lock screen.
Want to share photos, videos, or other content with a nearby iOS user? No need to use iMessage or email. Instead, the AirDrop feature will send files over in just a few taps. Just select a nearby contact and things will be on their way, without any need for a network. (And the transfers are encrypted, to keep your files secure.)
Tired of Siri's voice? Give it another try — it now sounds more friendly and human. And it's smarter as well: It can play your voicemail, change your iPhone's brightness, show you photos, and more — on command. Siri additionally also has Twitter, Wikipedia, and Bing support.
The Camera and Photos apps got redesigned as well. There's an improved user interface, Instagram-style filters, and better organization. You will toggle between four types of cameras — video, photo, square, and panorama — with quick swipes. (It's disappointing that, at first glance, the new Camera and Photos features still seem to pale in comparison to what some competitors offer though.)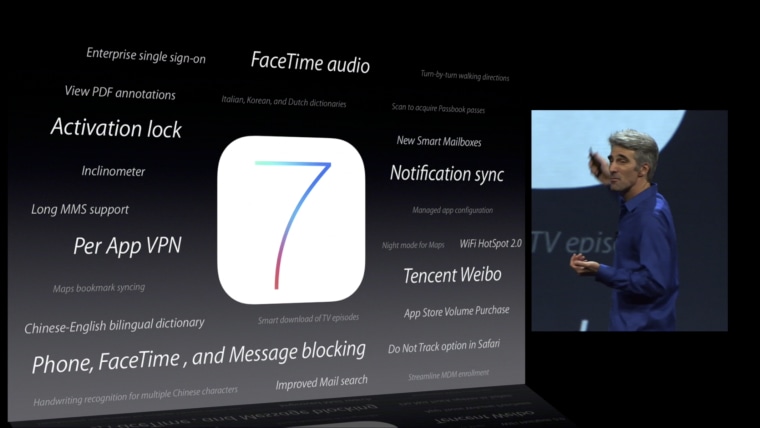 The App Store didn't remain untouched either. It now updates your apps automatically, meaning you don't have to look at those angry red numbers and rush to download the newest version of Angry Birds.
Safari, Apple's browser, has a new user interface which offers full-screen browsing, a revamped search experience, and support for iCloud Keychain (which will keep your passwords and credit card info securely saved).
Don't worry! The thing that made you fall in love with Apple's pocket-sized gadget — its approach to music — got a bit of an upgrade as well. The Music app looks cleaner, supports the new iTunes Radio, and gets along with Siri better than ever.
There are plenty of other small changes as well. The Find My iPhone Activation Look feature will prevent anyone from re-activating your iPhone without your Apple ID and password, Night Mode in Maps will make things a bit more pleasant in the dark, Notifications sync across devices, you can block undesired FaceTime callers and more.
iOS 7 will be available as a free update for iPhone 4 (and later), iPad 2 (and later), iPad Mini and iPod Touch (fifth generation) this fall. Apple does caution that, as usual, some of the new features may not be available on all products.
"The funny thing is that everyone talks about hardware, but the operating system is what they engage with the most," Gene Munster, a senior research analyst at Piper Jaffray, told NBC News before WWDC. Who needs new hardware when you've got iOS 7?
Want more tech news or interesting links? You'll get plenty of both if you keep up with Rosa Golijan, the writer of this post, by following her on Twitter, subscribing to her Facebook posts, or circling her on Google+.