I haven't been sleeping well at night lately. And though I'd like to complain about it, I really have only myself to blame. After all, I've been playing "Dead Space 2" ... and I've been playing it at night before I go to bed.
"Dead Space 2" — the sequel to the much-lauded "Dead Space" game from 2008 — launches today.  Set in a bleak futuristic world where an evil cult and diseased mutants have run amok, this horror game delivers things like mobs of undead space children, a glowing-eyed ghost hell-bent on revenge, a twisted religious sect out to rule the universe, and a merry trip down madness lane.
It will creep you out. It will gross you out. It will make your heart pound. And it will certainly give you sleep filled with nightmares.
Meanwhile, if you happen to be a fan of horror movies like I am, it may remind you of a film or two. The folks at Visceral Games who made "Dead Space 2" seem to have been inspired by movies like "Aliens" and "The Thing" (two of my favorites) not to mention zombie films like "Dawn of the Dead" and "28 Days Later."
All of which has had me pondering: What is more terrifying — a great horror film or a great horror game?
While video game scares and movie scares certainly have a lot in common, the two experiences can also be quite different. I had a chance to talk about horror movies and horror games with Steve Papoutsis, the executive producer for "Dead Space 2," and he agrees: When it comes to making a video game terrifying, game developers face some unique challenges ... and also have a unique edge to offer those who enjoy having the bejeezus scared out of them.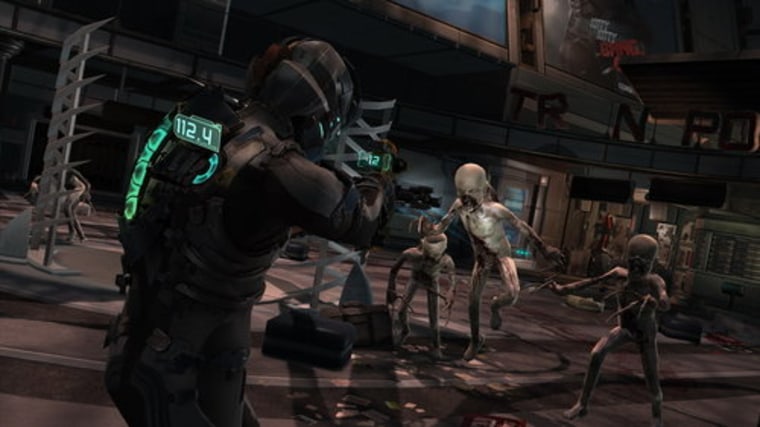 But first he points out, when it comes to orchestrating a good scare in a video game, "a lot of the approach we take is a lot like what filmmakers go through."
That is, Papoutsis says it takes a team of people working on many different details to make an on-screen moment truly terrifying — from the sound design, to the lighting, to the timing of how the action unfolds.
"It takes a lot of nuancing in a game," he said. "And I think filmmakers have that same challenge. Everything needs to be very orchestrated for that one moment."
And whether it's that moment in "Dead Space 2" when (warning: spoiler alert!) the glowy-eyed specter jumps up from behind you and tries to stab a needle in your eyeball or it's that moment in "Evil Dead" when the demon-possessed corpse sits up and stabs a woman in the ankle with a pencil — when all those details come together, the result is the same: We leap right out of our seats.
But Papoutsis said that when it comes to crafting many of the scares in a game, developers have something unique to contend with: the players themselves.
"In linear media such as a movie," he explains, "you've got a director who is saying, 'I want you to see this thing right now, so we're going to focus the camera on this, and you're going to see it. And we're going to work with everybody to achieve this one specific moment that we're going to frame up nice and pretty for you and put a bow on it and that's what the viewer is going to see.'"
But with video games, players are given the power to wrest control from the director's hands.
"I'd say the number one difference between a video game and movie is, we don't know at any moment what the player is going to be looking at or what they're going to be doing," Papoutsis says. "As much as the design team and the artist might work to have one specific moment happen, it's very possible for the player to be looking the other way, or looking in their inventory, or off in another corner."
That means game makers ultimately must work with a larger canvas. To make something scary, they can't always rely on one moment or one location and instead have to make an entire environment — an entire level — deliver the horror no matter what choice the player makes.
"With a game, we've got to account for all manner of behavior," Papoutsis said.
But the freedom and the control given to the player of a video game is also something that makes horror games so very ... well ... horrifying.
"I've been watching horror films and science fiction films for a very long time and I really love them," Papoutsis said. "But there's always the feeling that there's no consequence to me as a viewer. But when I'm playing the game, I've got my hands on the controller and it's much more visceral and I'm much more connected. I'm manipulating this on-screen avatar and there are consequences. If I do the wrong thing, the character could perish. It puts me into that scene."
He makes a great point. For example, when I describe to someone what I've seen in a movie, I typically describe what happened to the characters. I might say, "That's when the evil doctor sewed Lindsay's mouth to Katsuro's back side!" if I had just watched "The Human Centipede" for example.
But when I describe something that happened in a game, I describe it as though it happened to me. "That's when this one Necromorph vomited on me and then this other Necromorph stabbed me in the mouth and tore my head right off my neck!" I might say after playing "Dead Space 2."
Yes, the game's protagonist has a name — Isaac Clarke — and, in fact, Isaac has been far more developed as a character than he was in the first "Dead Space" game (see Todd Kenreck's full video review above). But this is still happening to me on some level. I am Isaac. Isaac is me. (Which is less crazy than it sounds.)
Of course, all of this means, please, please, please don't let them ever make a survival horror game out of the movie "The Human Centipede" because I don't ever want to find myself describing that train wreck as though it happened to me.
And ultimately, when it comes to answering the question "Which is scarier, a horror game or a horror movie?" the answer is very personal. In fact, it probably comes down to answering this: What do you find more terrifying — having control and all the responsibility that goes with it ... or having no control at all?
See, I find "Dead Space 2" and games like it quite terrifying. It's gut wrenching and spine tingling to push that controller stick forward ... to make Isaac walk straight into the nest of vomiting and flesh-ripping Necromorphs I can hear skittering and scuttling about in the corridores up ahead. It makes my heart race and my palms sweat thinking about what will happen to him ... to me ... if I don't gun them down with quick precision. And once they're upon him/me, it's all I can do to subdue the panic, aim and fire without totally losing my cool.
All of that said ... I still find great horror films even more terrifying. "Alien" and "Aliens" absolutely petrified me. "The Exorcist" made me want to wet myself (right along side poor Linda Blair.) And don't even get me started on "The Shining" or "Audition."
Horror movies scare me for the exact opposite reason that horror games scare me — because I have no control whatsoever. The director and the cinematographer have me locked in their iron grip, leading me down their path of terror, one perfectly realized and unalterable image at a time. I can do nothing to affect the way these stories play out. And sitting there helpless, unable to do anything but watch ... there's nothing more horrific than that.
But of course, that's just me. The question now is: What scares you the most?
For more "Dead Space 2" news, check out:
Winda Benedetti writes about games  for msnbc.com. You can follow her tweets about games and other things right here on Twitter.