A personal watch that astronaut David Scott wore while walking on the moon in 1971 has sold for a whopping $1.625 million at auction.
The winning bidder for the rare Bulova Chronograph and its moondust-stained strap was a Florida businessman who wishes to remain anonymous, Boston-based RR Auction said Friday.
Scott's timepiece is notable in that it is the only privately owned watch to be worn by an astronaut on the lunar surface. Of the dozen men that have stepped foot on the moon, all sported the standard Omega Speedmasters officially issued by NASA.
Scott wore one of the NASA watches on his first two moonwalks as part of the Apollo 15 mission. But he noticed after his second moonwalk that the crystal of his Speedmaster had popped off, so on his third and final moonwalk he resorted to wearing his own personal backup, the Bulova Wrist Chronograph, on his left wrist.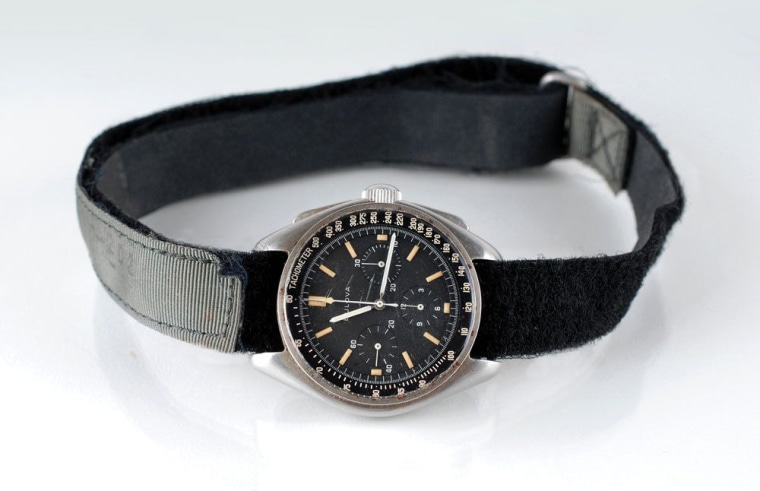 "Among the decisions I made, the monitoring of time was perhaps most important," Scott, spacecraft commander of Apollo 15, said in a five-page letter that accompanied the watch's sale.
The $1.625 million is the highest amount ever paid for an astronaut-owned artifact, according to Collect.SPACE.com. The previous record was $1.3 million for a cuff checklist used by Charles Conrad, the third man to walk on the moon, according to the site.
Related: Scott Kelly Breaks Record for Most Time in Space by an American
"We are extremely pleased with the results and honored to have been able to offer such an historically important timepiece," Bobby Livingston, executive VP at RR Auction, said in a statement.
Scott said he plans to donate a portion of the proceeds to support the education of students studying to be the next generation of American astronauts, according to the auction house.