With elections looming, Twitter has been blocked in Turkey, seemingly cutting off a major tool for spreading dissent.
Or at least that is how it may seem to outsiders. Turkey, which ranks among the top 10 countries in Twitter users, has no shortage of citizens who know how to get around Internet censorship.
"It's more of a political statement than an effective ban," Zeynep Tufekci, an assistant professor at the School of Information and Library Science at the University of North Carolina, told NBC News. "If you can operate a computer at a minimum level, you can get around it."
On Thursday, Prime Minister Recep Tayyip Erdogan told supporters at an election rally that he would "eradicate Twitter," according to English-language Turkish news site the Hurriyet Daily News. Hours later, Twitter users in Turkey found that they could not access the site — at least without a little work.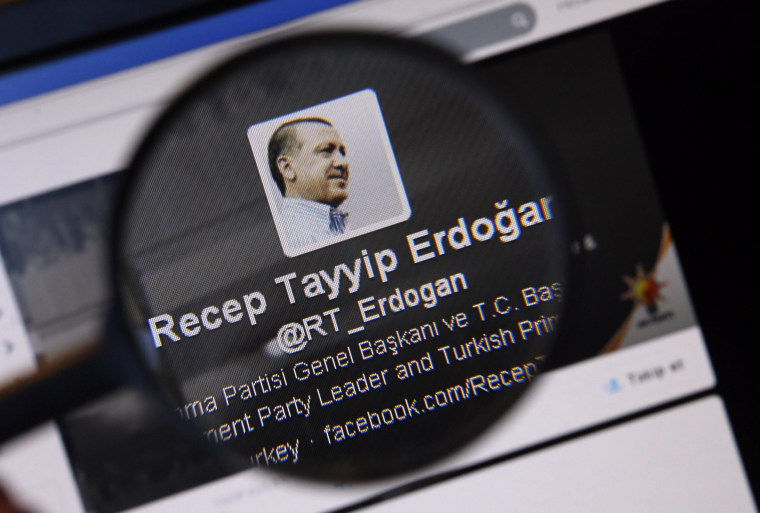 The Turkish government doesn't have an advanced, physical censorship infrastructure like China does. Instead, it performs Domain Name System (DNS) blocks to stop people from visiting sites.
For people in Turkey, getting around it is as simple as changing their DNS settings to trick their computers into thinking that they are outside of the country. Soon after the ban, Tufekci began seeing posts on Facebook (which is widely used in Turkey) with instructions on how to do just that. Similar messages spread through services like WhatsApp and Snapchat — not to mention through less technically advanced methods like graffiti.
Matt Cutts, head of the webspam team at Google, used the event to remind the public that Google offers its own free DNS service.
Not that many Turkish citizens need instructions. A similar two-year ban on YouTube, lifted in 2010, "trained a whole generation on basic circumvention techniques," Tufekci said.
Knowledge of how to get around DNS blocks is so widespread, she said, that elderly or technologically illiterate Internet users often get around them just by asking younger relatives or friends for help.
There are other ways around the Twitter ban, like using a virtual private network (VPN), which encrypts Internet communications so that users can access restricted sites. (HotSpot Shield saw downloads for its iOS VPN app jump from an average of 400 per day to 88,000 yesterday. Android downloads increased 12,415 percent, according to the company). Twitter also allows users to tweet via text.
Ironically, the ban has actually pushed the number tweets coming out of Turkey to record numbers, multiple social media companies, like We Are Social, claimed.
It's not clear how long people in Turkey will have to jump through hoops to use Twitter. Among citizens, there is confusion as to who is responsible for the ban, how it happened and how widespread it is, sources within the country told Susan Corke, director of Eurasia Programs at non-profit advocacy group Freedom House. The issue is further confused by government officials both decrying and expressing support for the ban.
Overall, it's part of a trend towards more Internet censorship, especially after the protests last summer centered around Gezi Park. Leaked video and audio evidence of corruption by government officials and Erdogan himself prompted the government to proclaim last month that it could ban or remove Internet content without a court order.
"There is a real distrust among the population of mainstream media outlets, because people are aware that they are more or less controlled by the government, so they are turning to the Internet more and more as their source of news," Corke told NBC News.
Right now, the Turkish government wants to "get user information, block certain accounts and get social media under control, rather than institute a wholesale ban of the Internet," Tufekci said. That doesn't mean people should not be worried.
"I somewhat joke about the ineffectiveness of the ban, but as a legal precedent and political move, it's very scary."