Birkenstock is walking away from Amazon.
Plagued by counterfeits and unauthorized selling on the online shopping site, the sandals company will no longer supply products to Amazon in the U.S. starting January 1, 2017. Additionally, Birkenstock won't authorize third-party merchants to sell on the site, according to a letter the company sent to several thousand retail partners on July 5.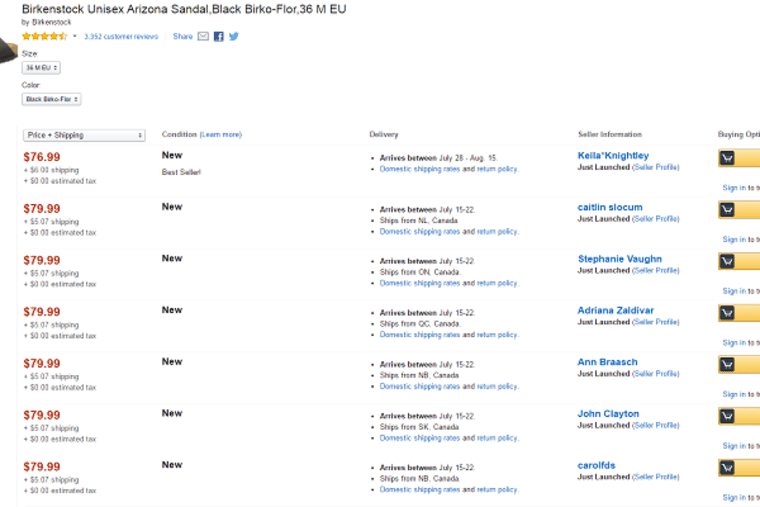 The memo, from Birkenstock USA CEO David Kahan, was obtained confidentially by CNBC.com.
"The Amazon marketplace, which operates as an 'open market,' creates an environment where we experience unacceptable business practices which we believe jeopardize our brand," Kahan wrote from the company's U.S. headquarters in Novato, California. "Policing this activity internally and in partnership with Amazon.com has proven impossible."
A company spokesperson confirmed the letter's authenticity but declined further comment. A spokesperson for Seattle-based Amazon also declined to comment.
Birkenstock, founded more than 240 years ago in Germany, is one of the many brands, big and small, struggling with Amazon's growth in counterfeits. It's a problem that's exploded since Chinese merchants started flooding the site in the last couple of years.
Earlier this month, CNBC.com reported on the scores of legitimate sellers that are hurting because fraudsters are knocking off their products and utilizing tactics such as paying for reviews, jumping into their listings and taking advantage of loopholes in Amazon's logistics system. For example, Amazon commingles inventory from distributors at its fulfillment centers, so authentic products and fakes can get mixed together.
The story included reference to Birkenstock, which has seen legions of Chinese sellers promoting its flagship Arizona sandal for $79.99, or $20 below the retail price. Birkenstock's letter was sent to sellers three days before the CNBC.com story was published.
Kahan wrote that since joining the company three years ago, he has presented numerous "'out-of-the-box' ideas to Amazon management in an effort to maintain a fair and competitive environment for all."
The only way to get Amazon's support in creating a clean environment, according to Kahan, is by selling the entire catalog to Amazon. It's part of the online retailer's effort to be the one-stop shop for anything and everything. Plenty of brands have opted to team up with Amazon and hand over full collections instead of engaging in a never-ending fight.
Read More From CNBC: How Amazon Kept Its Tax Bill Low and Rose to the Top
But it's not a workable option for Kahan, who wants to maintain control over the Birkenstock brand. So he pulled the plug.
Birkenstock will be telling consumers to purchase only from authorized retailers, and that any products listed on Amazon can't be trusted. "So, buyer beware," he wrote.
And the message to stores: "We will be vigilant in handing any retail partners who choose not to comply after January 1, 2017."
Kahan has the luxury of making this sort of move. For one, Birkenstock is privately held and doesn't have to answer to public investors more focused on profit growth than brand equity.
The dependence that so many businesses have on Amazon is a major reason why the company hasn't suffered financially from the counterfeit surge. Amazon's global network of warehouses and data centers, coupled with a highly sophisticated and efficient delivery system, have produced consistent sales growth and drawn the love of Wall Street. The stock is up 52 percent in the past year and is trading near $743.
Perhaps Birkenstock will present a case study in how to succeed without the world's largest online marketplace. Then again, even Kahan knows that just because he's leaving Amazon doesn't mean his shoes, or something resembling them, won't be readily available.
"By taking this course of action, we are, in effect, leaving the Amazon marketplace to counterfeiters, fake suppliers and unauthorized sellers with whom we have no relationships," he wrote.