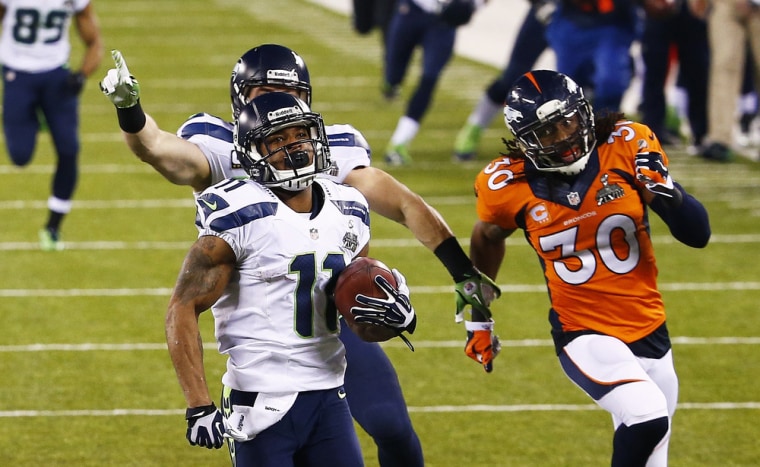 If you were looking for a tense, tightly contested game on Sunday, you are probably disappointed. The Seattle Seahawks set a Super Bowl record by scoring in the first 12 seconds of the game. They never looked back, whooping Peyton Manning the Denver Broncos 43-8.
Most of the action, it seems, was happening online. Sunday's game was the most tweeted about Super Bowl ever, with 24.9 million tweets sent about the game, compared to 24.1 million last year. Even before the game started, Twitter was lighting up with comments about the ostentatious fur coat worn by "Broadway Joe" Namath. 

There was plenty of commentary happening on Facebook as well. Overall, 50 million people had 185 million interactions related to the Super Bowl, with fans of both teams spread out across the country. 

The most talked about moment on Facebook? That would be Percy Harvin's 87-yard kickoff return for a touchdown at the start of the third quarter, which gave the Seahawks a 29-0 lead and guaranteed two more quarters filled with gratuitous shots of Peyton Manning looking sad. 
After that point, the game kind of became a bore. Good thing there were still commercials to pay attention to. As Marketing Land pointed out, 57 percent of the ads displayed this year featured hashtags.

The goal, obviously, was to get people talking about Coca-Cola or Hyundai online, something made more likely by the thorough beatdown happening on the field. Some of the hashtags weren't too imaginative (#Sonos and #Doritos), while others did a great job of reminding people why they laughed at the commercial in the first place. 
Honda accomplished this with #hugfest, a reference to its ad featuring a somber Bruce Willis being embraced by Portlandia's Fred Armisen. 
Twitter also tracked which moments attracted the most tweets. Like on Facebook, Harvin's miraculous return gained the most attention, followed by the 23-yard touchdown pass from Seattle quarterback Russell Wilson to wide receiver Jermaine Kearse. 
But enough about what normal Twitter users were doing. What about the celebrities? Former Secretary of State Hillary Clinton took the opportunity to lay down some snark.  

Supermodel Heidi Klum reminded everyone that, yes, even her Super Bowl parties are glamorous. 


And, finally, Sir Patrick Stewart supported the Seahwaks by showing off what a 73-year-old former Starfleet captain can still do. 
Keith Wagstaff writes about technology for NBC News. He previously covered technology for TIME's Techland and wrote about politics as a staff writer at TheWeek.com. You can follow him on Twitter at @kwagstaff and reach him by email at: Keith.Wagstaff@nbcuni.com