It truly is both the best of times and the worst of times for Samsung.
The South Korean electronics giant made a triumphant return last week with the release of the Galaxy Note 8, less than a year after dozens of battery-related fires prompted the company to take its predecessor off the market.
But back home in South Korea, the company was dealing with the fallout from another scandal. Lee Jae-yong, the billionaire chairman of Samsung and the grandson of the company's founder, was sentenced on Friday to five years in prison for his alleged role in a bribery case that prompted the resignation of Park Geun-hye, the country's first female president.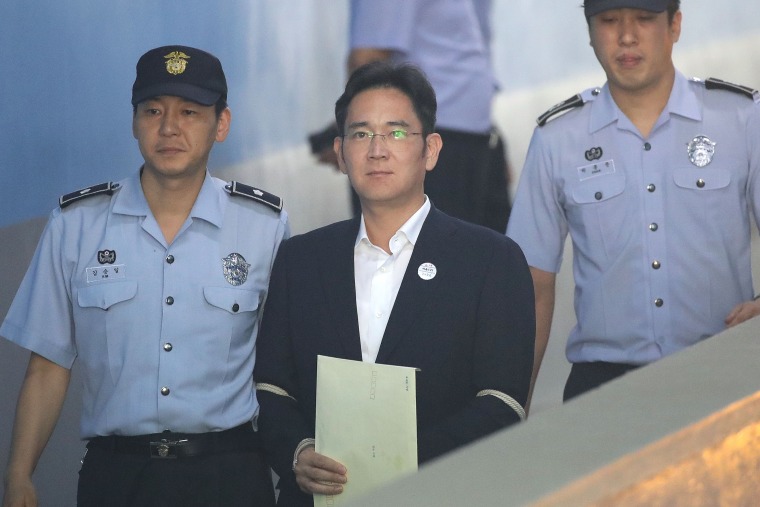 The case of the de-facto head of South Korea's biggest conglomerate and the political elite has captivated South Korea, prompting people to take to the streets last fall to protest the allegations of corruption. Several associates of Lee and Park, who is currently on trial, were also ensnared in the case.
Prosecutors alleged Lee may have made donated millions of dollars to a close friend of the president, in exchange for government support of a controversial merger between two Samsung affiliates in 2015.
While South Koreans have watched the case closely, the fallout doesn't seem to be hurting the Samsung brand, said Patrick Moorhead, principal analyst at Moor Insights & Strategy.
"Very few consumers, if any, know or are interested in what's happening to Samsung's senior management outside of Korea, good or bad," Moorhead said. "In Korea, it is viewed differently. Some see it as political and unwarranted, others see it as someone getting what they deserve. Therefore, brand impact was split."
Related: South Korea Seeks Arrest of Samsung Chief Suspected of Bribery
Samsung's stock has surged in the past year. On Friday, the day Lee was sentenced, share prices dipped slightly. Even still, the company, which trades on the Korea Stock Exchange, is up over 30 percent compared to this time last year.
A Samsung attorney told reporters they plan to appeal the verdict. South Korean presidents also have a history of pardoning executives from some of the country's biggest "chaebols," family-owned business conglomerates. Samsung is South Korea's largest chaebol.
The company is so influential, it accounts for around one-fifth of the country's GDP, according to reports.
Meanwhile, the company made a splash with its new Galaxy Note 8 smartphone on Tuesday, dropping the big release ahead of expected competition from Apple and Google.
During a briefing with NBC News earlier this month, Samsung executives said there was a discussion of "Do we want to go down the Note path after everything that happened?"
"Look at the automobile market- there has been major safety recalls by every major car brand, and consumers keep on buying those brands. Samsung did a good job explaining their eight-point battery safety program, which helped, too," Moorhead said.
Executives said an extremely loyal Note user base — and confidence in their battery safety check process — made it clear that they should continue with the Note line.
The phone is coming at just the right time.
An estimated 50 million Americans are eligible for an upgrade for a new smartphone, according to Samsung. While Samsung lags behind Apple in the United States - with each having market shares of around 44 and 29 percent, respectively, the company leads globally.
But of course smartphones are just one of the many electronics products produced by the conglomerate - and sales of those other products, including memory chips and televisions, continue to remain strong.
"Samsung has a very strong global brand, and it grew particularly with consumers when they dominated the emerging LCD TV market years ago," Moorhead said.
Despite the Note 7 setback, Samsung isn't hurting one bit. In their second quarter earnings report, the company posted its highest-ever operating profit - 14.1 trillion won - that's 73 percent more than the same time last year, long before the Note 7 fiasco.