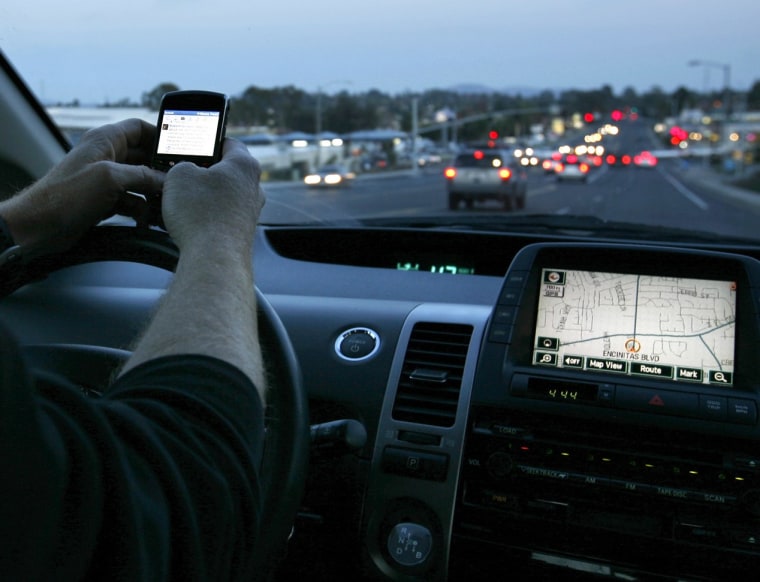 California Friday legalized hands-free texting and email while driving using voice-operated technology, with Governor Jerry Brown signing Assembly Bill 1536 into law. It takes effect Jan. 1.
"Today marks a huge victory for drivers as this bill will allow Californians to communicate safely and responsibly while on the road," said the bill's author, Assemblyman Jeff Miller, R-Orange County, in a statement issued when the bill went to the governor's desk.
The bill was signed along with 15 other Assembly bills and two Senate bills on topics ranging from insurance rates to motorcycle safety. It amends section 23123.5 of the Vehicle Code, adding an exception to the prohibition on text-based communication as follows (the amended portion is in bold):
(a) A person shall not drive a motor vehicle while using an electronic wireless communications device to write, send, or read a text-based communication, unless the electronic wireless communications device is specifically designed and configured to allow voice-operated and hands-free operation to dictate, send, or listen to a text-based communication, and it is used in that manner while driving.(c) For purposes of this section, a person shall not be deemed to be writing, reading, or sending a text-based communication if the person reads, selects, or enters a telephone number or name in an electronic wireless communications device for the purpose of making or receiving a telephone call or if a person otherwise activates or deactivates a feature or function on an electronic wireless communications device.
California is the second state to allow hands-free texting with the use of more recent voice-operated technology; Idaho was the first, with their law taking effect on the 1st of this month. Other states have adopted exceptions such as allowing the use of hands-free devices for voice calls only, or allowing operation of GPS devices.
AB 1536 was itself amended to its current wording in May, having been introduced with a slightly less precise description of hands-free devices. It still has some room for interpretation, such as how "specifically designed and configured" will be defined, what constitutes a "feature or function" and whether such determinations could be left to the discretion of a police officer.
Updated, 8:25 p.m. ET: A representative from the assemblyman's office explained that the bill "was not crafted to apply to phones," but rather to allow in-dash navigation and messaging systems to be operated within the law.

However, she said, the drafters purposely left the language open to apply to other devices, and although voice-powered smartphone apps like Siri weren't being thought of specifically, they do fit within the bill's language.

The representative said the bill is not meant to be taken as an endorsement of texting while driving. "It's either hands-free or it's not," and if it's hands-free, it falls under the same provisions as existing services, for instance OnStar and other dash systems that are fully voice-controlled, and should be legal once the law takes effect Jan. 1.

Devin Coldewey is a contributing writer for msnbc.com. His personal website is coldewey.cc.