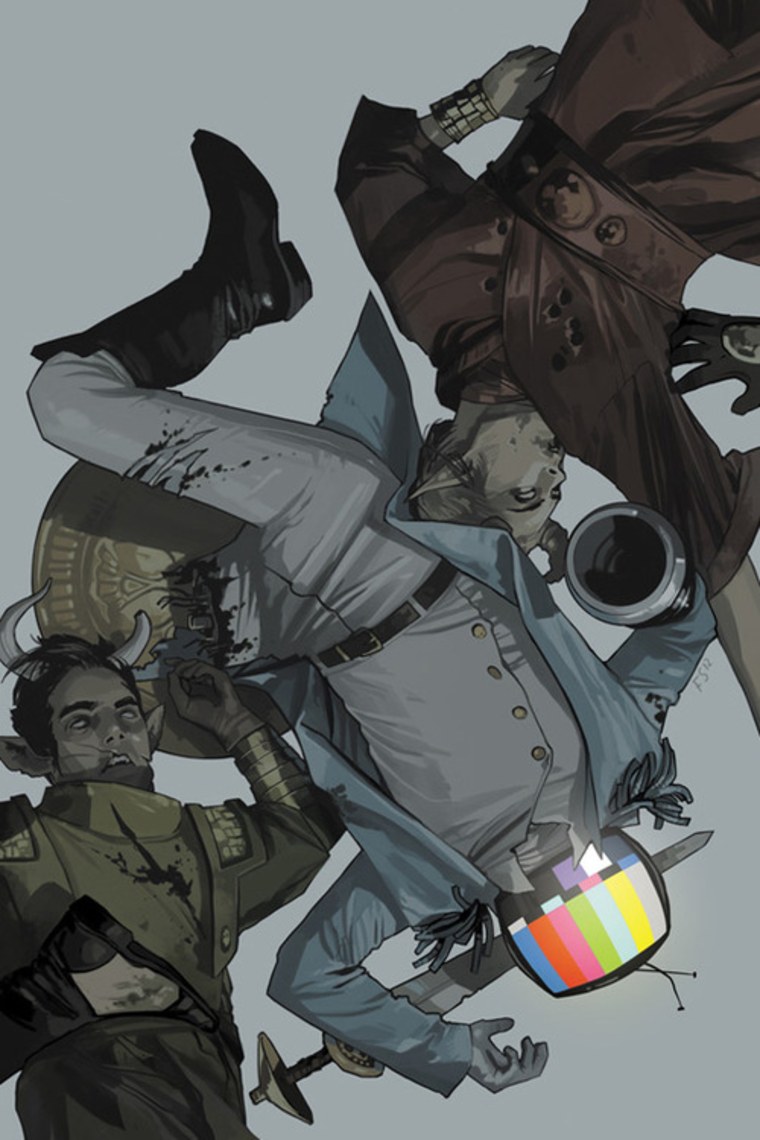 As many an App Store crackdown has shown, Apple often struggles with a "porn problem." Most recently, this smut saga manifested itself in the form of a controversial comic book from "Y: The Last Man" creator Brian K. Vaughn, which is (somewhat aptly) named "Saga."
Following Internet outrage based on the belief that Apple banned the latest installment of "Saga" from the App Store, the distributor, Comixology released a statement saying that Apple had nothing to do with the decision.
The "Saga" saga began on Tuesday when Vaughn released a statement on publisher Image Comics' Tumblr saying that issue 12 would not be made available for sale through Comixology or any other third-party iOS apps.
"As has hopefully been clear from the first page of our first issue, Saga is a series for the proverbial 'mature reader,'" Vaughn wrote in his statement. "Unfortunately, because of two postage stamp-sized images of gay sex, Apple is banning tomorrow's Saga #12 from being sold through any iOS apps. This is a drag, especially because our book has featured what I would consider much more graphic imagery in the past, but there you go."
Other comic artists and writers quickly fell in line behind Vaughn to criticize Apple's choice in removing the issue. Joe Hill, the writer of "Locke & Key," took Apple to task for banning "the work of an award-winning writer for a frank depiction of gay sex," calling it a "bozo move by some intern" that nonetheless made the company look "stupid." Legendary science fiction author William Gibson also publicly chastised Apple on Twitter for its "homophobic adult comic-banning embarrassment."
"What a sad place for such a supposedly smart firm to find itself, in 2013," Gibson concluded.
The "postage stamp-sized images of gay sex" that Vaughn mentioned (which can be seen in all its NSFW glory at Comic Book Resources) are indeed explicit — depicting sex acts more frankly than in the rest of the series' history. But the irony of "Saga's" current issue being banned which many critics have pointed to is that fact that the occasionally erotic series has already featured explicit sex, just of the heterosexual variety. As Alex Hern pointed out in The New Statesmen, issue four of the series features a sub-plot in which a character visits a "sex resort" that (also NSFW) leaves little to the imagination.
The timing of "Saga's" appearance (or lack thereof) must seem particularly poor for progressive-minded comic fans, given that DC Comics just introduced a transgender character into its "Batgirl" series — which Wired identifies as the first such character in a "mainstream comic."
Comixology, however, has insisted that the claim that Apple banned the "Saga" issue "due to depictions of gay sex" is "simply not true," according to a statement from CEO David Steinberger delivered Wednesday.
Steinberger accepted full responsibility for not including Issue #12 of "Saga," saying that his company made the choice to cancel the comic based on its interpretation of Apple's App Store policies.
"As a partner of Apple, we have an obligation to respect its policies for apps and the books offered in apps," Steinberger wrote. "Based on our understanding of those policies, we believed that Saga #12 could not be made available in our app, and so we did not release it today."
It's important to note that, despite the ensuing kerfuffle, the issue still remains on sale through iBookstore, Apple's first-party e-book marketplace and e-reader. Apple handled a similar issue with the comic book "Sex" in the same way just last month. "Saga" readers can also access the offending issue through Comixology's website or an Android app and sync it with their Apple devices — a number of available workarounds that all but make "Saga's" initial removal a moot point but for its symbolic and social resonance.
Apple, for its part, has remained silent on the issue, just as it has on many controversial removals from its App Store. But if "Saga" (like "Sex" or Vine before it) is a sign of Apple's tireless "porn problem," the tech giant may have to do more to explain its curatorial standards than simply resting on the opacity of the App Store's terms of service.