On Sunday, as the national panic due to the fast-spreading coronavirus mounted, Alycia Kamil, 19, sent an idea to a group text thread she shares with other young people in Chicago.
What if they found a way to go shopping for low-income people in their Chicago neighborhoods who were recently forced out of work?
By that afternoon, Kamil had created two Google forms — one for people who need help and another for people who can help. She forwarded them to the others in her text thread, who are all part of the Chicago youth-led anti-gun violence group GoodKids MadCity, to spread the forms on all their social media accounts.
"Our goal was to raise about $300 and be able to give about 30 families food," Kamil said. "We ended up raising over $7,000 in just two days and more is coming. We are really excited."
Similar aid groups have sprouted up across the United States. There's a mutual aid group in Salt Lake City. And another in Washington, D.C. There are more than a dozen in New York City alone. Mutual Aid projects have popped up in Nashville, Tennessee; New Orleans; Minneapolis; Las Vegas; Cleveland. One directory of local mutual aid groups in the U.S., aptly titled Database of Localized Resources During Corona Outbreak, now lists over 150 volunteer run efforts.
Americans are using an array of digital tools — from Google docs and Facebook groups to money transfer apps, Twitter and the neighborhood-focused social network Nextdoor — to form local mutual aid groups to help their most vulnerable neighbors and anyone else who could use help as the country adjusts to self-quarantine.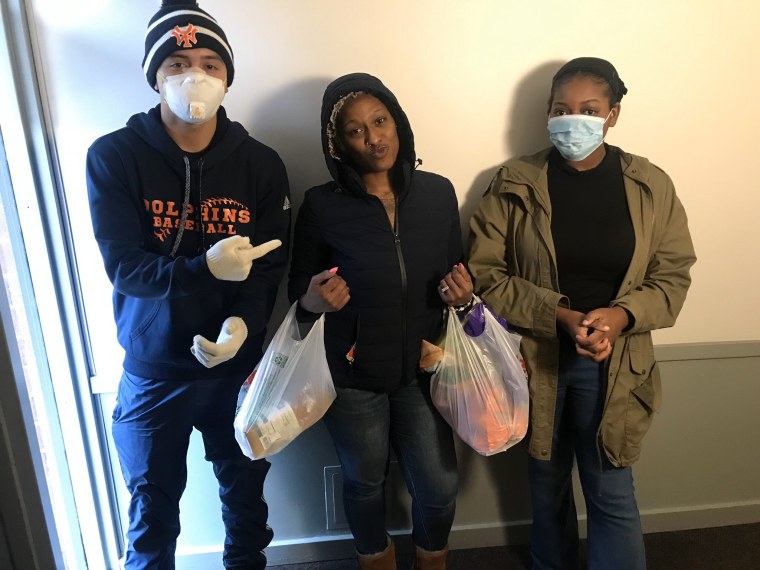 So many coronavirus mutual aid groups have popped up in the past five days that there are now master spreadsheets circulating on Twitter, Nextdoor and Facebook that contain extensive lists of the groups as they form across the country. The spreadsheets also link to templates for flyers and printouts that can be left in neighbors' mailboxes, as well as instructions for starting neighborhood phone trees to be sure to reach those who aren't online.
Kamil, who graduated high school last year, said the fundraising will be able to help people for weeks as social distancing and self-quarantining continues. For neighbors who didn't see the their Google forms circulating online, the group plans to go out into communities in the south and west sides of Chicago and hand out food and supplies to anyone who needs them.
"Our target is low-income black and brown families who have been hit financially or healthwise by this crisis," she said.
Kamil's group is also taking precautions. People who deliver food will have gloves, masks and use hand sanitizer.
"And we're going to disinfect all the cars that have groceries in them and avoid all physical contact," she said.
Download the NBC News app for full coverage of the coronavirus outbreak
Astra Taylor, an author, organizer and co-founder of the Debt Collective, an organization that focuses on collective actions to dispute debt, said that the local focus of many groups show how the coronavirus has tapped in to community solidarity that may not always be apparent in normal times.
"While we're confined to our homes, on the one hand, organizing online could conceivably be international," she said. "But this is a kind of direct and physical solidarity."
"We know we're heading into a future with more emergencies, not less. We're heading towards more climate disasters and mutating viruses and other pandemics, so trying to think of these mutual aid networks as more than just a spontaneous reaction to this moment is really important," Taylor said.
The idea with these groups, according to one collective in the Somerville and Medford neighborhoods of Boston, is that however the coronavirus pandemic shakes out, everyone is in this together.
"In these fast moving and uncertain times, it's important that we show up for each other and remember that we are not alone. ¡Lee en español!," the introduction to the Somerville online packet, which is posted on Nextdoor, reads, linking to a full translation of all the resources in Spanish.
On Friday, Shandra Benito, an executive director of an arts nonprofit in Salt Lake City and a disability rights activist, asked in a Facebook post if anyone would want to join her in forming a local mutual aid group to help those who can't leave their houses to get groceries.
She had seen people she knows in Seattle on Facebook forming similar groups in response to the coronavirus outbreak and knew that as businesses and schools started to close in her community, people in Salt Lake City would need to help one another too, Benito said.
She sent an email to everyone who responded. Over the weekend, the group started building a website, setting up an email address, putting together a Venmo account and a GoFundMe page, and a couple of Google forms.
"While we're still possibly a couple weeks away from seeing a systemic government response, we knew that people would need support now," Benito said.
Full coverage of the coronavirus outbreak
The group that formed worked around the clock all weekend before launching the Salt Lake Valley Mutual Aid website on Sunday. By Wednesday afternoon, the group had raised $16,000, surveyed the needs of about 250 people, and 300 volunteers signed up to help.
Not all mutual aid projects are focused on a single city or neighborhood. The Covid Childcare Coop Calculator is a free tool that was built over the weekend by a group of seven volunteers who responded to a call on Twitter by activist and author Malcolm Harris to build a project to help parents and child caregivers coordinate to watch one another's kids.
Since its launch Sunday, volunteers have translated it into Spanish, Portuguese, Mandarin and French.
By building their own volunteer-run tool, "we could make sure we're not taking people's data to run experiments or monetize in any way," Harris said.
Kamil in Chicago said her group is now thinking about how they can set up an emergency fund for their neighbors to provide more substantive financial support for people who are out of work now and were struggling long before the pandemic.
"Living in a city where a lot of our elected officials won't necessarily care for us all the time, we want to make sure that we are the ones that are providing and sharing love with each other," she said.