The rush for a coronavirus testing kit is on.
Startups and charitable foundations are rushing to create their own coronavirus testing kits that can be sent to people, while the government works to ship enough kits to help regions get a grip on the outbreak.
But the rush has also created an opening for scams and fly-by-night operations making unverified or outlandish claims to capitalize on public fear of the virus — including for at-home tests.
The Food and Drug Administration responded to the shortage of tests this week by relaxing regulatory restrictions, which approved the emergency distribution of new tests and allowed states to authorize laboratories to develop tests.
But no FDA-approved at-home COVID-19 tests are available in the U.S.
Full coverage of the coronavirus outbreak
"No at-home test has been granted an emergency use authorization," an FDA spokesperson said in an email. "And at-home test kits are explicitly exempt as part of our recent coronavirus diagnostics policy. We are looking into this further."
Several private medical companies have said they are working on test kits. Nurx Inc. of San Francisco, known as the "Uber of birth control," said it was working with lab testing partners on a home testing kit. Everlywell Inc. of Austin, Texas, a lab-testing startup, said its test kit will be available starting Monday, although people will still need prescriptions for the tests, which will also need to be sent off to a lab for analysis.
The Bill and Melinda Gates Foundation is reported to be funding a project that would provide home-testing kits for Seattle-area residents, although it is unclear when such a product might be ready.
Beyond legitimate efforts to create home test kits, thousands of coronavirus-related internet domains have been registered globally in recent months. More than 400 of them specifically refer to testing in their site names, according to an NBC News analysis of records using DomainTools, a cyberintelligence platform. Most of the websites, registered anonymously and named with variations of official-sounding words mashed together like FDACORONAVIRUSTESTKIT.COM were likely purchased with the intention of selling them for a profit. A handful offer test kits for purchase.
On Monday, mycoronavirustestkits.com offered two test kits for $75 and $150 — half-price, according to the site. The site, which offers few details about its operation or owner, displays a banner reading "'THE TRUTH WILL SET YOU FREE' - JESUS." The website has an operational checkout process that accepts PayPal and major credit cards.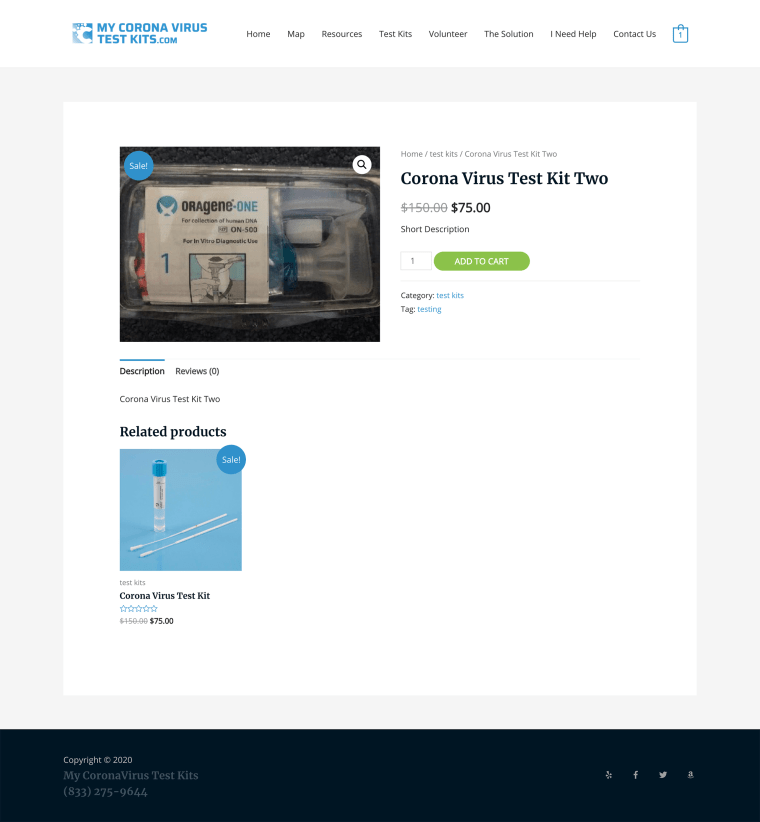 The website's owner, Kirk St Johns, CEO of MedTech National, which specializes in electronic health records, according to St Johns' LinkedIn page, said in a telephone interview that the listings were a mistake and explained that what his company might eventually offer would be an initial test to rule out influenza.
"I'll be the first person to say we're not ready yet, hold the phone, that was a little premature," St Johns said. "But we do have the experience necessary to do legitimate testing."
By Monday afternoon, the COVID-19 tests had been removed and replaced with influenza test kits selling for up to $389.
Public demand and collective anxiety over testing are clear. On Google, the coronavirus is quickly becoming the biggest trend in the search engine's history, and searches related to how to access testing have surged. "How to get tested for coronavirus" was the top "How to ..." search on coronavirus this week, eclipsing how to prepare, prevent or treat.
Currently, the U.S. can test only 36,800 people for the coronavirus each day, according to tracking by the American Enterprise Institute. The number is expected to "substantially increase" this week because of new tests available from major commercial labs, according to former FDA Commissioner Scott Gottlieb, who headed the AEI tracking.
Authorities have already stopped the distribution of some fake test kits. Customs and Border Protection confiscated alleged counterfeit test kits at Los Angeles International Airport arriving from the United Kingdom last week. In a news release following the seizure, CBP urged Americans to be aware of "bogus home testing kits for sale either online or in informal direct to consumer settings."