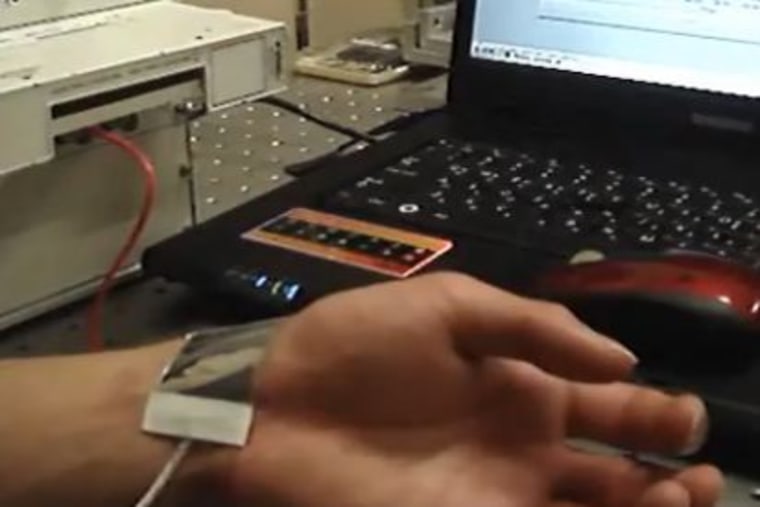 Robots of the future may be draped in skin more sensitive than human's thanks to some high-tech engineering inspired by interlocking hairs on beetle wings.
As it is today, the sensor can be wrapped around a person's wrist and serve as a heart rate monitor.

The sensor is made from sheets of metal-coated, hair-like polymer nano-fibers that are sandwiched together so that the hairs interlock. That's similar to the wing-locking mechanism of beetles, Kahp-Yang Suh, an engineer at Seoul National University, told Chemistry World. 
For beetles, the mechanism allows the bugs to rather easily lift their wings up, but it creates a shear force that prevents the wings from moving around too much. 
The researchers mimicked the interlocking fiber arrangement to create their sensor and then wired it up so that an electrical current can be applied.
"When the sensor is pressed, twisted or brushed, the squishy metal-coated hairs change position, generating changes in the sensor's electrical resistance," Nature News explains. 
The researchers can distinguish between three types of mechanical strain: pressure, shear and torsion, a twisting motion.
Human skin can distinguish between these types of strain as well, but researchers have struggled to replicate it in an artificial design.
In the video below, Suh's team demonstrates how the sensor is used to measure a human's heartbeat, an application the team is already considering bringing to market. 
Future uses of the skin could include use as a robotic skin, for example giving a robotic glove a better sense of touch. It could also be used to coat a prosthetic limb.
The sensor is described in the July 30 issue of Nature Materials.

— Via New Scientist, Chemistry World, Nature News
John Roach is a contributing writer for NBC News Digital. To learn more about him, check out his website. For more of our Future of Technology series, watch the featured video below.