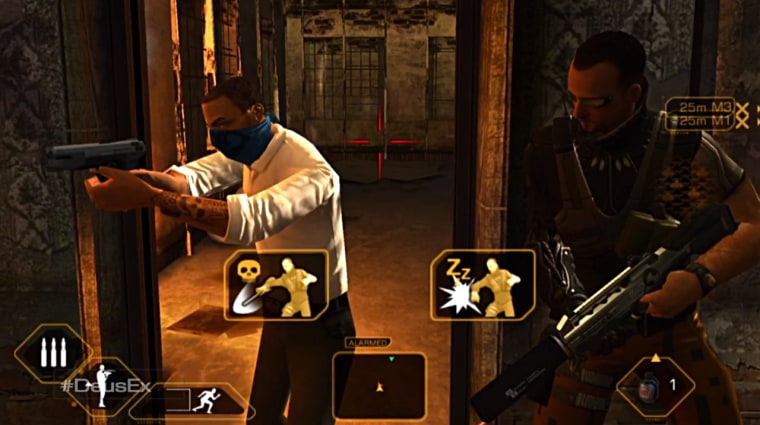 Turns out, some of those conspiracy-level theories about the next "Deus Ex" game were right. After mercilessly teasing fans of the cyberpunk video game series earlier this week, Eidos Montreal announced today that "Deus Ex: The Fall" will be a mobile title released for mobile devices this summer for $6.99.
Working in conjunction with publisher Square Enix's mobile developers, Eidos Montreal is making "The Fall" as the first installment in a mobile series.
The game, which Eidos and Square describe as a "story driven action-RPG," is set alongside the events of 2011's acclaimed console and PC title "Deus Ex: Human Revolution." But rather than putting players back in the role of perpetually disgruntled "Human Revolution" protagonist Adam "I Never Asked For This" Jensen, "The Fall" will star Ben Saxon, a former member of Britain's Special Air Service (SAS). Like Jensen, Saxon has had some work done — turning him into an augmented cyborg-like posthuman with (of course) a haunted past. Playing as Saxon, players will work to unravel a drug conspiracy that, knowing the "Deus Ex" universe, will probably turn out to be nothing like it original seems to be.
Eidos executive game director Jean-François Dugas said in a press statement today that "Deus Ex" fans can expect the same "exploration, action, hacking, stealth, social enhancers, player choice and consequence" seen in "Human Revolution." While players and game developers alike tend to treat mobile games as the younger siblings of their console brethren — particularly when they are linked to an acclaimed franchise like "Deus Ex — Dugas said that "The Fall" will offer fans "the full 'Deus Ex' experience."
"Smart devices are central to Square Enix's platform strategy and we approach it with the same attention as our boxed and digital releases," Square Enix mobile general manager Antony Douglas added in the press statement. Douglas insisted that despite gamers' wariness of mobile tie-ins to blockbuster game releases, "Deus Ex: The Fall is going to be testament to our commitment in delivering high quality entertainment on mobile and tablet devices."
But what does this mean, exactly? Given that recent console-level games like "Dead Space 3" have begun to experiment with mobile-like business models such as microtransactions and social integration, what will a mobile counterpart to a celebrated role-playing game look like? Will "The Fall" truly offer "the full 'Deus Ex' experience?" Or, like the "Mass Effect" iPad game "Infiltrator," be seen by long-time fans of the series as a hastily-made tie-in to a game that didn't really need such errant merchandising in the first place?
As if to fend off these concerns, Square Enix noted that "The Fall" has been in development for a year already. But the company gave little in the way of details about how "Deus Ex's" stellar gameplay is being adapted to mobile devices, or whether or not it will make use of any of the ickier parts of the mobile gaming ecosystem.
Square Enix said that it will be showing "The Fall" at its booth next week at the Electronic Entertainment Expo (E3) in Los Angeles. Watch the reveal video below.