If you could use technology to receive messages from a loved one who has died, would you?
Thanks to a growing industry dedicated to managing death in a digital age, it's no longer a hypothetical question. Smartphone apps and services like SafeBeyond have made it possible for users to upload video, audio, photo or text messages that will be sent electronically to a chosen "heir" at the date, event, or even location of their choosing.
The "digital time capsule" at the heart of the SafeBeyond platform was created by Moran Zur, an entrepreneur formerly at the helm of one of Israel's largest investment firms. Zur, now father to a young son, lost his father to cancer, and soon after realized how valuable it would have been to have his advice on many of his life's unanswered questions — especially about getting married and having kids.
"We live in an age where you can have more than a picture now."
"It's about the people that are going to stay behind. Life continues for them," said Zur, in an interview with NBC News. "And we allow you to support them by having your virtual presence and help them cope better."
And while many might find it macabre to receive a message "from beyond the grave," Zur maintains there's nothing morbid about it. "It's celebrating life in a different way. It's basically allowing people to know the real you, remind them in their time of need of the important stuff. So if you've been a chef and you didn't want to reveal your recipe all your life, and you want to only reveal it once you're gone, then hey," said Zur with a gentle laugh.
According to SafeBeyond, the platform has about 25,000 active users across the United States, Canada, and Israel. It also assists with curating a digital legacy of social media profiles according to your preferences, taking the guesswork out of what should happen to your Facebook and Twitter profiles once you're gone, for example.
A Celebration of Life
Ginger Johnson is a SafeBeyond user in Layton, Utah, and while she hasn't yet uploaded any secret recipes, she is chronicling memorable moments and adventures with her three children.
Johnson, 41, was diagnosed with metastatic cancer in July of 2015, after beating breast cancer 10 years prior. "I'm not planning on leaving this earth anytime soon," said Johnson with a wink characteristic of her courageous optimism. But, she said, "I find great comfort in knowing that my family won't have to dig through storage to access memories of me, and that my children will have a video journal that they can then share with their children."
Despite having stage four metastatic cancer that has spread to her bones and lungs, Johnson is determined to celebrate being alive — and that means frequent outdoor adventures with her children: Ben, 16, Brinley, 14, and Brooks, 9. On a recent excursion to Adams Canyon in the Wasatch Mountains, as she and her family traversed the picturesque snowy mountain slopes, Johnson made sure to turn her camera on herself to record messages for the SafeBeyond platform.
"Hey guys, it's mom," Johnson began the recording. "I just want to say thank you for being on this adventure with me. And I'm so grateful you're my kids and that you love to do this kind of stuff. Love you."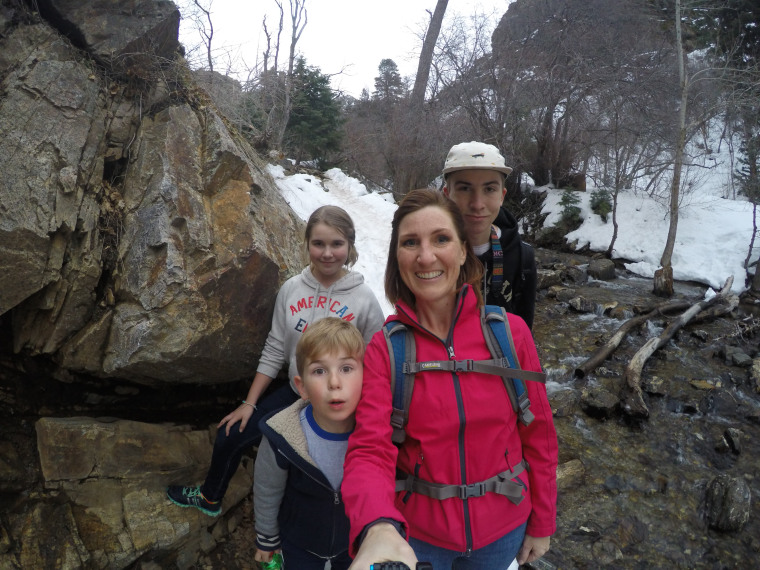 At a time or place of Johnson's choosing, one of her selected "heirs" will receive this video message (and others) from her — a reminder of a heartfelt family moment on a snowy hike from what — at the time of delivery — could have been long ago.
SafeBeyond allows users to upload a message and program it for decades down the line. Zur says all the digital assets are stored on the Amazon Cloud and that SafeBeyond will take care of making sure video formats recorded now will still be playable for years in the future. And, recipients of the messages don't pay for the platform, at least not until 25 years after the sender is no longer with us.
SafeBeyond users get 3GB of storage on the platform for $4 per month, or can pay $8 per month for 30GB. Similar platforms like Remember Me allow users to schedule video, audio or photo time capsule delivery, for a yearly cost of $20 for 2GB of storage.
Death in the Digital Age
MyWonderfulLife was founded in 2009 and now has 50,000 members. Its main purpose is to help users "plan your funeral your way," but it also allows people to upload stories and memories that will be delivered at one time to a loved one — at no cost.
"Everyone thought it was a little kooky back in 2009," said MyWonderfulLife co-founder Sue Kruskopf, observing a greater acceptance of discussing death in this digital age. "You're going to see more and more in this category," she said.
Another service, Afternote, allows users to record their final wishes, program messages for a time capsule, as well as indicate what to do with your social media pages.
"It's such a blessing to be able to live in a time when technology enables you to do things like this," said Johnson. "It just takes a couple minutes to record moments that will last a lifetime."
Related: Why Bury Grandpa When You Can Launch Him Into Space?
Like all SafeBeyond users are prompted to do, Johnson has selected a "trustee" — a contact who can notify SafeBeyond of her death and also release stored messages if an automatic trigger was not set. All the uploaded messages are stored to an heir's "digital vault" until the predetermined date, event, or location — such as a wedding date or anniversary of the user's passing — triggers the message to be sent.
As for her kids, Johnson says they're focused on "school and friends and snowboarding," but are aware that there will be a virtual vault of memories waiting for them — if not of the impact it will have. "I'd rather have them focus on that than the possibility of me not being here," said Johnson.
A Delicate Subject to Broach
Zur says that to date, there has been no negative feedback from a "digital beneficiary" receiving messages via the SafeBeyond platform, though the platform has only been live in the U.S. since October of 2015. Those who specialize in the grieving process say an understanding between the sender and receiver is key.
Depending on the person, it can either be really good for them or it can bring them more depression — more of a sense of loss," said Laura Palermo, a licensed clinical social worker in New York who specializes in grief therapy. (She has not met with the Johnson family.)
"It's wonderful, especially if a person is receptive, to have a keepsake, something to hold onto. Not just a picture. We live in an age where you can have more than a picture now," said Palermo. "There is also the opposite effect where a person can get stuck and constantly be replaying that [video] or reliving that, and the person can get stuck in this grieving state where they don't move forward," Palermo cautioned.
Johnson recently spoke with her sons and daughter about their comfort level receiving her messages after she dies, and has made some changes about the types of messages that she'll record in videos. She will continue recording video moments and assigning them for specific dates and events, but will only send advice-focused messages as text or audio.
Overall, Johnson is grateful to have a platform where she can give a part of her virtual self to her children for when she can't be there in person. "Traditional journaling is great, and capturing photos of special events is helpful. However, they cannot replace the ability to listen, see, and hear someone you love express their true desires and feelings about you," said Johnson. "That means so much — to be seen and heard and loved. Even after you are gone."