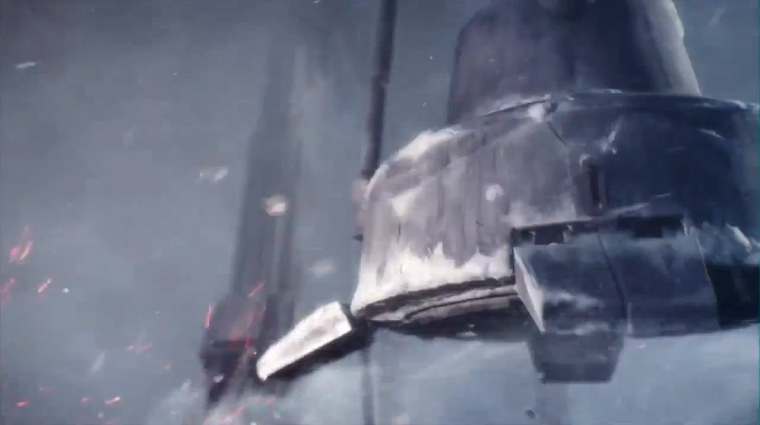 A new entry in the popular "Star Wars" series "Battlefront" is in the works from DICE, the developer of the popular first-person shooter franchise "Battlefield," publisher Electronic Arts (EA) said Monday afternoon at the Electronic Entertainment Expo (E3) in Los Angeles.
Following the high-profile shuttering of longtime "Star Wars" game studio in April, Disney announced recently that future games set in the legendary sci-fi universe would be developed by Electronic Arts, with all console titles to be powered by DICE's Frostbite 3 game engine.
This is the first look at any new "Star Wars" titles that EA has in the works ever since the video game publishing giant promised in May to give "a first look at our plants for the 'Star Wars' partnership with Disney" at E3. EA didn't say much about the new "Battlefront," however, except to show a brief teaser video set in what looks like the chilly ice planet of Hoth. A massive, claw-shaped foot of an AT-AT walker crunches down on the ground a few feet away from whoever's perspective the trailer is deliver from moments before the screen fades to black.
Does this mean gamers can expect another rendition of The Battle of Hoth? Probably. I mean, that epic space battle is basically the "Star Wars" version of D-Day, which is one of the most iconic moments ever to be recreated by countless video game developers. So what better studio to take on a new "Battlefront" than the one the pioneered massive World War 2-era battles? If you think about it, the only difference between "Battlefront" and "Battlefield" is four letters.
EA didn't provide information about the price or availability of the new "Star Wars: Battlefront." Watch the reveal trailer below.
Yannick LeJacq is a contributing writer for NBC News who has also covered technology and games for Kill Screen, The Wall Street Journal and The Atlantic. You can follow him on Twitter at @YannickLeJacq and reach him by email at: ylejacq@gmail.com.