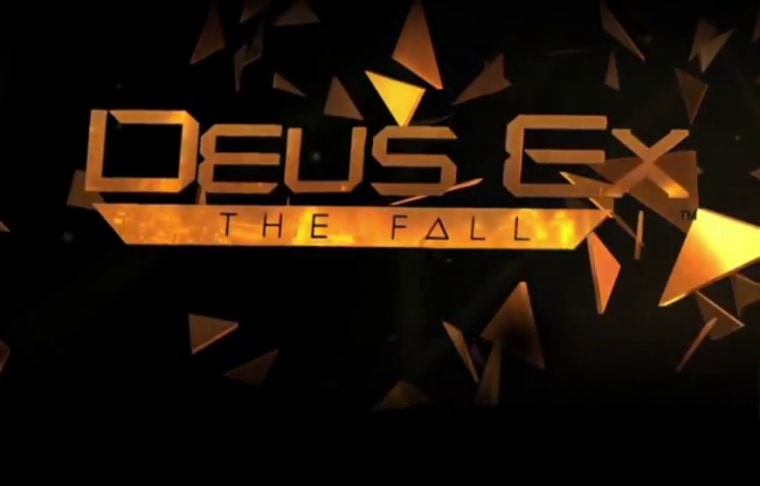 In the most teasing of teaser trailers, video game developer Eidos Montreal today confirmed that it is indeed working on something new within the "Deus Ex" universe know simply by its subtitle "The Fall."
The studio that brought back the "Deus Ex" series in 2011 with "Human Revolution" has been exceedingly tight-lipped about any possible future work set in the acclaimed cyberpunk sci-fi world. While some patent-lurking game journalists discovered that the company had filed for the name "Deus Ex: The Fall" this past March, Eidos Montreal didn't go on the record about any new "Deus Ex" content until early Monday morning, when it tweeted the question: "Are YOU ready for The Fall?"
Still, nobody had any idea what "Deus Ex: The Fall" actually was besides a name out there in the ether of the Internet rumor-industrial complex. Was it just more downloadable content for the 2011 game? That seems a little far off from the original release. What about the "Deus Ex" movie that's still in the works? Maybe, but last time I checked Eidos Montreal wasn't in the movie-making business. Could it be a sequel? Well, "Deus Ex: Human Revolution" was a prequel, so that might get confusing. Or would it be a prequel of the prequel? That's just crazy talk.
Today, Eidos Montreal released a first teaser trailer for "Deus Ex: The Fall" that confirms nothing more than the fact that yes, "Deus Ex: The Fall" is indeed the name of something. Clocking in at all of seven seconds, the "trailer" simply shows a title graphic hovering on screen while a voice-over says, "Are we ready to begin?" Then, a date appears for "5/6/13."
According to the Gregorian calendar, May 6, 2013 has already passed. But the conspiracy theorist in me wants to think that maybe this is a subtle trick asking "Deus Ex" fans to switch the day and month to June 5, 2013 — also known as "tomorrow."
That being said, the electronic entertainment expo (E3) is also less than a week away, so maybe Eidos Montreal is really just messing with all of us hopeless "Deus Ex" fans until it takes the stage next week in Los Angeles.
Watch all seven seconds of "Deus Ex: The Fall" in action below.