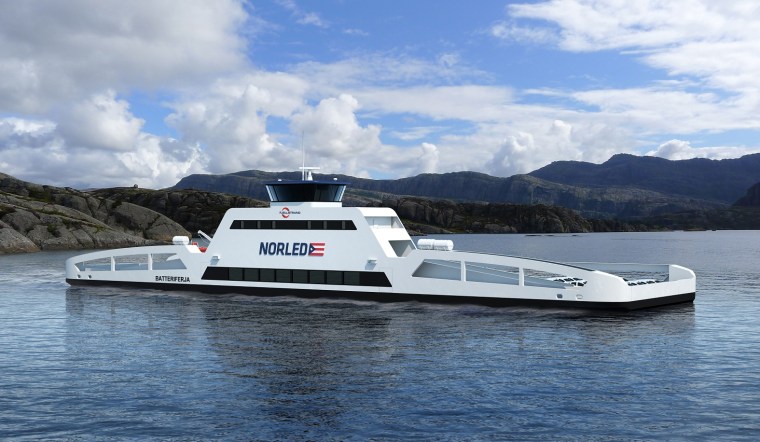 From the U.S. Pacific Northwest to Norway and hundreds of points in between, every day thousands of people drive their cars onto ferries to get across bodies of water. That trip will start to have a different kind of buzz in 2015 thanks to the world's first electrically powered car ferry.
The 262-foot catamaran will carry up to 120 cars and 360 passengers, according to Siemens, which is building the boat with the Norwegian shipyard Fjellstrand. It will sail about a four-mile route across a fjord in Norway that connects the tiny towns of Lavik and Oppedal.

The ferry's 11-ton batteries will recharge during the 10-minute break between runs, according to Siemens. Interestingly, the batteries on the boat will be charged up using batteries on the dock. The dock batteries, in turn, are recharged with electricity from the grid.
The new ferry will save the approximately 264,000 gallons of diesel the current ferry burns annually and the related 2,900 tons of carbon dioxide emissions. 
The electrically powered ferry was developed for a competition organized by Norway's Ministry of Transport. It won a license to operate the route until 2025. 
According to Siemens, all crossings in Norway shorter than 30 minutes could be served with electric ferries using today's battery and recharging technology. If so, some of those ferries could find a home crossing parts of the Pacific Northwest's Puget Sound.
- via Fast Company
John Roach is a contributing writer for NBC News Digital. To learn more about him, check out his website. For more of our Future of Technology series, watch the featured video below.