I struggle with finding gifts for friends, so when Business Insider tipped us off about Etsy's "Gift Ideas for Facebook Friends" feature, I was excited.
After trying it for a little bit, I'm a little less excited, but it could still be helpful for friends who are prolific in their "Likes" on Facebook. 
It doesn't work for all your friends. If they (or you) haven't hit the "Like" button on all the bands, sports teams, activities, hobbies or movies, etc. available on Facebook, then they probably won't show up as an option when the page pulls up Facebook friends.
So I tried it for a friend who lives in Denver.
While it makes some good suggestions, you should still weigh your friendship and what you know about your pals before you hit the purchase button.
My Denver friend really does love the Broncos, so any of those gift ideas would probably work for her, especially the fleece scarf!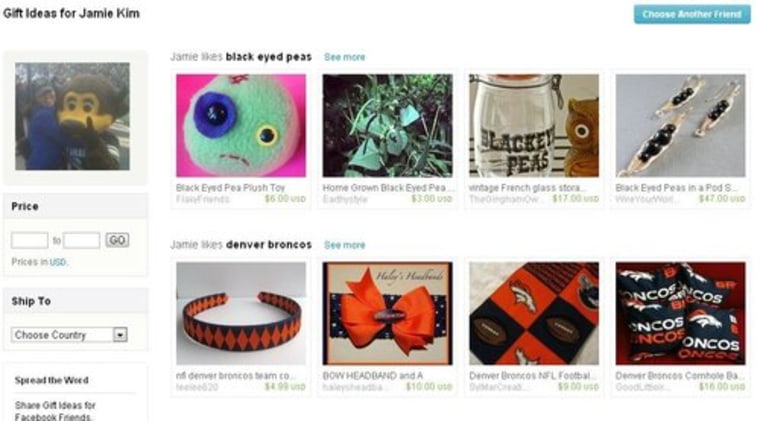 But while she likes U2, I can't see buying her a pop art Bono print as suggested by the Etsy tool. Hmmm, no. Or, the personalized wine bag with the golf theme letter or the Katy Perry cupcake bra. Not so much. These things are perhaps more in the realm of Regretsy.
Anyway, it's a fun and potentially useful feature that might make holiday shopping easier. If you try it, let us know what you think.