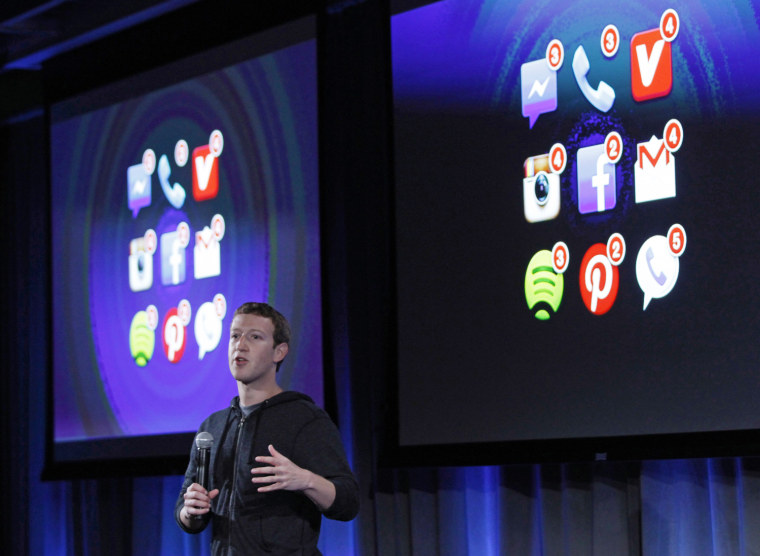 To anyone wondering why Facebook didn't build a Facebook phone, the answer is simple: It didn't need to.
Let's recall what Facebook Home is, exactly: Software that launches when you power up your phone, that completely replaces the home screen, giving you a whole new messaging and notifications system. You can still get to your Android apps, by way of a new app menu, and you can still shop for apps at the Google Play store. But even when you're in an app, Facebook messages can be seen, floating atop the screen. And when you're not in any app? Why, you're in Facebook!

This slick Trojan horse will be available to the hottest and newest most drool-worthy phones from Samsung and HTC first, and rollout to most cheaper Android phones — not to mention any Android tablets at all — will take months. Nevertheless, the April 12 launch of Facebook Home will establish a beachhead for the social network to make a full mobile assault on Android.
(But not on iOS: Let me just say quickly that Apple gave Facebook deep integration in iOS, but wouldn't allow anything like Facebook Home in its App Store; meanwhile, Android apps often bring gut-level customization to phones and tablets — usually with Google's blessing.)
Many people will jump on board simply because they are tired of the mucked-up home-screen interfaces provided by the likes of Samsung, HTC and Motorola, but the real target is the ringmaster of Android itself, Google. Any growth in mobile advertising revenue will mean money taken away from Google, and though Facebook Home currently can't sell or load apps of its own, a future version that could will threaten Google's Play store.
"This is a much more embedded Facebook experience than there has been in the past," mobile industry analyst Chetan Sharma told me. "You don't have to launch Facebook to do activities — it's always there." The point is driven home when you think of it this way: If someone checks their phone 100 times per day, says Sharma, they will now look at Facebook every single time, before they do anything else. Did you just feel a chill run down your spine?
"Facebook Home is the new monetized mobile screen saver," Krishna Subramanian, chief marketing officer for Velti, a mobile advertising company, wrote in a note. "Not because you will see ads on the home screen but because that Facebook Home app will drive increased mobile usage and create an explosion of mobile data that can be tied back into desktop advertising." He added, "Mobile advertising revenue does not need to be tied to simply showing ads on mobile apps … it's bigger than that."
No better way to remind people of Al Franken's famous statement: You are not Facebook's customer, you are its product.
So if this is just a way for Facebook to send its mobile revenues skyrocketing through ads, offers and the collection of enormous amounts of contexual data about you, baby — yes, you … well then how much will you push back?
I have a visceral reaction to the ads that appear at the top of my Facebook news feed — you know the ones that declare which friends enjoy some brand of yogurt or handbag or whatever? My usual reaction is just to think negatively of those people who have become unwitting (or witting) corporate shills. But then I move on. Imagine seeing that anytime you look at your phone! If the ad and offer thing gets out of hand, people will rebel.
"Facebook will have to offer users some control over (ad exposure in Home), otherwise that could turn people off," Sharma said.
Perhaps it will be like Amazon, which sells cut-rate Kindles with ads turned on, but will gladly charge you $20 to turn them off. How much would you pay for a year of ad-free Facebook Home? I'm sure some people at Facebook HQ are dying to know.
Though it will no doubt have momentum, some don't see Facebook Home as a fits-everyone solution.
"Some will want to have Facebook as their primary focus. Some won't," said wireless industry analyst Jeff Kagan, in an email. "While I think Home will be a success, I don't think the majority of wireless users will be interested."
"Facebook thinks it's more important to people than it actually is," said Charles Golvin, an analyst at Forrester Research, told Reuters.
Still, if Facebook plays its cards right, and offers a shiny, engaging experience for already-addicted Facebook junkies, what then? Then Google should be afraid. This version may be about about merging your Facebook Web life with Android apps from Google's store, but why wouldn't the next version include the third-party apps Facebook already administers through its website — those cash-cow social games from Zynga, for instance?

"If they (Facebook) indeed have the home screen and have the ability to promote and source apps for that home screen, by default it becomes a quasi store that Facebook has control over." Sharma
Google could fight back, theoretically giving phone makers and network operators a tough choice: If phones ship with Facebook Home, perhaps Google would refuse to license the prized Google apps, including the Play app and media store, and Maps with free turn-by-turn navigation. Facebook Home is "very dependent on the open OS," Sharma said.
If Google decides Facebook Home is a threat, it could close the gates on the ambitious social Trojan horse.
Wilson Rothman is the Technology & Science editor at NBC News Digital. Catch up with him on Twitter at @wjrothman, and join our conversation on Facebook.