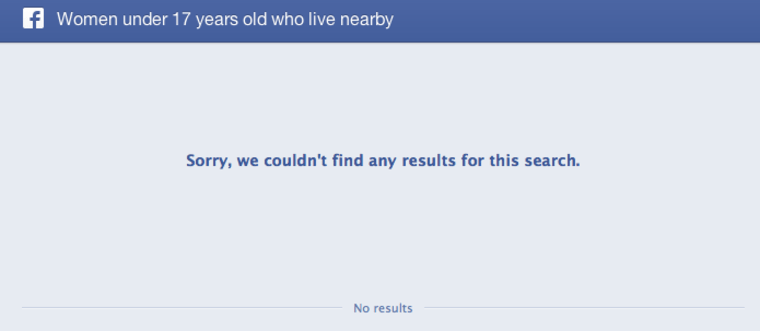 Within seconds, Facebook's new Graph Search can show you a list of single men who work as financial advisors in New York City. That's great if you're on the prowl for that sort of thing. But what if you were a shady character with less acceptable tastes? What if you typed "women under 17 who live near me" into the search box?
You'd be out of luck.
In order to keep users between the ages of 13 and 17 safer, Facebook keeps certain information and status updates from being shared beyond friends of friends. And as a blog post by Facebook's safety team explains, Graph Search takes the need for such safety precautions into account as well. "For certain searches that could help to identify a young person by age or by their location," the post elaborates, "results will only show to that person's friends, or friends of friends who are also between the age of 13-17."
Attempting searches which could produce information related to minors leads to a simple message explaining that Facebook "couldn't find any results for this search." (This is assuming that you're not between the ages of 13 and 17 and have friends or friends of friends who'd match the search query.)
While some aspects of Facebook can make us want to reach for tinfoil hats and scream about the need for privacy and the like, the existence of this particular Graph Search safety measure will certainly put some of our minds at ease a tiny bit.
Want more tech news or interesting links? You'll get plenty of both if you keep up with Rosa Golijan, the writer of this post, by following her on Twitter, subscribing to her Facebook posts, or circling her on Google+.