Wal-Mart is accelerating its investment in e-commerce in a bid to narrow the gap with Amazon and to give it an even more dominant position against the rest of the field in retail.
The world's largest retailer is now on track to double the number of giant warehouses dedicated to online sales to 10 by the end of 2016, according to Justen Traweek, vice-president of e-commerce supply chain and fulfillment.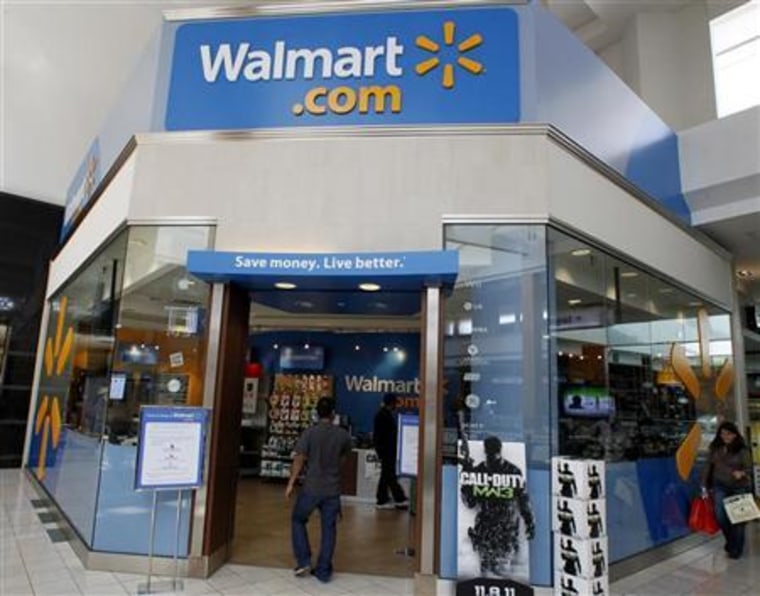 That pace is faster than the eight large warehouses that industry consultants expected Wal-Mart to build by the end of 2017.
At the same time, Wal-Mart in the last year has installed new technology such as automated product sorting and improved item tracking that for the first time puts them on par with Amazon's robot-staffed facilities, according to supply-chain consultants.
"We have doubled our capacity in the last 12 months and that allows us to ship to a majority of the U.S. population in one day," Traweek said.
Wal-Mart is holding its annual investor day on Thursday when, among other topics, it is expected to update on the progress it has made in its e-commerce business.
Wal-Mart, which has about 4,600 stores in the United States and over 6,000 worldwide, has been investing in e-commerce for 15 years, but it still lags far behind Amazon.
"These additions definitely give Wal-Mart the opportunity to compete better than other companies going head-to-head with Amazon," said Steve Osburn, director of supply chain with consultancy Kurt Salmon, referring to the likes of Target and others.
"Having said that, choosing to race with Amazon is different than catching up with them."
Wal-Mart in the last four fiscal years has accelerated its investment in e-commerce and digital initiatives, excluding acquisitions, from about $300 million in 2013 to $1.1 billion this year for a total of about $3 billion, according to public filings and earnings transcripts. E-commerce accounts for about 3 percent of Wal-Mart's overall sales.
Since 2011, Wal-Mart has acquired 15 e-commerce startups, one of which became its core Silicon Valley technology arm, @WalmartLabs. Last month, it completed its purchase of online retailer Jet for about $3 billion and named Jet's founder, Marc Lore, the head of Wal-Mart's e-commerce business.
The massive warehouses are key to Wal-Mart's e-commerce strategy because they enable the company to deliver packages more economically when shipping online orders with multiple items. Fulfilling such orders now can often mean multiple shipments from different warehouses or stores.
"This improves two fundamental things: Wal-Mart's speed to market, which is how fast their products reach consumers, and it will help them reach an even larger audience," said Regenia Sanders, vice-president of supply chain at consultancy SSA & Co.
Even with Wal-Mart's new investments, though, Amazon has a commanding position in e-commerce with 40 warehouses of one million-plus square feet and plans to open five more by the first quarter of next year, according to data compiled for Reuters by retail technology firm ChannelAdvisor.
Its online sales of $107 billion last year far outstrip Wal-Mart's $13.7 billion of online sales in the same period.
The 10 warehouses are designed to boost its overall distribution capabilities, which consists of smaller online warehouses, stores that stock online orders and 160 store serving distribution centers that stock online items. Amazon runs 104 warehouses and has announced 18 new ones, according to ChannelAdvisor data.
An Amazon spokeswoman did not comment on specific questions for this story, but did say the company is laser focused on its customers and delivering unlimited, fast, free Prime Shipping.