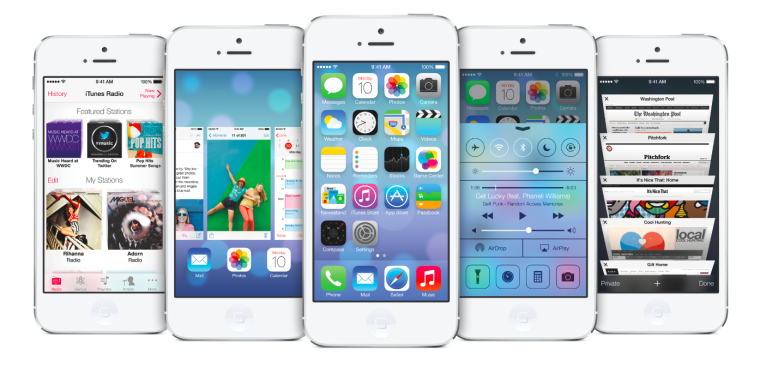 Apple's not exactly reinventing the mobile OS with iOS 7, but it is refining it yet again. By combining the best of Apple design with good ideas from its competitors, Apple's latest and greatest is exactly what Apple needed to fend off the competition — and bring the cool factor back.
"This is probably the biggest news since the [first] iPhone came out," Gene Munster, a senior research analyst at Piper Jaffray told NBC News.
Many stuck with the iPhone back when iOS had no copy-and-paste, no MMS support, no Notifications Center. They didn't mind the flaws, because the alternatives weren't as stable, weren't as pretty. But the developers behind Android and Windows Phone (and even BlackBerry) got on the ball, creating elegant new ways to interact with a phone. After a while, it was Apple that looked lackluster.
Then, like a relationship counselor with a soothing British accent, Jony Ive saved the day. The force behind Apple's clean, minimalist hardware designs — and now the head of the company's human interface division — addressed many points of tension. With iOS 7, there's no need to feel jealous when glancing at Android's easily accessible settings: iOS 7 puts the important stuff into a Control Center which can be pulled up with a swipe. And you don't have to wish for Windows Phone's front-and-center notifications: iOS 7 slips them straight onto the lock screen.
Beyond the functionality that iOS 7 brings — not just improved controls and notifications, but new ways to share files with nearby users, stream music from the Internet, browse open tabs on the Web and more — the system helps Apple catch up with the razzle and dazzle of the competition. Skinny fonts and bold primary colors interact on layered visual planes that drift gracefully in and out of view — these are all hallmarks of the new design. And if certain elements may look a bit familiar, that's because, yes, many of these ideas — the "flat" school of design — have been visible in Android and Windows Phone for a few years.
Still, it wouldn't be the first time Apple let the competition go first, then swept in and stole the spotlight. Apple wasn't the first with a smartphone or an MP3 player or a tablet computer, but like those devices, Apple's execution with iOS 7 is without equal. The Cupertino-based company may have, for the first time since it lost its inspirational co-founder, Steve Jobs, shown off something that could be described as "magical."
Don't misunderstand though: iOS 7 still isn't the end all of mobile operating systems. By the time fall comes around, Google will probably show off a new version of Android, one that will highlight remaining iOS shortcomings. After all, even in iOS 7, there are no customizable homescreen widgets, no gesture-based Swype-style keyboards, no hands-on control over an apps' system usage — and both the HTC One and Samsung Galaxy S 4 have camera apps with more powerful editing tools.
But for now? iOS 7 is as good as it gets. It binds hardware and software in a way rarely seen, it's easy on the eyes. And come fall, it'll be a free upgrade for about 300 million devices. What's not to look forward to?
Want more tech news or interesting links? You'll get plenty of both if you keep up with Rosa Golijan, the writer of this post, by following her on Twitter, subscribing to her Facebook posts, or circling her on Google+.