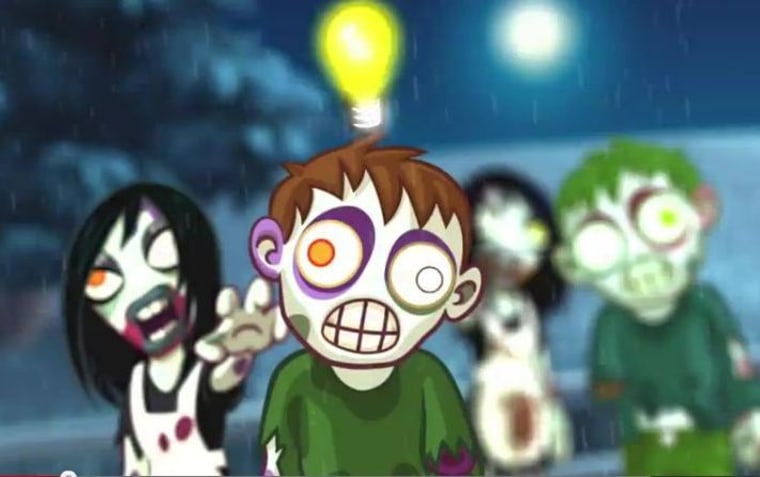 Don't get me wrong, I love me some "Fruit Ninja." But there have been times when I've longed to slash my way through something a little more menacing than a flying banana.
Zynga, it seems, understands my need for a little gore. The company has just unveiled its newest game — one that will toss the undead across our iDevice screens, daring us to cut them down if we can.
Developed by the folks who brought us the iPhone hit "ZombieSmash!," "Zombie Swipeout" replaces the fiendish fruit with, as the name suggests, zombies ... and plenty of blood.
Earlier this week, I had a chance to talk with Matthias Hoechsmann, the director of Zynga Mobile Germany who developed the zombie-flicking tower defense hit "ZombieSmash!" with his brother. He gave me an advance look at his latest offering. It has already been released in Canada and is expected to arrive in Apple's U.S. App Store shortly in both a free version (with ads) and a 99-cent ad-free version.
"With 'ZombieSmash!' there were so many different ways to kill zombies, but one thing didn't make it into the game — and that was slicing zombies," he explained. "We toyed with the technique in 'ZombieSmash!' but it was one of those things left on the cutting room floor. When we sat down to come up with our next game, we decided we could make an entirely new game out of this mechanic alone."
In "Zombie Swipeout," the object of the game is to slash, slice, bludgeon, explode and freeze as many zombies as possible with one simple rule: don't kill the good guy. And fans of "ZombieSmash!" will recognize that good guy. His name is Joey and he's the lone survivor from that game.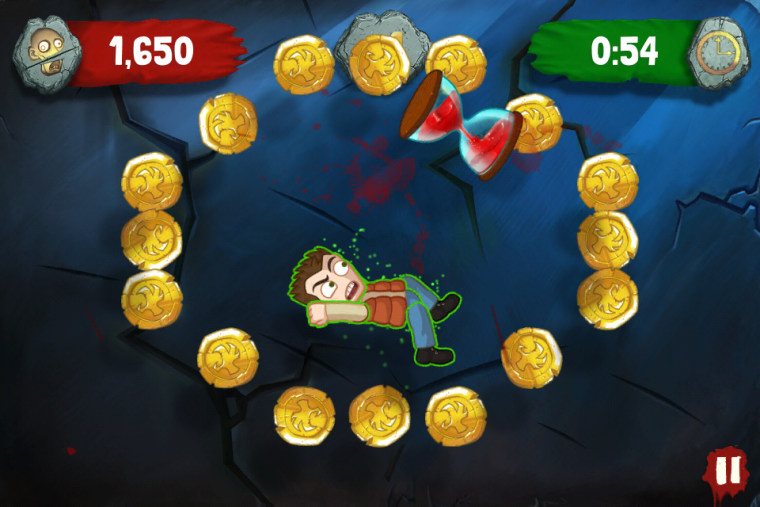 Of course, the comparisons to the famed "Fruit Ninja" are inescapable. But Hoechsmann says, "Our goal was to take the core mechanic of swiping on a phone, and move the category of slash games forward."

With that in mind, "Zombie Swipeout" puts an emphasis on social with a weekly tournament where players compete against friends for the highest score. Meanwhile, an RPG-style leveling system has been layered into the game in which players can unlock power-ups such as grenades and liquid nitrogen as well as a variety of different weapons — machetes, baseball bats, etc. And each weapon comes with different score-enhancing perks.
There's also a coin-collection system that allows you to unlock weapons and juice up your energy.
"It's a game that's simple on the surface, but  includes layers of complexity only realized after you continue to play," Hoechsmann says.
Here, check out the trailer ... but watch out for the blood splatter:
Winda Benedetti writes about games for msnbc.com. You can follow her tweets about games and other things here on Twitter or join her in the stream here on Google+. And for more video game news and reviews be sure to check out the In-Game Facebook page right here.