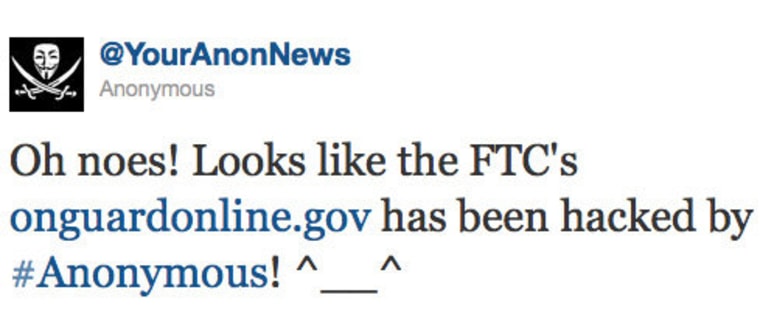 Anonymous claimed credit Tuesday for hacking a Federal Trade Commission website as part of a continuing attack on government and private industry sites in retaliation for possible anti-piracy legislation in Congress.
The FTC-run site, OnGuardOnline.gov, aims to help users "be safe, secure and responsible online," according to an FTC-related blog.
On Twitter, the FTC confirmed the site was attacked: "Partnership site OnGuardOnline(dot)gov ...  was hacked earlier today. The FTC takes this malicious act seriously." The agency added: the site will be "brought back up when we're satisfied that any vulnerability has been addressed."
Initially, Anonymous put up its own pirate look and anti-piracy information on the Web page, which was then taken down by the FTC.
Anonymous said on PasteBin, a file-sharing site, "umad? don't like it when your site is wiped of (sic) the internet do you?"
While an Internet blackout by Wikipedia and some sites last week helped convince U.S. legislators to withdraw two controversial bills, the Stop Online Piracy Act and Protect IP Act, Anonymous said it "will wage a relentless war against the corporate internet, destroying dozens upon dozens of government and company websites" if new legislation goes forward.
It also is opposing a bill known as ACTA, the Anti-Counterfeiting Trade Agreement, which is before the European Union.
Meanwhile, the one place Anonymous said it won't attack is Facebook, despite rumors that such an attack is planned for Jan. 28. The group denied the rumors on one of its Twitter accounts.
Related stories:
Check out Technolog, Gadgetbox, Digital Life and In-Game on Facebook, and on Twitter, follow Suzanne Choney.