The winning design in the Gates Foundation's Reinvent the Toilet project was announced Tuesday in Seattle during an exposition of the cheap, efficient toilets funded by Foundation grants. They also announced a second round of grants totaling $3.4 million.
Caltech was the winner, taking home $100,000; that team's design, pictured below, uses solar power and generates hydrogen and electricity. The UK's Loughborough University won second place and $60,000; that design produces bio-charcoal, minerals and clean water. Canada's University of Toronto took $40,000 and third place; their device sanitizes waste and recovers usable resources. Two other toilets were awarded $40,000 in special recognition prizes.

The Reinvent the Toilet effort started more than a year ago, when the Foundation announced it would be awarding eight $400,000 grants for research into cheap, efficient toilets. As a Foundation video pointed out at the time, the problem may not be a glamorous one, but it's a serious one:
This week, the Foundation is showing off the designs that last year's grant recipients have been working on. Researchers, investors and advocates from 29 countries are gathered in Seattle to see and comment on the designs. All the systems are subject to a few restrictions: They must be very cheap to operate, generate energy but no pollutants, and recover nutrients while not requiring much water.

Grants were awarded all over the world: Singapore, South Africa, the Netherlands, Canada, the UK, Germany, the US and more. As you can tell from the award-winning descriptions, some projects were further along than others today, but they have quite a variety of methods, using everything from biological charcoal to microwaves to transform human waste into safe and possibly useful material while saving whatever might be useful within it, like water and various gases.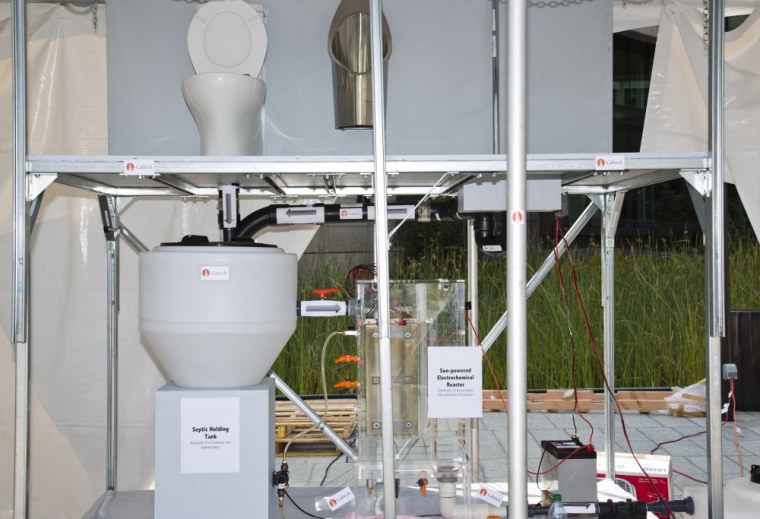 This gathering isn't the end for the Reinvent the Toilet challenge, though: the Foundation used the occasion to announce four large grants totaling $3.4 million, awarded to four research groups that will be developing another round of new toilet technologies. These too will presumably have their day in the sun once they have all advanced sufficiently to have a working prototype.

The Gates Foundation's Flickr Page has pictures of the designs from this year's fair, along with descriptions of how their work. More information about the Reinvent the Toilet project and other water and sanitation work by the Foundation can be found at their website.
Devin Coldewey is a contributing writer for NBC News Digital. His personal website is coldewey.cc.