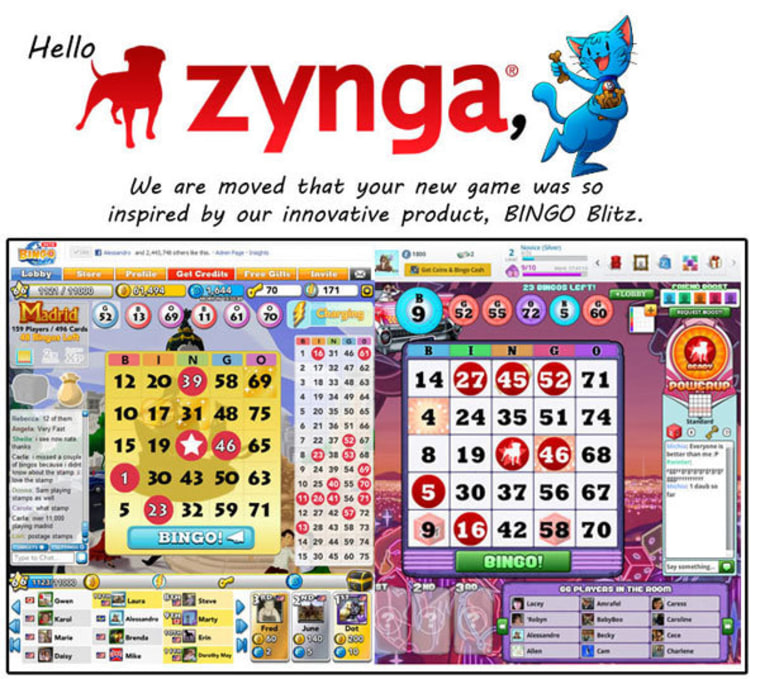 It used to be that social game makers could lift ideas from one another, sometimes brazenly, and go about their business without much incident. Not anymore.

Last week, Zynga was called out by Nimblebit, in an open letter filled with claims of plagiarism that drew comparisons between the former's "Dream Heights" and the latter's "Tiny Tower." Not long after, others stated Nimblebits was guilty of the same thing, as it pertained to a Flash title and an even older game.

This week, the social gaming giant has been accused of shameless copycatting once again. Buffalo Studios argues that their "Bingo Blitz," which was launched on Facebook a year ago and has since become the number one bingo game on the platform, is the mold that the recently launched "Zynga Bingo" clearly draws from.

Even the format that Nimblebit has established was used in Buffalo Studios' response (on the left is the Bingo Blitz, on the right is Zynga Bingo):


Zynga was mum during last week's round of accusations (msnbc.com tried reaching out for a statement regarding Nimblebit accusations, but haven't heard back yet), but CEO Mark Pincus decided to finally set the record straight with Venture Beat. The basic defense: "Bingo Blitz" is essentially a copycat of "Poker Blitz," an older title by Zynga, so he finds accusations of idea theft to be "ironic."

Pincus goes on to draw comparisons to other games that are similar to "FarmVille," (Zynga's most well known release), including those that came before and after. His conclusion is that game makers taking established ideas and building upon them is part of the process:

We think there is a massive body of work in the video game industry that is going to be reimagined for decades to come in a way that is free, accessible and social… That's what we're doing. I don't think anyone should be surprised when they see us come out with games that they've seen before, a decade or more ago. I don't think there are a lot of totally new games that are invented. We always try. But to us, they are like the crew mechanic in our games. They give you a new way to interact with your friends.
Pincus claims his company's primary goal is to "make a contribution to the canon of gaming" and refine established conventions, to "reimagine" a game and make it more accessible. It could be argued this base philosophy governs all creative pursuits, and most of Zynga's critics have taken issue with their execution (and intention) of said goals.

Venture Beat also obtained an internal memo Pincus sent to employees last week, a response to the original Nimblebit controversy. It reinforces the overall mantra he tries to deliver in the interview:

Google didn't create the first search engine. Apple didn't create the first mp3 player or tablet. And, Facebook didn't create the first social network. But these companies have evolved products and categories in revolutionary ways. They are all internet treasures because they all have specific and broad missions to change the world. We don't need to be first to market. We need to be the best in market. There are genres that we're going to enter because we know our players are interested in them and because we want and need to be where players are. We evolve genres by making games free, social, accessible and highest quality.
In other news, yet another major social game creator, 6waves Lolapps, has been accused of theft by yet another much smaller outfit, Spry Fox. "Yeti Town" for iOS is a "blatant copy" of "Triple Town" for Facebook, claims the latter's maker. But instead of creating an info-graphic and duking it out online, the fight is being taken to court. Specifics pertaining to Spry Fox's argument can be found via their blog, while 6waves Lolapps's reaction can be found on Venture Beat.

It will be interesting to see how this case unfolds. Ideas have always been lifted, and in some cases, dramatically improved upon. But the primary means in which accusations are being delivered are become more viral and easily accessible.

One of the longest standing players in the casual game space, Pop Cap, was also accused of plagiarism during its early days. But as the company grew, it began investing in original game concepts and mechanics, and it was no longer in the line of fire. Would it have been any different if Twitter was around during its formative years?

Related stories:

Matthew Hawkins is a NYC based game journalist who has also written for EGM, GameSetWatch, Gamasutra, Giant Robot, and numerous others. He also self-publishes his own game culture zine, is part of Attract Mode, and co-hosts of The Fangamer Podcast. You can keep tabs on him via Twitter, or his personal home-base, FORT90.com.