American eighth-grade girls on average scored better than their male peers in technology and engineering literacy tests, according to a national report card released Tuesday.
Girls scored three points higher than boys overall — a reversal of gender expectations because boys typically score higher than girls in math and science testing, according to the Organization for Economic Cooperation and Development.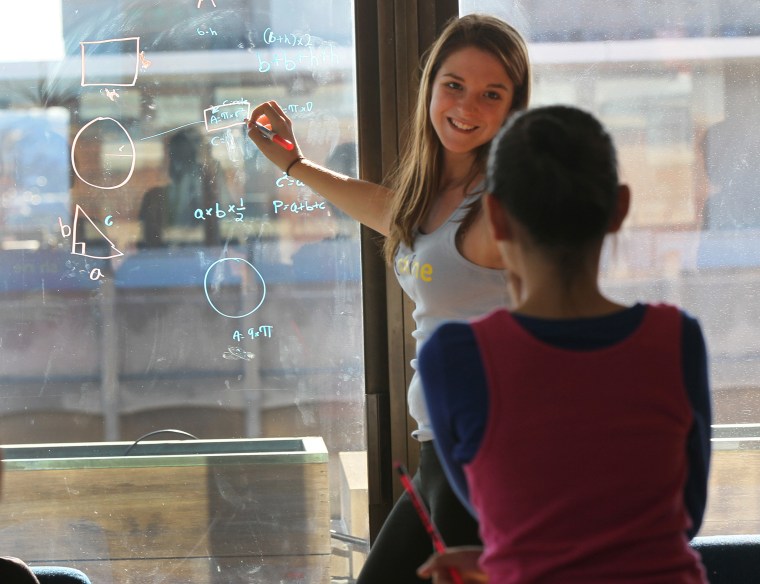 American girls, however, have already been gaining ground in those subjects in recent years, the organization said.
The findings of this latest test — the first ever of its kind administered by the National Assessment of Educational Progress in 2014 — provide a snapshot of how well American students are versed in an era of rapidly changing technologies.
Female students also did better than males when the questions were related to communication and collaboration (five points higher) and information and communication technology (six points higher).
Related: Math, Science Grads Earn Top Dollar: Survey
"It is clear that girls have the abilities and critical thinking skills to succeed in tech and engineering," said Peggy Carr, acting commissioner of the National Center for Education Statistics, which collects and analyzes education data under the federal government.
Forty-five percent of girls scored proficient or better on the test — compared to 42 percent of boys.
Broken down by race, white girls averaged 162 points out of 300, while white boys averaged 158 points. Black girls averaged 131 points, while black boys averaged 126 points. Girls who identified as Hispanic or Asian were on average level with their male counterparts.
In addition to the gender-related results, the test also showed that:
Students who participate in activities outside of school focused on design and systems, such as a robotics club, or tinker with design concepts on their own scored higher than those who did not.

In-school learning related to technology and societal issues was associated with higher scores.

Students who believed they had the abilities to do various technology- and engineer-related tasks did better than students who did not.
As part of the test, the eighth-graders used laptops to interact with scenario-based tasks and solve real-world problems. Those problems included how to address pollution caused by Chicago's population growth, develop a safe and inexpensive bike path and campaign for a new teen recreation center.
Overall, only about 43 percent of eighth-graders sufficiently possessed the necessary skills for technology-based problem solving.
About 21,500 students from over 800 public and private schools participated in the test. Highlighting a persisting educational gap, students in wealthier communities and from suburban areas did better than those from poorer communities and cities.
The test is expected to be administered again in 2018, and comes as U.S. students continue to lag behind their peers internationally.