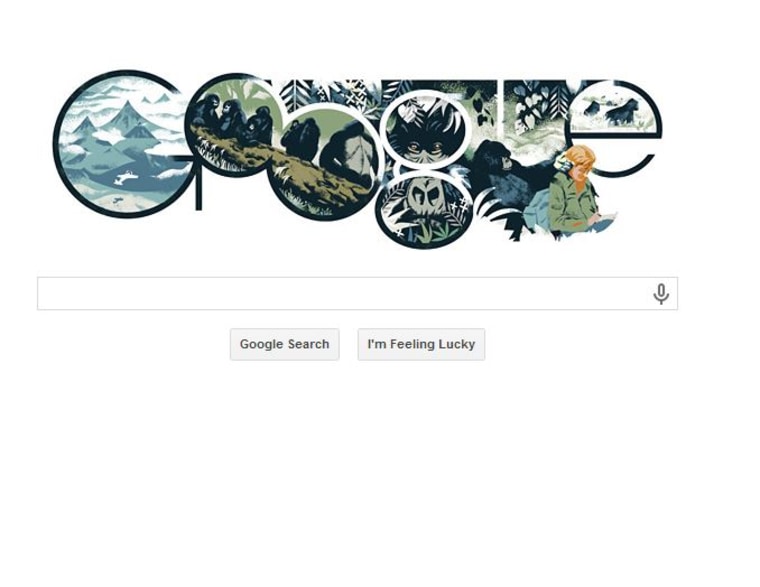 Google paid tribute to arguably the most famous zoologist in American history with a Doodle portrait of Dian Fossey, who would have turned 82 years old on Thursday. 

Fossey (1932-1985) was best known for her research on mountain gorillas. The San Francisco native spent nearly two decades in Africa before she was murdered in Rwanda. The case remains unsolved.
Most people, however, probably know her as the subject of "Gorillas in the Mist," a movie based on her book of the same name starring Sigourney Weaver. It garnered five Oscar nominations and put a spotlight on the issue of gorilla poaching in Rwanda and the Congo. 
She was famous long before "Gorillas in the Mist" premiered in 1988, however, especially to young scientists who saw her on programs like this 1979 episode of "Mutual of Omaha's Wild Kingdom."
"When you realize the value of all life, you dwell less on what is past and concentrate on the preservation of the future," Fossey famously wrote in her last journal entry. 

No doubt she had that advice in mind when founding the Digit Fund, named after a young gorilla who she had formed a close bond with before he was killed by poachers. The foundation exists today as the Dian Fossey Gorilla Fund.
Keith Wagstaff writes about technology for NBC News. He previously covered the tech beat for TIME's Techland and wrote about politics as a staff writer at TheWeek.com. You can follow him on Twitter at @kwagstaff and reach him by email at: Keith.Wagstaff@nbcuni.com