Google Fiber could get some competition from AT&T's own ultra-fast fiber network.
On Monday, the telecommunications giant announced that it was looking to expand its AT&T U-verse with GigaPowerSM service to 100 markets.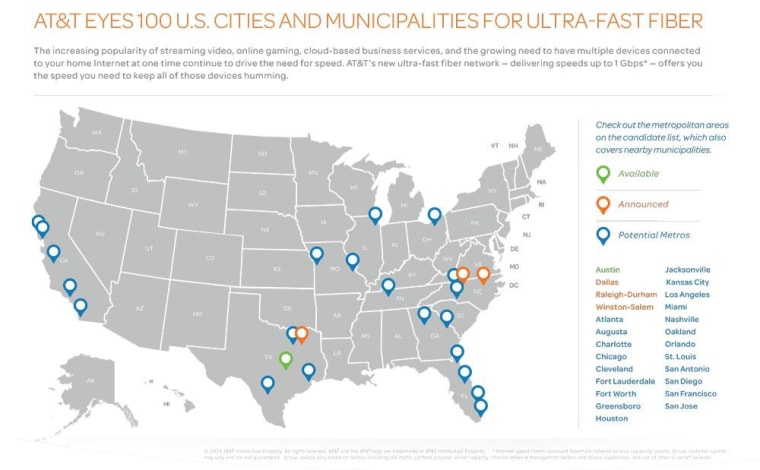 No, it's not the catchiest name for a broadband service. But it does promise blazing-fast speeds of up to 1 gigabit per second, the same as Google Fiber.
Right now, U-verse is only in one market: Austin, Texas. The 100 additional markets AT&T is eyeing include 21 major metropolitan areas like Chicago, Los Angeles and San Francisco.
Don't get too excited, Chicago! The company has only said that it would "work with local leaders in these markets to discuss ways to bring the service to their communities."
If that sounds strangely non-committal, it's probably because installing broadband infrastructure is expensive, and companies want all the help they can get. Google did the same thing before officially entering Provo, Utah, and Kansas City. During that process, the company gained some serious incentives from city governments, including the cutting of lots of regulatory red tape. Google is also planning to offer Austin residents Fiber by "the middle of 2014."
AT&T is already in talks with officials to bring its U-verse with GigaPower service to several North Carolina cities, pending ratification from six different city councils.
The reason local officials are willing to bend over backwards for Google, of course, is that a 1-gigabit connection is around 100 times faster than the average American broadband connection. Many websites, however, don't have the infrastructure to take advantage of those speeds, meaning subscribers might not necessarily notice a huge difference between a 1-gigabit connection and their old broadband service.
Still, with YouTube and Netflix building up their 4K offerings, it might not be too long before people actually need all of that firepower. (Even Google Fiber might be considered slow soon: The company is currently working on a 10-gigabit connection).
Could AT&T going to war with Google create a flood of 1-gigabit broadband providers fighting for your bandwidth? An Internet addict can dream.