SAN FRANCISCO — As tech companies work to increase the diversity of their ranks, a 10-page document allegedly written by a Google engineer — purporting to explain why more women aren't engineers — is adding fresh fuel to the fiery debate around gender bias in Silicon Valley.
Given the nickname the "Google Manifesto" by people online, the author, who was allegedly an engineer at Google, claims women don't handle stress as well as men so they aren't suited to demanding jobs. He also cites biological reasons for the disparity.
"I am just kind of tired of it," said Cate Huston, a former Google engineer. "These things keep happening and the details change but the substantive portion of it is that women shouldn't be engineers and we aren't welcome."
The document, which was first reported by Motherboard and published in full by Gizmodo over the weekend, comes as Silicon Valley is grappling with how to fix its bro culture after a number of headline-grabbing stories this year.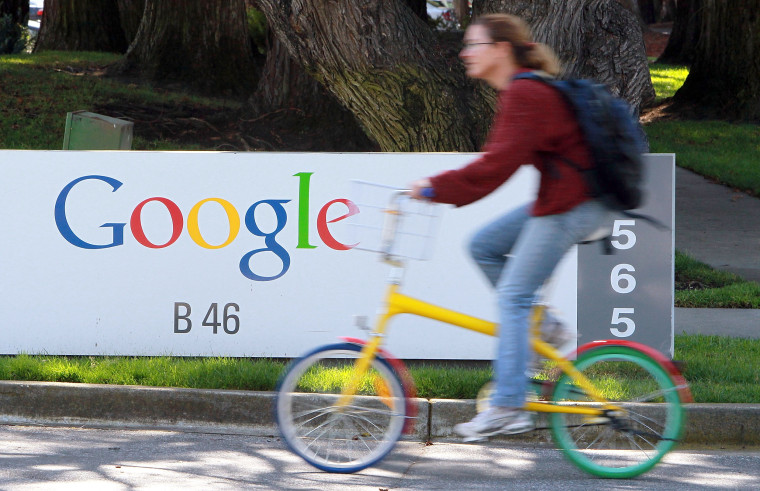 "I strongly believe in gender and racial diversity, and I think we should strive for more. However, to achieve a more equal gender and race representation, Google has created several discriminatory practices: Programs, mentoring, and classes only for people with a certain gender or race, a high priority queue and special treatment for 'diversity' candidates, hiring practices which can effectively lower the bar for 'diversity' candidates by decreasing the false negative rate," the author wrote.
There were reports (Bloomberg) Monday night (Recode) that the author was fired, but NBC News could not independently confirm them.
Google CEO Sundar Pichai sent an email to Google employees Monday night with the subject "Our words matter" and said he was cutting his vacation short to hold a town hall on the subject later this week.
He said the controversial memo violates the company's code of conduct and crosses a line by "advancing harmful gender stereotypes in our workplace. ... To suggest a group of our colleagues have traits that make them less biologically suited to that work is offensive and not OK."
Pichai added that certain employees shouldn't have to worry or feel judged when they speak at meetings.
But he also made clear that Google fosters an environment that encourages expression, and those with a minority viewpoint can't be discounted. In general, "it remains our policy to not take action against anyone for prompting these discussions," he said, adding: "I'd encourage each of you to make an effort over the coming days to reach out to those who might have different perspectives from your own. I will be doing the same."
The tech industry has long been a predominantly white male sector and it's something many companies are making a more conscious effort to change by hiring a more diverse workforce — with the potential to increase the number of women and minorities in technical and leadership positions.
Overall, Google's workforce is 69 percent male, 31 percent female. When it comes to technical positions, the gender breakdown is even more skewed, with just 20 percent of technical jobs being filled by women. Google's diversity report notes they're making progress in hiring more women for tech jobs, marking a 1 percent increase from the previous year.
By comparison, 23 percent of Apple's technical roles are filled by women. At Facebook, 17 percent of those jobs are done by women.
"Diversity and inclusion are a fundamental part of our values and the culture we continue to cultivate. We are unequivocal in our belief that diversity and inclusion are critical to our success as a company, and we'll continue to stand for that and be committed to it for the long haul," Danielle Brown, who started as Google's chief diversity officer a few weeks ago, wrote in an email to employees. She declined to link to the manifesto since it "advanced incorrect assumptions about gender."
Alaina Percival, CEO of Women Who Code, a San Francisco organization helping women succeed in technology jobs, said women in tech have been hearing comments like this ever since the industry boomed.
"This definitely comes about. It's not always so blatant," she said.
"It's sad," she said of the Google Manifesto. "It feels like a step back when we have seen so many steps forward but it is highlighting the view of an individual and group of people that gives us the opportunity to address this view directly, because it is being stated so directly."
Huston feels the same way.
"I think it exists everywhere, right?" she said. "There are people who want things to change and there are people who want things to stay the same. And the people who want things to stay the same are invested in justifying why things are the way they are."
Related: Silicon Valley Grapples With How to Fix a Sexist Culture
While Google is at least showing measurable progress by hiring more women in technical roles, Google is also hitting back at allegations from the U.S. Department of Labor that it did not fairly pay some female employees. The allegations stem from a January lawsuit in which the Department of Labor asked Google to hand over compensation data.
In an April blog post, Eileen Naughton, vice president of people operations at Google, wrote the company was "quite surprised" at the allegations and that they came "without any supporting data or methodology."
But even with women thriving in engineering positions, the work environment in the largely male-dominated field has at times, been hostile to women.
Susan Fowler, a former engineer at Uber, reflected on her "very, very strange" year at Uber in a blog post, where she said she was propositioned for sex on her first day on the job, was repeatedly blocked from advancement and found Uber's human resources department unwilling to take action on sexual harassment claims she and other female employees filed.
Fowler's blog was the catalyst for change at Uber, with the company ordering two independent investigations into its workplace culture and allegations of harassment. The reports led to at least 20 firings and ultimately, the departure of CEO Travis Kalanick.
"I can't help laughing at this Googler's misogynist manifesto because it reminds me of what one female Uber HR rep told me," Fowler tweeted on Monday. "She told me that, in her experience, there were more Asian women in accounting because Asian women are just really good with numbers. Likewise, she said, there were more white men in engineering because white men were simply more suited for engineering than others!"
Uber — which is searching for a new CEO — can't even seem to entice a top female candidate to keep her name in contention.
Meg Whitman, CEO of Hewlett Packard Enterprise, withdrew her name from the list last month. Sheryl Sandberg, Facebook's COO, was rumored to be a top choice early on; however, a source close to Sandberg told NBC News in June that she is definitely staying at Facebook.
But it doesn't just stop at Uber.
"It's interesting because I think one of the issues around Silicon Valley is it's supposed to be this tolerant and open-minded place and — just like the rest of the world — there's problems with sexism. There's problems with racism. There's all kinds of problems that had not been paid attention to," said technology journalist and co-founder of Recode Kara Swisher.
Many female founders — fed up with bad behavior — began sharing their experiences of being harassed by some male venture capitalists. Those stories led some big names in the tech investment community to resign from their positions.
Sexual harassment is pervasive, with one survey earlier this year reporting 60 percent of women in tech saying they had received unwanted sexual advances. Called "Elephant in the Valley," the survey included over 200 women with at least 10 years of experience working in technology.
"It's really corrosive to the strides we're making in diversity," said Jocelyn DeGance Graham, founder of Cloud-NOW.org, a Silicon Valley nonprofit championing women in tech.
While Graham — and plenty of other people in the tech community — don't agree with the Google Manifesto author's message, she said she's happy about one thing: we're talking about it.
Percival agrees.
"As organizations become more diverse and women are better represented, it's going to make something that is already good — the tech industry — and even better place," she said.
Alyssa Newcomb reported from San Francisco and Jo Ling Kent reported from Los Angeles.