Google released a research paper this week showing that the frequency of a movie being searched for on Google and YouTube is a surprisingly accurate indicator of how well it will do at the box office. The research won't improve the dialogue in summer blockbusters, but it might help theaters fill more seats.
The paper, "Quantifying Movie Magic with Google Search," looks at correlations between how many searches people made for the movie and how much money that movie made, over opening weekend and afterward.
As you might expect, if there are more searches for, say, "Iron Man tickets," more people end up seeing it. But by controlling the data carefully, it can be remarkably accurate.
Just plain Google searches for a movie are enough to predict a movie's box office take with about 70 percent accuracy. So while that data couldn't tell you exactly how much a film will make, it could give you a ballpark estimate.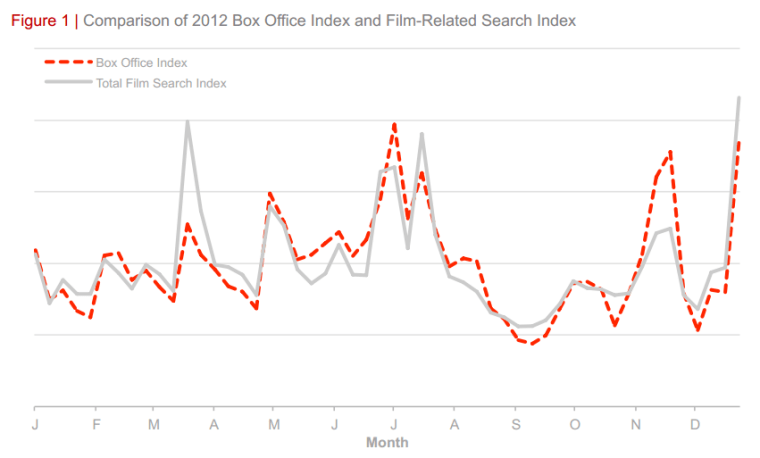 But by factoring in clicks on ads and available data such as the number of screens a movie is playing on, Google claims it can predict opening weekend numbers with 92 percent accuracy.
The trouble is, all that data is only available for harvesting the day before the release, so there's not much point in knowing it. That's why Google also looked at data from a month before opening day.
There, they found that searches for movie trailers were the best predictor of ticket sales down the line, and when combined with a few other metrics, they could predict the box office take four weeks ahead of time with an amazing 94 percent accuracy.
Armed with that kind of information, a studio could change its marketing technique, try to open on more screens, or just take it easy knowing their film will probably do just fine.
The paper can be downloaded and read in its entirety at the Google Think website.
Devin Coldewey is a contributing writer for NBC News Digital. His personal website is coldewey.cc.