Everyone, it seems, wants to get into the car-sharing business, even as Uber, the emerging industry's leader, reportedly lost more than $1 billion for the first half of the year.
Google is the latest player to toss its car keys into the ring. The high-tech firm began a limited test in May of a carpooling project in its home base in the San Francisco Bay Area. It is expanding that venture, which relies on Google's Waze smartphone app.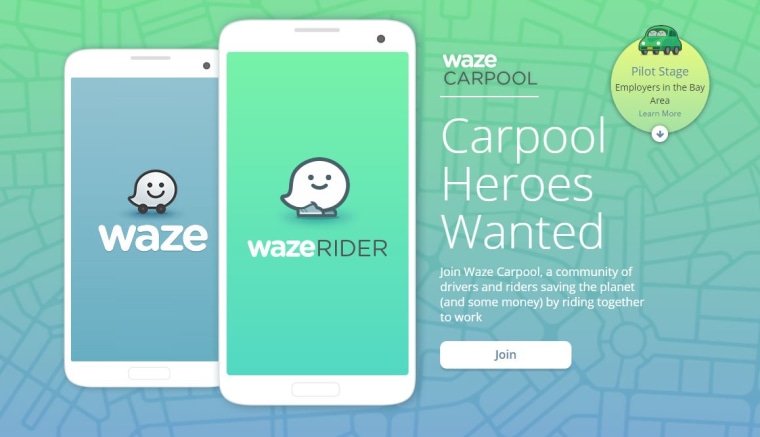 While not a direct competitor to Uber or its smaller rival Lyft, the carpooling project could create a future outlet for Google as it pushes forward with its aggressive autonomous vehicle development program, some observers suggest.
One indication of the tech firm's possible plans comes with the decision by David Drummond to resign from Uber's board of directors. Drummond's primary job has been chairman of Alphabet GV. Short for Google Ventures, it's the company's venture capital arm and was responsible for the $250 million it put into Uber a few years back.
When Google launched its carpooling venture back in May, it offered the service to only "a select group of employers" near San Francisco, including Adobe Systems, Wal-Mart and, of course, to employees at Google.
The project was distinctly different from Uber, which is essentially a taxi alternative. Using the Waze app, people could connect with other commuters who might be heading in the same direction and line up a ride. They'd then pay a small fee — up to 54 cents a mile — to cover gas and vehicle depreciation.The Waze-based program is now opening up to all commuters in the Bay Area.
Read More: Army Enlists GM to Develop Hydrogen-Powered Military Truck
"Considering that Waze reportedly has more than 50 million users, Google is arguably more knowledgeable — and has more insight — towards driving habits than any other company on the planet," said Kelley Blue Book analyst Michael Harley, who sees the Waze project as "only natural," and just "the tip of this emerging iceberg (in the) rapidly evolving ride-sharing wave."
Notably, Google hasn't been charging for the service. (And it doesn't do even the most rudimentary background checks on drivers, a topic that has become quite controversial for Uber and Lyft.) Whether Google will expand to other markets — and see Waze carpooling as a potential revenue source — remains to be seen.
But the tech firm is clearly looking at ways to play a role in the rapidly changing transportation industry. Google is already considered one of the leaders in the development of autonomous vehicle systems and recently announced plans to build a pilot fleet of 100 minivans based on the new Chrysler Pacifica model. Google has made it clear that is not a monogamous relationship and is expected to seek out other possible automotive clients for its self-driving technology.
But other players in the field could beat it to the punch. Automotive mega-supplier Delphi last week announced plans to partner with Israeli start-up Mobileye to develop autonomous vehicle technology that could be ready for market by 2019. Nissan plans to have its first fully autonomous vehicle in production by 2020. And Ford surprised many observers this month by announcing it would deliver fully driverless vehicles by 2021.
Read More: How to Keep Your Car From Becoming a Theft Statistic
For many, that's the ultimate goal, eliminating the driver entirely. Uber co-founder and CEO Travis Kalanick has outlined that target on numerous occasions, arguing that this would bring the cost of ride-sharing down so low it would make more financial sense than owning a personal vehicle.
John Krafcik, the CEO of Google's autonomous vehicle program, has also said the tech firm's goal is to move beyond driver-assistance systems to fully driverless vehicles. Whether it might use its experience with Waze to then expand into the broader car-sharing arena is another unanswered question.
What is clear is that any number of other contenders see opportunities in the emerging field. General Motors has invested $500 million in Lyft – and reportedly has expressed interest in buying the company outright. GM also has revived a failed San Francisco start-up, Sidecar. A number of other automakers have invested in ride-sharing services, Volkswagen, for one, purchasing a stake in Israeli-based Gett.
Ford CEO Mark Fields has outlined plans to transform his company from a traditional car manufacturer into a provider of broader transportation services.
New Car Sales Expected to Slide in August
But how soon all this will pay off is far from certain. Ride-sharing giant Uber may be a darling among investors who have already ponied up an estimated $16 billion, but the firm reportedly lost almost $1.3 billion during the first half of this year. Competition holding down fares was a major factor, according to analysts, and with all the new entrants into the field, that's not likely to lighten up anytime soon.