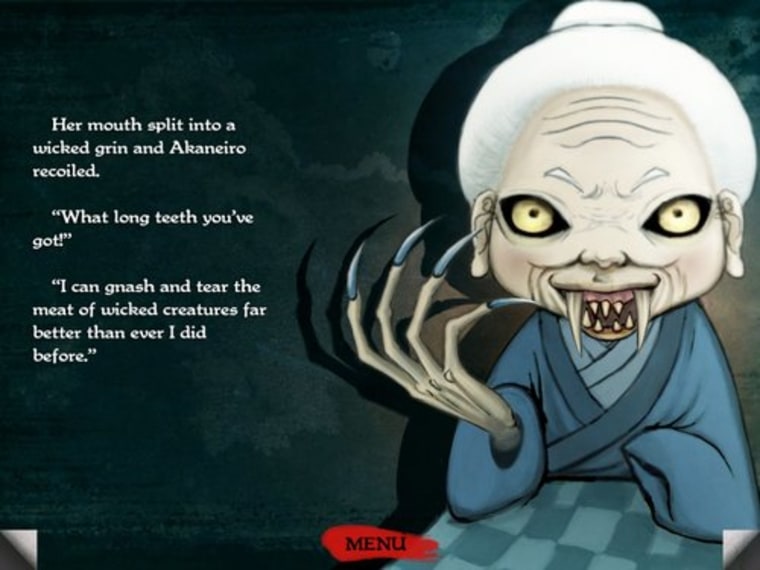 With All Hallow's Eve approaching, Apple's App Store is offering a plethora of Halloween-themed game apps. But be forewarned: The only terrifying thing about many of these iPhone, iPod Touch and iPad games is just how awful they are.
And yet, while many of these apps seem designed to do nothing but part you from your candy money, there are some wonderfully spooky, creepy and downright disturbing games that are well worth playing ... and paying for. There are also some hilarious can't-miss Halloween-themed choices as well. 
Here are a few of the best:
Call of Duty: World at War: Zombies - $4.99, iPhone/iPad
This game combines two of the most terrifying creatures ever to stalk our nightmares — zombies and Nazis. I mean really, can you imagine anything more horrific? In this game, based on the zombie maps in "Call of Duty: World at War," the zombie Nazis are coming at you from all sides. It's your job to gun them down before they eat your brains (of course). The controls work well, the eerie sound design is top-notch and the whole affair is really quite spooky. Better yet, you can fend off these zombies with friends — the game supports up to four-player co-op.
Akaneiro – $3.99, iPad
Technically this is an interactive iPad book rather than a game, but there are some gaming elements mixed into this beautiful and spooky touch-screen tale. "Akeneiro" acts as something of a sequel to the Little Red Riding Hood fairy tale. Here we find a mysterious young girl on a dark journey in which she must face a long-forgotten enemy. The art is gorgeous and the tale is chilling. And the good news is, it looks like there are plans to continue this story line in future installments.
Puzzle Agent – $4.99/6.99, iPhone/iPad
This puzzle-filled game is little bit like the "Professor Layton" Nintendo DS games crossed with "Twin Peaks." ("Twin Peaks" was TV show in the early '90s for you youngsters.) No, it's not scream-out-loud-scary, but it is creepy much in the way that "Twin Peaks" was. That is, FBI agent Nelson Tethers finds himself investigating a mysterious explosion at an eraser-making plant in a remote town filled with bizarre characters. Solve the puzzles as you try to find out what kind of nefarious force is behind this deadly acccident. Not only is the game a little creepy, it's also dang funny.
Vampire Origins Reloaded – 99 cents, iPhone/iPad
You won't find any sparkly vampires here. Instead, you'll find a resurrected vampire hunter out to annihilate as many creatures of the night as he can. This gothic 3-D action/adventure features some cool comic-book-style cut-scenes, lots of vampire killing and some smart puzzling to boot. Try out the "lite" version for free.
Angry Birds Halloween – 99 cents/$1.99, iPhone/iPad
You really can't go wrong with this Halloween-themed special edition follow-up to the mega-hit game "Angry Birds." Against various spooktacular backdrops you'll fling those furious birds at the pigs who wronged them across 45 new levels. And what is this Golden Egg of Terror? You'll have to play to find out.
Helsing's Fire – 99 cents/iPhone
This wonderfully original puzzle game finds Professor Helsing and his assistant Raffton taking on Dracula and his many monstrous minions. The basics are this: Monsters are scattered about each level. You must figure out where to place torches and tonics to illuminate and destroy these monsters. The dialog is witty, the puzzles are thought-provoking and the whole thing is done in with smart, stylish flair.
Monster Dash – 99 cents/iPhone
In this funny, fast-paced platforming game you'll control monster hunter Barry Steakfries as he runs at non-stop, break-neck speed trying to gun down as many monsters as he can (mummies, werewolves, vampires, you name it), while leaping across one deadly chasm after another. This game is easy to jump into but very hard to walk away from.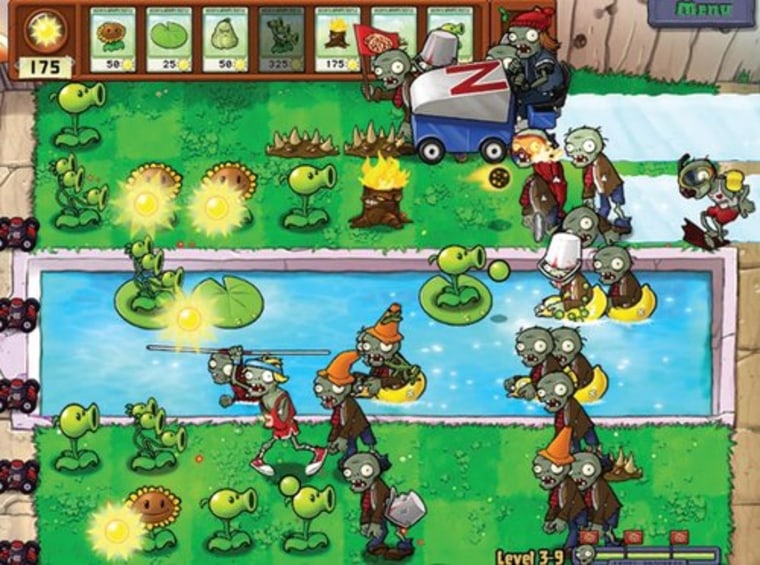 Plants vs. Zombies – 99 cents/$4.99, iPhone/iPad
Well, duh. Of COURSE this is a perfect game to get you in the Halloween spirit. It's also perhaps the best tower-defense game ever made. It's also HI-freakin-larious. More importantly, you will not be able to stop playing it once you start. Zombies want to get into your house. It's your job to plant the, uh, plants that will stop them. This game is available on the PC, Xbox 360, iPhone and the iPad. If you have an iPad, I encourage you to not miss out on giving it a play there.
Boo!
Winda Benedetti writes the Citizen Gamer column for msnbc.com. You can follow her tweets about games and other things right here on Twitter .