UPDATE: Microsoft has updated its statement about the outage. See below.
For a few hours last night, millions of Hotmail users and other Microsoft online services were unable to access or use their accounts, which led to the usual en masse griping on Twitter and Facebook. While service seems to be restored, the outage might have a lingering impact on the perception of the company's future in cloud computing.
Not only was Hotmail down, but also Skydrive, MSN and Office 365.
As BBC News reported, "Such a major problem is likely to raise questions about the reliability of cloud computing versus local storage. Especially embarrassing is the temporary loss of Office 365, the company's alternative to Google's suite of online apps."
(Msnbc.com is a joint venture of Microsoft and NBC Universal.)
The Windows Blog has yet to be updated from last night's 11:49 p.m. post, which seems to home in on the problem:
We have completed propagating our DNS configuration changes around the world, and have restored service for most customers. Depending on your location you may still experience issues over the next 30 minutes as the changes make their way through the network. Thank you for your patience as we have worked to address these issues.
But a Microsoft spokesperson issued the following statement to msnbc.com on Friday:
"On Thursday, September 8th at approximately 8:00 p.m. PDT, Microsoft became aware of a DNS issue causing service degradation for multiple services. We achieved full service restoration at approximately 11:30 p.m. PDT. We are conducting a review of our processes. We appreciate your patience."
The posts on the blog addressing the problem had previously begun at 9:45 p.m. with this statement:
We believe we have restored service for all customers at this time. We will continue our investigation into the root cause of these issues and post an update following our investigation. Again we appreciate your patience and apologize for the inconvenience.
Clearly this wasn't the case since service hadn't been restored for many by this time.
CNET reported that "Microsoft tweeted around midnight that it believed service had been restored for all Office 365 customers (and presumably for customers of Hotmail and the other affected online services)." The story also had background on other outages that have hit Microsoft, as well as Google, Yahoo and Amazon.
The complaints that poured onto Twitter were not only in English, but in many languages, which brought home the global pervasiveness of Hotmail. Hotmail has already had its share of problems earlier this year with thousands of accounts affected by missing emails and attacks in late spring.
As GeekWire noted, this outage is the second "high-profile" flub for Microsoft's browser-based services, after the Office 365 outage last month, which led to a credit for affected customers.
On the other hand, some on Twitter could not believe people were still so reliant on Hotmail.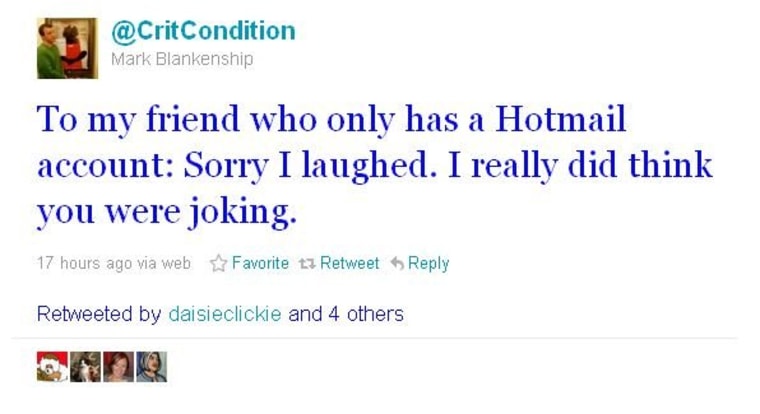 Though Gmail converts may find it hard to believe, this longstanding free Web-based email service — which just celebrated its 15th birthday in July — has about 360 million users worldwide, according to comScore.
More stories:
Check out Technolog on Facebook, and on Twitter, follow Athima Chansanchai, who is also trying to keep her head above water in the Google+ stream.