Uber drivers in three major markets have already gotten their first taste of the rideshare giant's new in-app tipping option, and while many agree it's a positive step, some say it ignores the larger problem of falling fares.
The new tipping option is being used in Seattle, Houston, and Minneapolis. In an email to drivers, Uber said it will cover the entire United States by the end of July.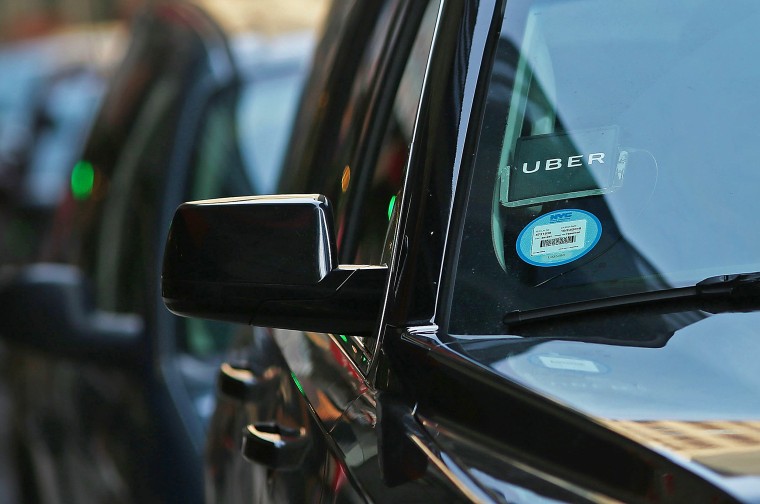 But are people actually tipping their Uber drivers now that it's an in-app option? Uber drivers contacted by NBC News said it's been a mixed bag so far, with some reporting success and others, nothing.
Ryan, a Seattle-based Uber driver who asked NBC News to only use his first name, said he started to receive tips as soon as the option was made available.
"This is a positive move and long overdue. My passengers have asked me countless times why there was no tipping option, simply because so many people do not carry cash," he said. "This makes me feel better about the large fees and will improve income and overall service provided by drivers."
Related: Inside the Place Where Uber Tries to Make Nice With Its Drivers
Karen Reed has been driving for Uber in Houston for the past seven months. She said she loves it but wishes there were "a way to make money doing it full-time."
Reed, who said some customers have given her cash tips, sees the new in-app offering as a step in the right direction.
"From everything I am reading through the app and emails Uber has sent out, [it] looks like the execs are making an effort to mend the huge gap between themselves and the drivers," she told NBC News. "Time will prove it all."
But several other Uber drivers told NBC News they haven't seen much tipping action — yet. Some also wondered if customers simply don't know it's an option.
Uber has been working to get the word out through its social channels, rider emails, and by reminding riders in markets with tipping that they have the option at the end of their ride.
While everyone NBC News spoke with agreed that tips are certainly welcome, not all believed they'd be a quick fix for strengthening the relationship between Uber and its drivers, the beating heart of the $70 billion company.
Falling fares have long been a complaint for Uber drivers, creating another pain point after Uber takes its slice of their earnings. The issue was even the subject of the now infamous video in which Uber's then-CEO Travis Kalanick was caught on camera arguing with a driver. (Kalanick apologized after the video was made public.)
"I really think they're just dangling carrots in front of us," Nolan Hodges, an Uber driver in Houston, told NBC News.
Hodges, who identified himself as a disabled veteran, said he has been hanging his VA card and a sign letting passengers know that tips are appreciated, even before the announcement. That approach has helped, he said.
What hasn't, he said, are Uber's low minimum fares and the bite Uber's commission takes out of his paycheck. (Hodges said he pays 28 percent, but reports say it can vary by market and when a driver signed up.)
A recent 63-hour work week netted Hodges $1,014.14, according to screenshots he shared with NBC News.
He said he thinks the tipping announcement is purely a PR move, especially since Lyft, which allows tipping, recently re-entered the Houston market.
While he'll also be driving for Lyft, Hodges said he knows he'll still have to rely on Uber, which has an overwhelming market share.
"Being a disabled veteran, I don't have many options," he said. "I can't stand for more than an hour, hour and a half at a time."