You can find dedication in all kinds of places. The office. The football field.
The glossy, old-school arcade tucked in the back of Ballard's Full Tilt Ice Cream.
Eighteen-year-old Kevin Birrell is here most every night. The University of Washington freshman is one of just 5 people — 2 outside Japan — to have achieved the World Grand Master title in "Tetris: The Grand Master 3," the latest and toughest game in the 28-year-old franchise's most challenging series.
Birrell, who will reprise a talk he gave at last week's TEDxUofW at the next Seattle Startup Weekend in May, guesses he's played more than 1,000 hours of what people like to tell him is "just a game." But the fun of Tetris, like the other arcade games he's conquered, isn't in the play. It's in a hungry, stop-at-nothing quest for achievement.
"I've learned a lot about becoming better at something. Anything, really," he said.
As the pieces rushed down, here are seven lessons he picked up.
1. Excessive practice pays off
Birrell earned Grand Master status on "Tetris: The Grand Master 1, 2, and 3" in February 2009, June 2010 and September 2011, respectively, and doesn't kid himself; he knows it looked like he had "no life" when he spent up to six hours a day after high school making it happen.

But it's been a thing ever since he got into "Dance Dance Revolution" as a 7 year old: Once he decides to get good at a game, he's got to get really, REALLY good.
Those hundreds and hundreds of Tetris rounds "consumed his life," he said, as did the time he spent recording and analyzing his gameplay. But each round helped him find an approach or variable he could tweak to get better.
"I've become pretty good at isolating my weaknesses," he said. And so he's learned: Like so many things, game mastery takes persistence, patience and — always — time.
Looking for shortcuts is a waste of it.
"Right now I'm taking a math class that's killing me," Birrell said. "But I know what I don't know. I'll get there."
2. It's not over 'til it's over
It's tough enough to follow how Birrell manages to teleport the game pieces from the top of the Tetris screen to — 19 times out of 20 — its ideal home on the stack. But the few times mistakes cost him big and I saw that stack rise way, way too high in a round of "Tetris: The Grand Master 2 Plus" at Full Tilt (see the video above), I couldn't figure out how he could stay so calm.

"No matter how bad your situation gets, you have to make it something you can handle," Birrell said after an error cost him a few rows. Over the arcade buttons, his fingers kept fluttering.
"If you want to have a good game, you've got to keep going."
Seconds later, he was back to playing at the bottom of the screen, like it never happened.
3. Aim for 'second nature'
When I asked Birrell if he could narrate his way through a "TGM2" round I recorded it with my phone (which you can watch here on GeekWire), I half expected he'd refuse. Playing to the max must mean staying focused to the max. Birrell shrugged his shoulders.

"The way I see it, if you have to think too much about what you're doing, you don't know it well enough yet," he said. "Once you've figured out what you need to do, you shouldn't have to think about it at all."

It was only when he reached one of the last levels in an almost nine-minute round that he calmly announced that he'd need to stay quiet.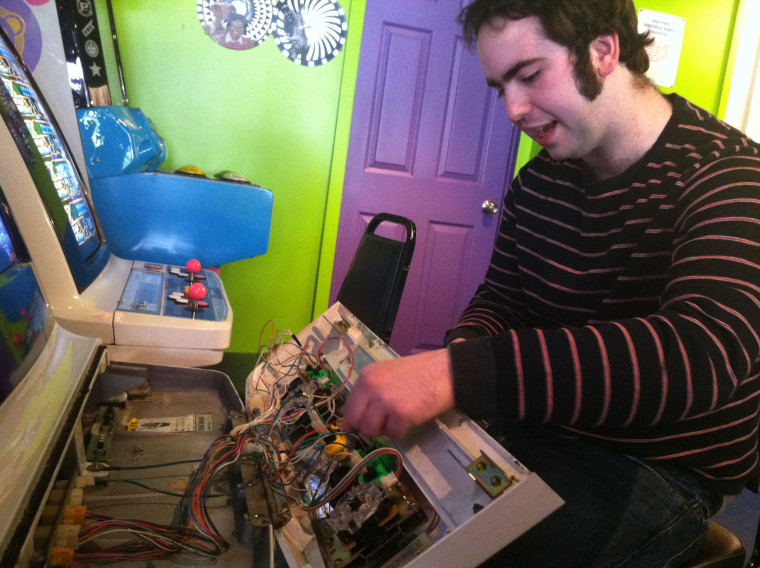 4. Pick your battles
You'll find Birrell's arcade initials — KCB (he's KevinDDR online) — on the leaderboards of all kinds of games at Full Tilt. But for every game he's taken on, there are several he's abandoned.

"You've got to notice, do you have the capability to get to the top or not?" he said. "You can't be too pessimistic, but once you've been successful at something, you're going to know if you're progressing at a good rate or not. If you're not, you've got to ask yourself, why bother when you can be spending your time on something else?"
The Xbox Live Arcade game "Trials HD" is one he walked away from after a while. So was "Starcraft." With more hours in the day, he could take on every game he liked. In the real world, he's got to choose.
"There's only so much you can do. You can't be the best of everything."
Watch Tetris Grand Master Kevin Birrell crank through a speed round at GeekWire
5. Embrace the competition
Birrell learned Japanese in high school, inspired in part by the community of mostly Japanese gamers who make up Tetris' and other games' best. They, along with Tetris masters around the world, are his rivals and his muses. And they always talk.

Birrell checks in with Japanese players on social media and others in IRC chat, reporting his stats and catching up on theirs. In October 2011 he saw many of them in person at the Classic Tetris World Championships in Los Angeles. They share tips, tricks, even tutorials. It's like they all realize that only by knowing how the others are doing can they fuel their own drive to improve.
"I don't think that high school is competitive enough. There's too much emphasis on making people not feel bad," Birrell said. "If you want people to do well, they have to compete."
6. Know when to take a break
Birrell has one trophy left to claim from the Tetris: The Grand Master series — the Classic Grand Master title in "TGM3." Unlike most Tetris Grand Master titles, you can't claim the Classic crown with one stellar round, but a streak of them.

"It's stupidly hard," Birrell said.
After 18 grueling hours of Classic mode play — "pretty much all my free time" — he got to the promotional exam needed to secure the title, a milestone no one else outside Japan had reached then or since, but failed. He reached the exam five more times in the ensuing weeks with no success. Finally, he took a break, putting time into newest competitive obsession — pinball — before he comes back for another try — hopefully with fresh eyes.
7. Ignore the critics
Birrell thinks of himself as a digital athlete. But to many Americans, at least, gaming is strictly self-entertainment. That makes it tough for Birrell to explain how his incessant play is anything but.

"I hear that a lot — it's just a game, or whatever," he said. "There's not a lot of inherent value in lots of things. It's just what you make it."
Reaching the top of those leaderboards has taught Birrell that he can reach the top of anything. That's a great lesson. And when he earns his UW computer science degree and gets a job doing one thing he knows he'll love — programming — he plans to give back to the gaming community that helped him learn it. Even as he struggles to conquer yet another game, and another, and another.
"Gaming is me. I couldn't not do it."
Mónica Guzmán is a community strategist in startups and media and a digital life columnist for GeekWire. You can find her tweeting away at @moniguzman, subscribe to her public Facebook posts at facebook.com/moniguzman or reach her via email. Here's an archive of her weekly GeekWire columns.
More stories from GeekWire: