Facebook's efforts to crack down on fake news have been focused on its 2 billion-person social network, but a recent spate of news stories from around the world point to a different and possibly more urgent problem — the spread of misinformation on its popular messaging service, WhatsApp.
Researchers have found that fake news stories and rumors spread quickly via person-to-person and group messages on the app, using its features in culturally specific ways or taking advantage of third-party workarounds to add extra layers of utility — and creating new avenues of potential abuse in the process.
The resulting spread of false information has been linked to violence in several countries in the past year.
In Mexico, two people were beaten and burned to death in August after rumors spread on WhatsApp of people kidnapping children and harvesting their organs. In India, a video edited to look like a kidnapping that spread on WhatsApp inspired mobs to kill two dozen people. In Sri Lanka, the government temporarily shut down WhatsApp as well as Facebook, Instagram and the messaging app Viber as part of an effort to stop ethnic conflicts.
WhatsApp was the main platform for messaging service misinformation campaigns in seven of the 10 countries studied in a recent Oxford University report, but it is not the only popular messaging app battling misinformation. Other services studied in the report included Telegram in Iran, WeChat in China and Line in Thailand.
"Political messaging operations use these services to spread disinformation about opponents and groups, which has led to violence," Joan Donovan, media manipulation research lead at Data & Society, an independent nonprofit that covers the social and cultural impact of technology, said in an email. "Because the messages tend to come from trusted sources ... it presents a new challenge for stopping the influence of disinformation on the public."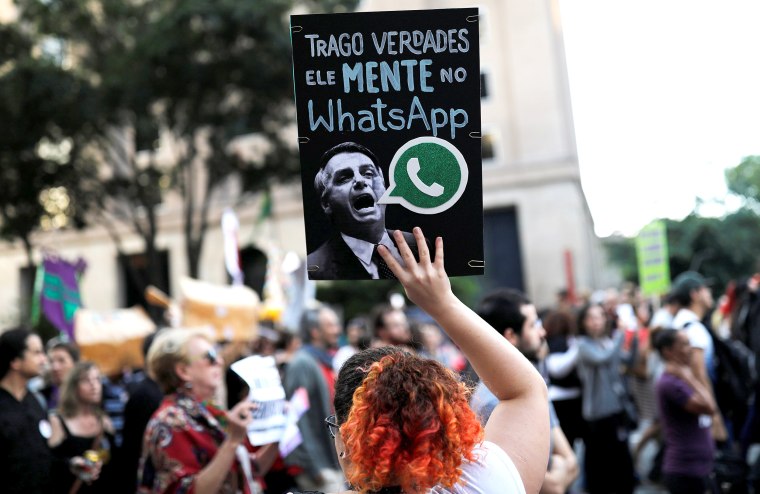 WhatsApp was founded in 2009 as an easy and nearly free messaging service. By sending messages as data over the internet, users could get around per-text message charges, making it a cheap, efficient and easy way to communicate. To sign up, all a user needed was a cellphone number.
The app now has more than 1.5 billion monthly users worldwide, making it the most popular messaging service in the world. The app is particularly favored in India, Brazil, Germany, Saudi Arabia and Indonesia. And in some developing countries where mobile phones are the primary way people connect to the internet, WhatsApp accounts for a significant portion of overall internet use.
"There are vast differences in social media use in developing countries," Nahema Marchal, a researcher at the Oxford Internet Institute, wrote in an email.
Marchal said that group chats on WhatsApp are particularly prevalent and can serve as small versions of town squares, where fake news can easily be shared.
"The group chat function, in particular, is very popular to share media and messages with multiple people at a time," Marchal said. "In large public groups, limited to 256 members, users share both political and mundane content at very high speeds, which can facilitate the spread of misleading or polarizing information."
The use of groups also allows for certain dynamics to emerge. For instance, if some members of a group question its agenda or policies, they can be deleted by group leaders, shaping behavior and creating new norms.
"You can have, for example, a family group, a friend group, a church group, a work group, a group for the causes you're active in," said Priscila Neri, a program manager with Witness, a nonprofit that trains citizens to record human rights issues through videos and smartphones.
"It's really easy for you to forward something to many groups and reach thousands of people at once, and then those folks forward on to their many groups and so on and so forth," Neri said.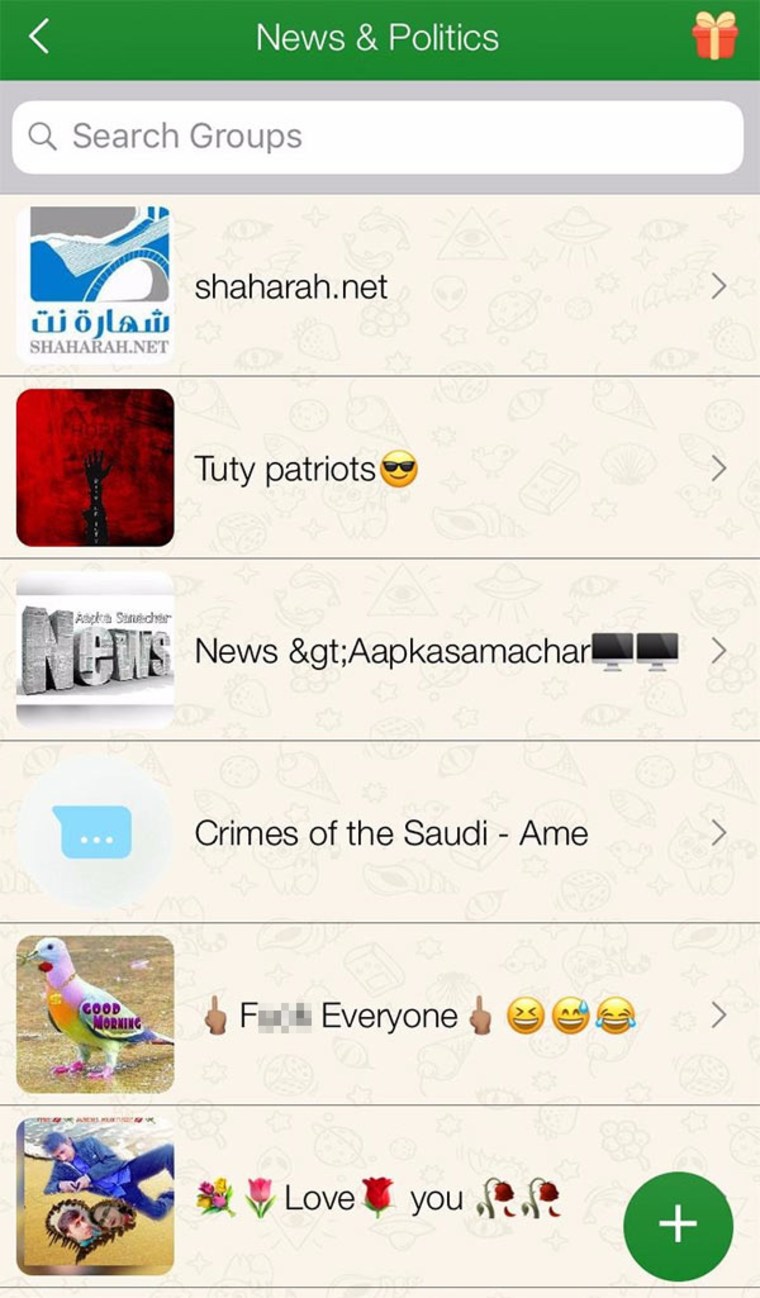 WhatsApp doesn't offer the ability to search for groups to join, but third-party apps provide a workaround. Using these apps, NBC News was able to find groups in India focused around "patriots," "crimes of the Saudi" and offensive memes.
Other "how to" instructions exist to show users how to join groups even if they've already maxed out the number of users allowed by the service.
Some of the violent incidents may be pinned on the darker side of human nature finding new expression in a digital space. For instance, the decade high for communal violence in India was 943 incidents in 2008 -- two years before WhatsApp was introduced in the country, according to Indian Ministry of Home data.
However, after WhatsApp was introduced, a downward trend in communal violence started to reverse. Since 2010, violent incidents in India have risen 40 percent, going from 580 in 2011 to 822 in 2017, according to the ministry's data.
In some ways, WhatsApp and other messaging services are just a deadly game of "telephone," with information getting twisted at each hop along the way. But in several instances, investigators have found there are core groups of people dedicated to spreading falsehoods.
In India, after 60 villagers beat two men suspected of attempting to murder people and sell their organs, police joined several local groups to find three men responsible for circulating the messages and arrested them, Reuters reported.
India also recently called for WhatsApp to hand over the locations and identities of people who used the app to spread misinformation that led to violence.
WhatsApp has also been blamed for not doing enough to stop the spread of politically charged misinformation in Brazil, where activists and marketers figured out how to blast messages to hundreds of users and automatically add users to new groups without their consent by scraping users' phone numbers from sites including Facebook, a BBC investigation found.
Before Brazil's recent presidential election, won by Jair Bolsonaro, a hard-line populist, his supporters used organized WhatsApp groups to direct online attacks against people who posted online in support of the opposition.
In response to these concerns, WhatsApp has been taking action, adding barriers to "spammy" and abnormal behaviors, Carl Woog, a WhatsApp spokesperson, said in an email.
"For example, during the Brazil election we have proactively banned hundreds of thousands of accounts for spam," wrote Woog.
The service has started testing limitations on features such as the ability to forward messages to an entire contact list, he said. It also added a "forward label" to inform users whether a forwarded message wasn't created by the sender, and tweaked features of group conversations to limit who can send messages in groups.
But WhatsApp is limited in what it can police by some of its own features, particularly the encryption that is valued by privacy advocates. Because the messages are encrypted, not even WhatsApp employees are necessarily able to trace and shut down misinformation.
In some countries, fact-checking organizations have resorted to sending corrections on reported misinformation back to the users who flagged the reports and begging them to share those messages with the groups where they were initially found.
"The difficulty with these messaging services is that they are closed groups on encrypted services, so the disinformation tends to travel quickly and is both difficult to thwart and debunk," Donovan, of the Data & Society Research Institute, said.