Twice a day, like clockwork, diehard trivia fans pull out their phones to play a live game of HQ Trivia with the hope of earning a piece of the jackpot.
The free trivia app has become an overnight sensation, thanks in part to its marriage between trivia, live streaming and the allure of earning a cash prize for answering all 12 questions correctly. The game runs twice a day during the week, at 3 p.m. and 9 p.m. ET, and only at 9 p.m. on weekends.
"HQ is a fun game that I can play for just 10 to 15 minutes a couple of times a day," said Sam Houston, a San Francisco HQ player who has been participating in games for the past few weeks. "I like that it's live, that I can play it with my friends or coworkers around, and we're all part of this shared experience."
The questions get progressively harder. If a player makes it through all 12, they'll be entitled to a piece of the jackpot, which is usually around $1,000. Some days that may mean each winner walks away with a few dollars, while on harder days, fewer winners means each person gets a bigger piece of the pie.
Host and comedian Scott Rogowsky, nicknamed the "Quiz Daddy," has already become a celebrity in the past three months.
Related: Augmented reality apps will change the way you use your phone
"Its all been very flattering and fun. It's a thrill to be recognized," Rogowsky told the New York Post. "I don't know, if it gets to the point like Tom Cruise, who can't walk down the street. I don't ever want to get to that point. It doesn't seem fun when you can't function in society ... when you can't go to Sweetgreen. I'm very comfortable with the level of fame right now. I would say let's try to keep it at that."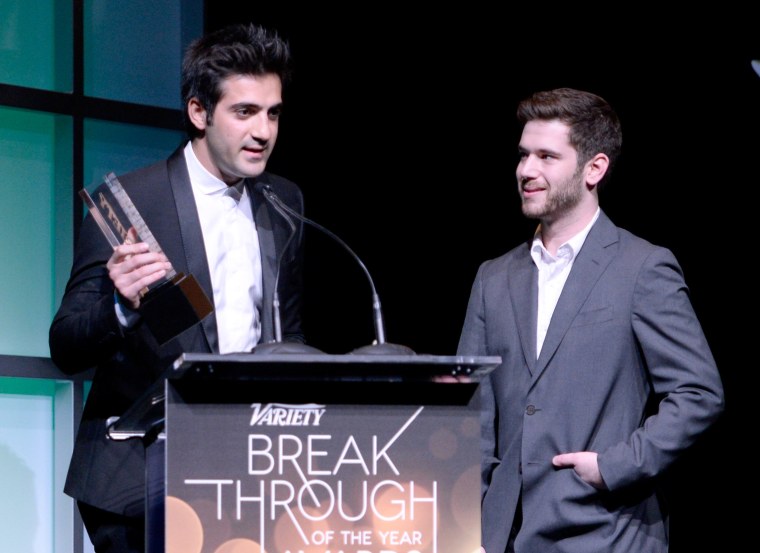 The downside of sudden success
Rus Yusupov and Colin Kroll, the two co-founders, launched the app with funding from Lightspeed Venture Partners. The app's founders haven't monetized HQ, but they could have a huge moneymaker on their hands.
The app's founders are said to be raising a new funding round that could value HQ at $100 million, according to Recode.
But their biggest issue right now may be their overnight success. With more than 200,000 people tuning in for every game, HQ has at times suffered from a video lag.
"When there are over 100,000 people playing, especially as you get closer to 200,000 plus, the video gets very choppy. I'm hoping they can fix that soon," Houston told NBC News.
As of Friday afternoon, HQ Trivia was the No. 55 free app in Apple's App Store. It's coming to Android later this month, which is sure to bring a slew of new players.
If you haven't gotten on the bandwagon just yet, here's a pro tip: Ask a friend for their referral code. When you sign up, they'll get an extra life, which will let them stay in the game if they get knocked out on a question. You'll then be able to give the uninitiated your referral code, earning an extra life for every friend you turn on to HQ Trivia.
Watch tonight's NBC Nightly News with Lester Holt for a look behind the scenes of the app taking the country by storm.