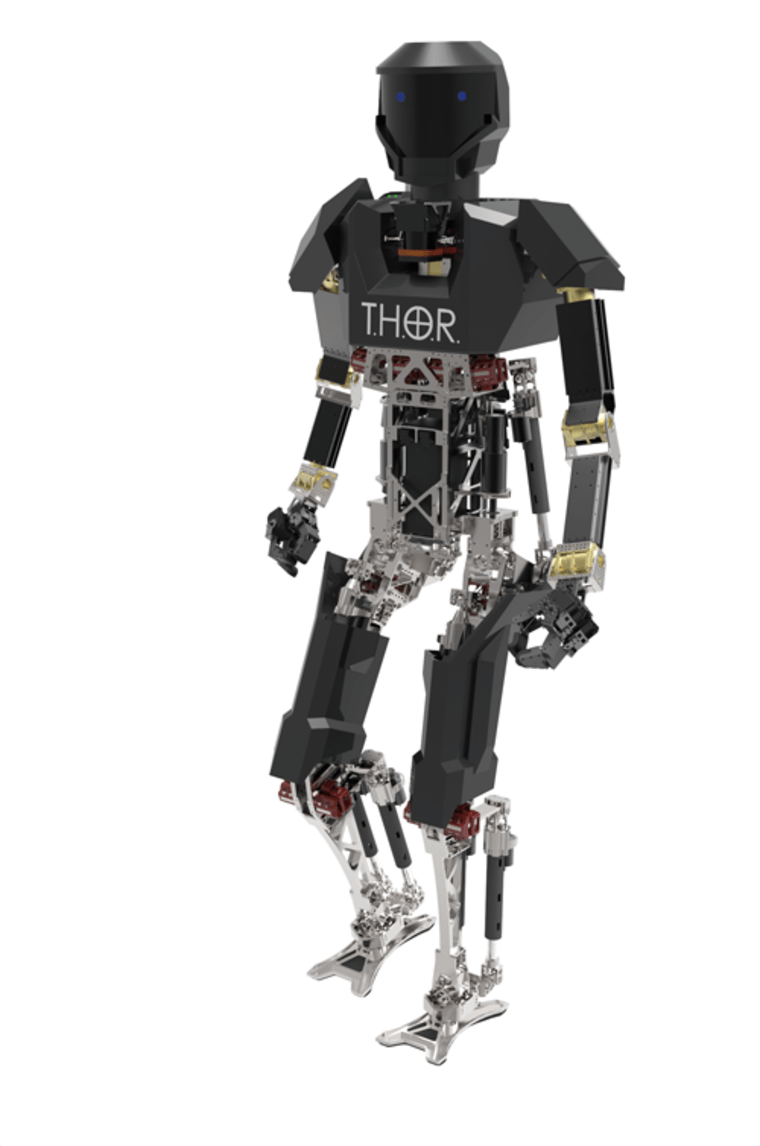 When future super-charged weather systems rip through town and leave the industrial complex spewing toxic waste, robots with super-human capabilities will be dispatched to the rescue. Today, we get our first look at what some of these humanoids will look like.
The Pentagon's futuristic research arm unveiled the seven teams selected to compete in the top track of the DARPA Robotics Challenge. By the rules of the contest, the robots look as human as C-3P0 of "Star Wars" fame, but are designed to be real-world emergency responders.
Each of the robots will need the smarts and dexterity to drive a vehicle such as a fire truck; run on rough, sloped terrain with loose dirt and rocks; move material such as a fallen tree limb to enter a doorway; climb a ladder; break through concrete; find and fix a leaky pipe; and replace a cooling pump. 
The seven teams will receive up to $4 million each to develop both the hardware and software for their proposed robots. Among the winners are Virginia Tech's gladiator-look-alike THOR, the Tactical Hazardous Operations Robot, and Raytheon's Stormtrooper-esque Guardian.
Other selected teams include Carnegie Mellon University's CHIMP (CMU Highly Intelligent Mobile Platform); Drexel University's Hubo; NASA Jet Propulsion Laboratory's RoboSimian; NASA Johnson Space Center; and Shaft Inc. Click here for Images of all the robots. 
In addition to the Track A teams, DARPA selected 11 Track B teams who will receive funding to write software for the Simulator, "a cloud-based, real time, operator-interactive virtual test bed that uses physics based models of inertia, actuation, contact and environment dynamics," the agency explains.
Track B and unfunded Track C teams, who are now free to register, will compete for access to one of a few handfuls of modified ATLAS robots developed for DARPA by Boston Dynamics. Check out the video clip below to see some of this robot's capabilities. 
Interested in competing, perhaps even designing a robot that's non-human like? Then consider registering for Track D which is open to any team who wants to develop a complete system, both hardware and software, at their own expense. 
Teams will compete each other, beginning with a Virtual Robitics Challenge in June 2013. The first live event is in December 2013 with a second live challenge in December 2014. Depending on the track, teams that advance from each round will receive additional funding, except the Track D.
And "regardless of what track they originated in, the winner of the December 2014 event will also receive an additional $2 million prize," a DARPA spokesperson told NBC News.
John Roach is a contributing writer for NBC News Digital. To learn more about him, check out his website. For more of our Future of Technology series, watch the featured video below.